Kids Love this Place!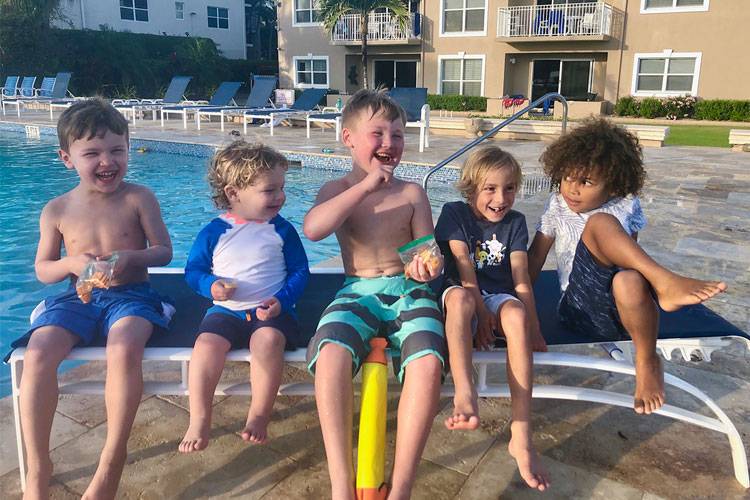 If you're looking for a kid-friendly place to stay in Grand Cayman look no further than Christopher Columbus Condos. Kids and their families love this place. Why is our vacation property so beloved by kids and families? Keep reading to find out.
We're on the Quieter Side of Seven Mile Beach
Our two 3-story buildings are located on the north end of Seven Mile Beach—and only near other 3-5 story buildings. This means our end of the beach is less busy than the south end of Seven Mile Beach which is full of high rise hotels. Families love getting away from the high density crowds and having more of the beach to enjoy to themselves. Kids have plenty of room to build sand castles and play on the beach. Not to mention that Seven Mile Beach is one of the most spectacular beaches in the world, and it's mere feet from every single one of our units.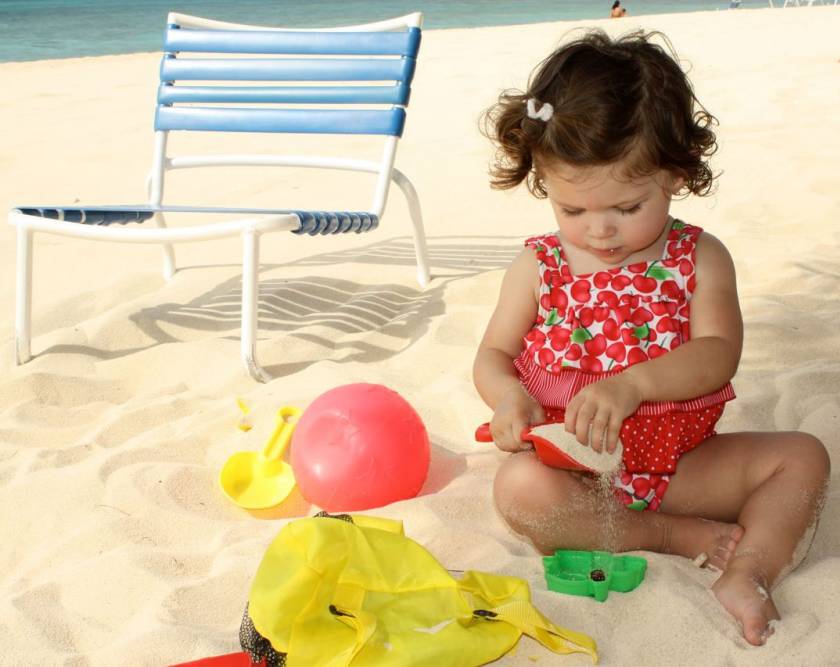 Photo courtesy of Marsha O.
We have a Great Pool Deck
Older kids and their parents enjoy our fresh water pool, and the little kiddos have access to a zero entry kiddie pool where they can splash, giggle and stay cool. There are ample blue chairs and umbrellas to shade you from the sun, and we have a fantastic gazebo area adjacent to the pool that can be used for family lunches and dinners. The view of the Caribbean Sea is divine from both the pool deck and the gazebo.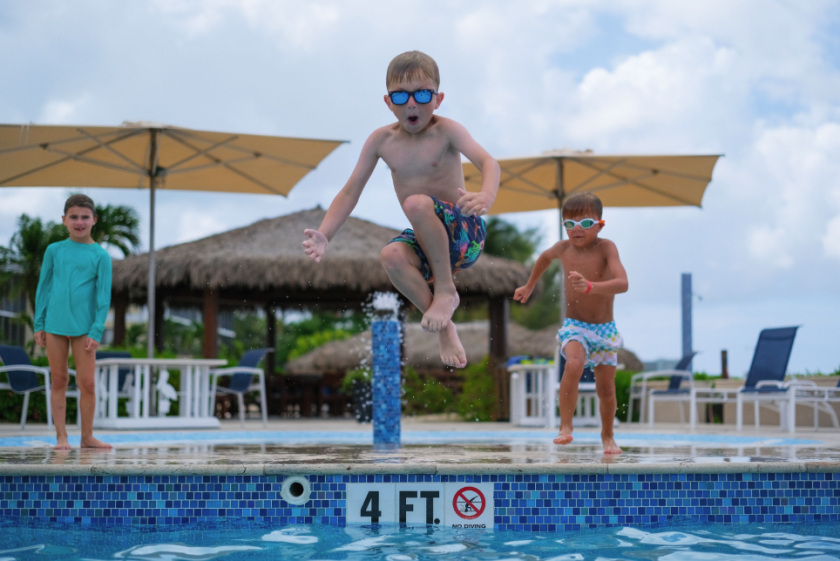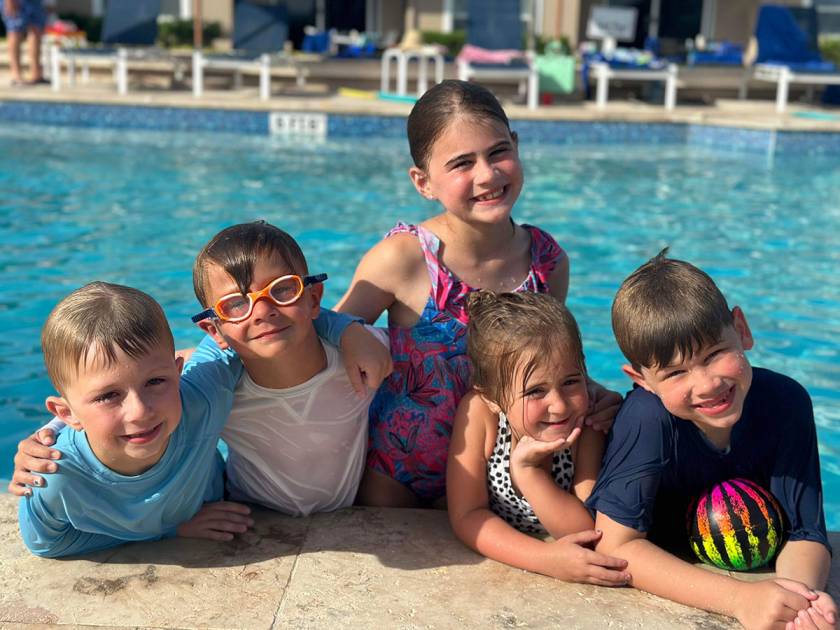 Photo courtesy of Jonathan W.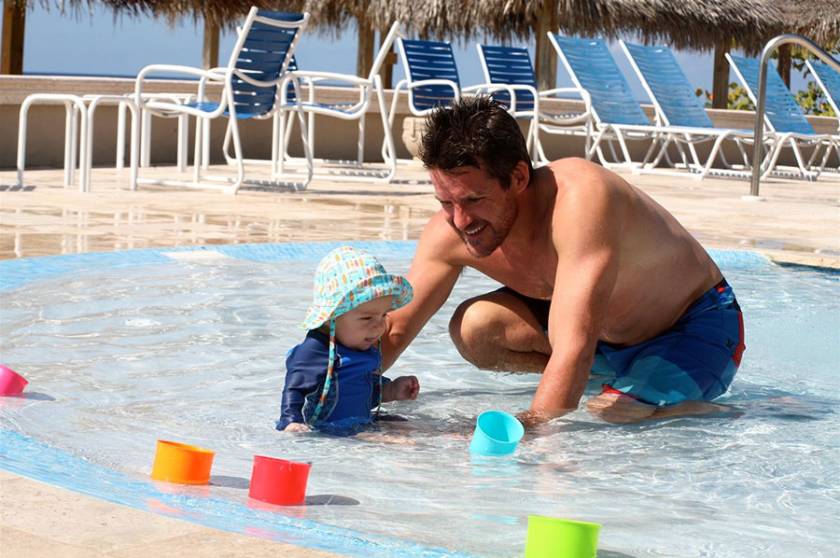 Photo courtesy of Marsha O. 
We have a Nice Green Space for Spreading Out and Playing Games
There's a great green space between our condos and the pool deck. You'll often find kids kicking a soccer ball back and forth or playing frisbee in this open space. It provides a nice transition between the condos and the pool deck and beach.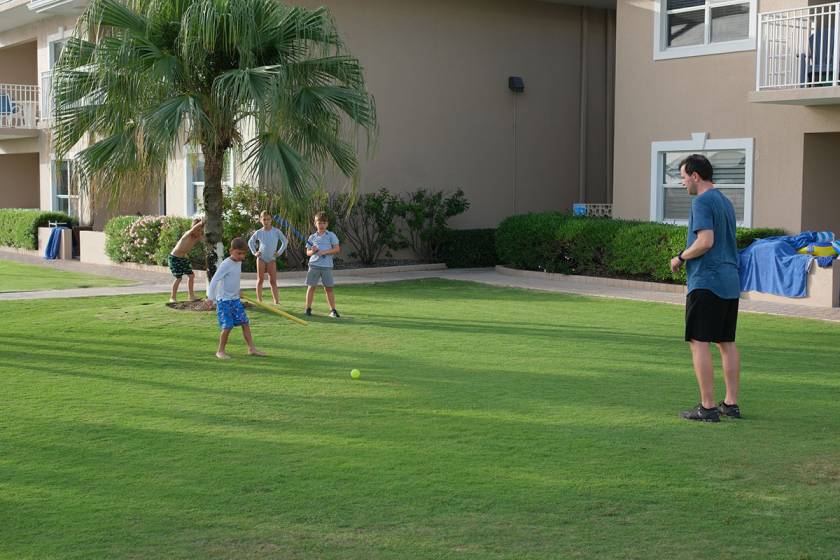 Photo courtesy of Jonathan W.
We Have a Sweet Swing for Chill Swaying & Perfect Photo Opps
There's a swing under one of our beach cabanas that is perhaps the most popular place to take photos on our property. Families love capturing sweet moments here. When facing the beach (with your back to the condos) the swing is located in the cabana furthest to your right.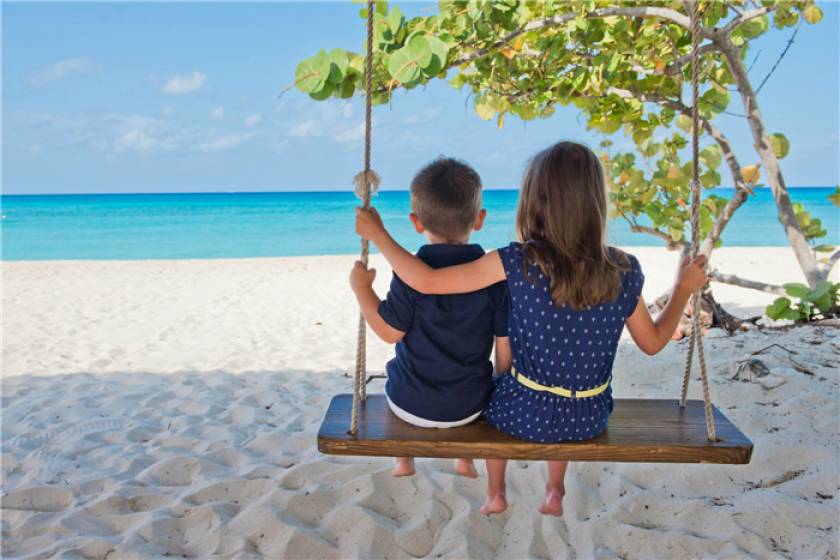 Photo courtesy of Matt L.
Get a Paddleboard Delivered for the Older Kiddos
You can have paddle boards, kayaks, snorkeling gear and other water gear delivered directly to the condos from Adventura Cayman, Paradise Paddle or Vitamin Sea Cayman Islands. This will especially impress the pre-teens and teens. Once you have a paddleboard, there's plenty of room to paddle right in front of our condos.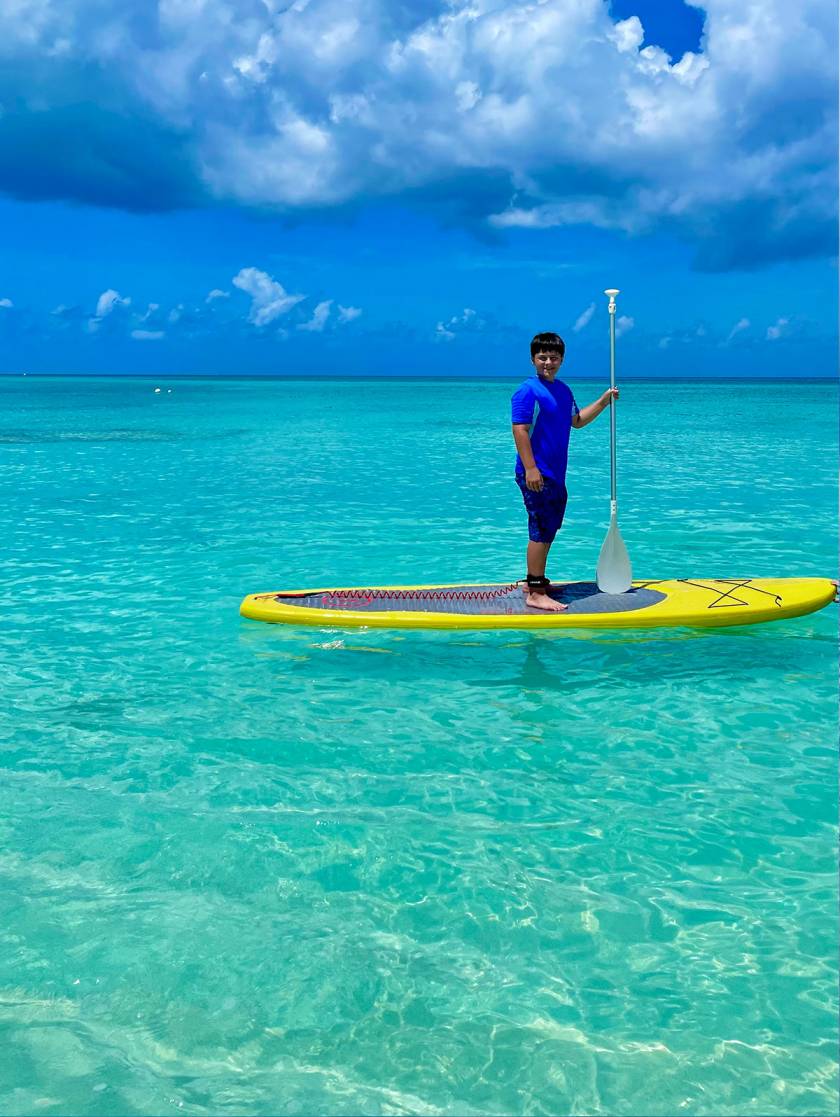 Photo courtesy of Matt L.
The Snorkeling is Awesome!
The snorkeling at Christopher Columbus Condos is fabulous. Kiddos that can swim, will be amazed at all they can find with you while snorkeling right from our beach. If you want some tips from an expert, read this post from a long time snorkeler here at CCC. Some of the tips may be best reserved for older kids and parents, but Nancy's suggestions on where to look and how to look for underwater wonders are spot on.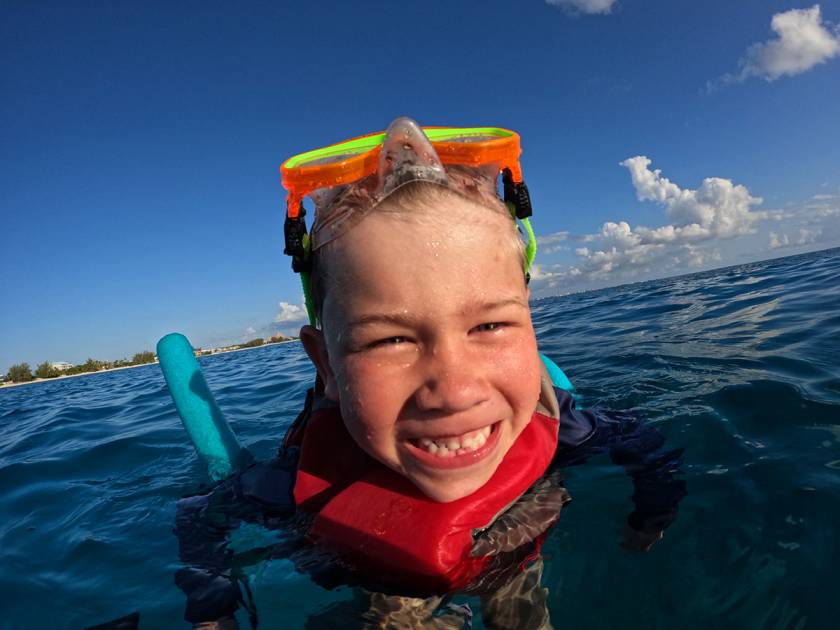 Photo courtesy of Scott E.
Our Spacious 2 & 3 Bedroom Condos Provide an Ideal Place for R&R
Families find that our beautiful 2 & 3 bedroom condos are the perfect option for their vacation. All units have an open concept layout between the kitchen, dining and living rooms. The kitchens are fully equipped, so you can prepare family meals if you'd like. You can also order in via food delivery apps Bento or Let's Eat. Every unit has 2 bathrooms with one bathroom always in the master, so there's plenty of room to freshen up for families. 
A peek inside one of our condo units (featured here is Unit 20).
The Best Place to Be
There's a sense of magic and joy here that can't be found anywhere else in the world. Kids know it. Adults know it. (Even the sea turtles know it! We have a couple nest here almost every year. :)) Come experience once in a life memories with the kids in your life at Christopher Columbus Condos. Make a reservation and never look back! We can't wait to welcome you to paradise.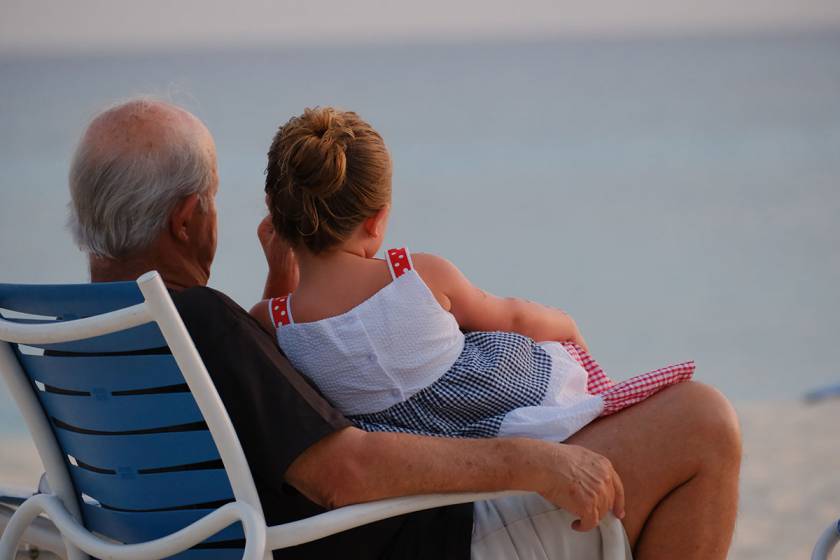 Photo courtesy of Jonathan W.