What is Caymanite?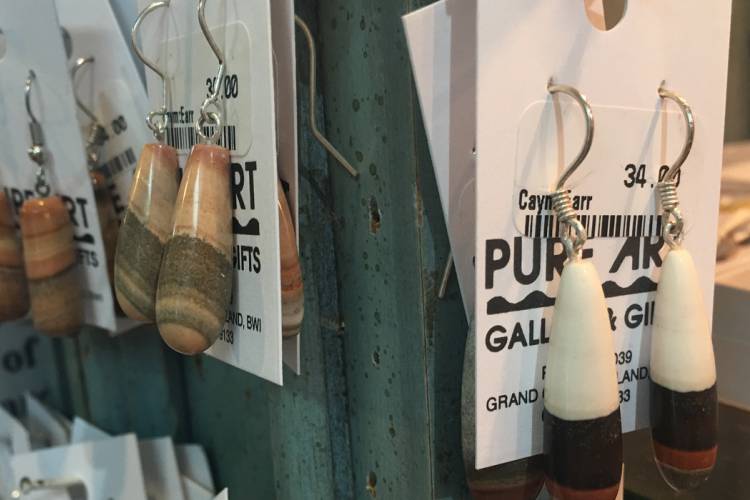 I recently discovered that Cayman has it's very own semi-precious rock, Caymanite! I'm so excited to share more about this indigenous rock, and how all of you that love Cayman as much as I do can find a piece of it to take home with you.
Caymanite is only found in the Cayman Islands, and local artisans use the rock to make beautiful jewelry and special gifts. According to Pure Art Gallery & Gifts, a whimsical gift shop on South Church Street, Caymanite can be found in the higher regions of both Grand Cayman and Cayman Brac.
In its natural form Caymanite looks like a slate-like rock and can come in earth tones of brown, grey, red and white. Layers of these colors throughout the rock help identify this unique commodity. When cut and polished for jewelry the colors and layers are brilliantly displayed.
You can find Caymanite jewelry at the Craft Market, National Museum Gift Shop and several shops in Georgetown, but my favorite place to shop for Caymanite is at Pure Art Gallery & Gifts. They have a massive collection of not only jewelry made from Caymanite but gifts, too, including crosses, business card holders, stingray figurines and more. And if you'd prefer to have a piece in its natural form, they have small rocks for sale at the shop, as well.
I picked up a beaded Caymanite bracelet from Pure Art on my last trip to the island. The earthy colors stack really well with other bracelets. I usually add a bright coral beaded bracelet to play off of the natural colors of the Caymanite and sometimes a small leather cuff to create a fun indie mix. What I love most about the bracelet, though, is that I feel a special connection to the islands when I'm wearing it. It truly is the most authentic reminder I have of my home-away-from-home.