Take Me Down to the Stingray City!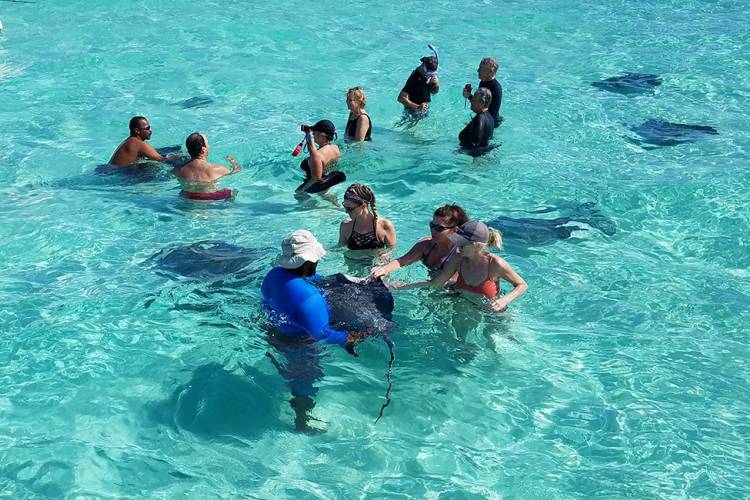 It's one of Grand Cayman's most popular destinations—Stingray City. Whether you've been coming to Cayman for decades or you're planning your very first time, Stingray City offers unique joys to experience each and every visit. We've put together a rundown of the highlights to help you plan your next trip!
The "Founding" of Stingray City
The sandbar now known as Stingray City initially attracted these alluring creatures when fishermen stopped their boats there after fishing excursions. While cleaning their catch of the day, the fishermen would often throw the scraps overboard. Before too long, stingrays began to show up to take advantage of all that free food! Over time, generation after generation of stingrays made the trek to the sandbar for a snack, and eventually they grew familiar and friendly with people.
Nowadays it's the tour groups who bring the tasty treats that keep the clan of stingrays coming back to visit each day. This year the Guy Harvey Ocean Foundation completed their biannual "stingray census" at the sandbar, and they counted 115 stingrays—the largest number ever recorded!
All together there are two sandbars that make up Stingray City—one that is roughly three-feet deep and one that is much deeper. The shallow sandbar is the most popular destination since visitors can comfortably stand while they interact with the stingrays. The deeper sandbar offers the opportunity to dive and swim alongside the majestic creatures. If you're a diver, you should definitely check it out to experience Stingray City from a whole new perspective.
The Full Experience
Located in North Sound, Stingray City tour-goers get to enjoy incredible open-ocean views on the boat ride there. There are usually several excursions and boats visiting Stingray City at any given time, making it a vibrant and fun atmosphere. The water in North Sound is crystal clear and stunning, so visitors will have a fantastic view of the stingrays as they swim by—some might even brush up against your leg! If you're uncomfortable with wading out into the water, watching the rays swim by from the boat is still an unforgettable experience.
Before visitors exit their boats and enter the water, they are taught what we like to affectionately call "the Stingray City Shuffle." Since stingrays swim and frequently rest close to the water's sandy bottom, it is possible to accidentally injure a ray by stepping on it. While the residents of Stingray City are very friendly, stingrays do still have barbs on their tail that can sting. As a guest coming into the stingrays's home turf, it's important to be as respectful and mindful of their natural environment as possible. Just keep an eye downwards and shuffle your feet along the sand to keep our swimming friends safe and happy!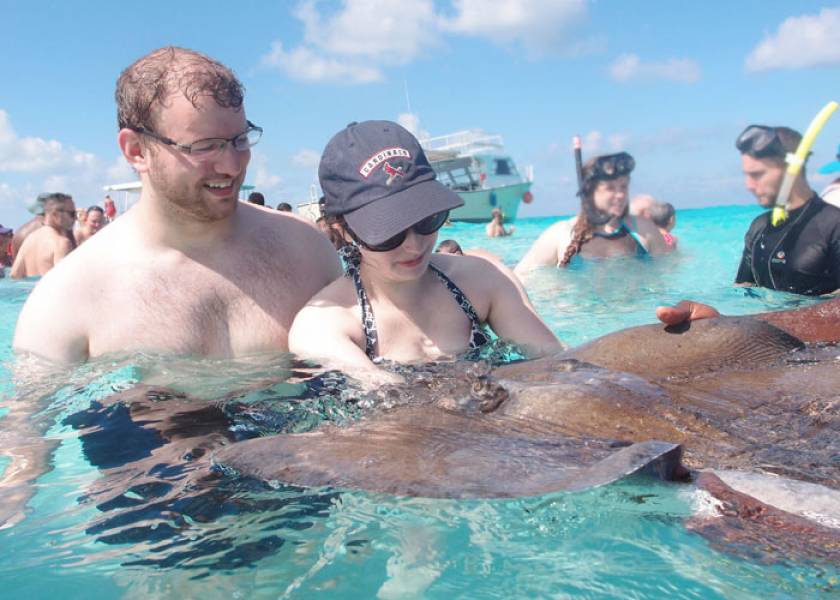 If you visit with a tour guide who has experience on how to properly handle the stingrays, they'll help you get up close and personal with one of these incredible animals. Many long-time guides even recognize particular stingrays—several have names, so be sure to ask who you're meeting! You can gently pet the stingray's back while it's being held by a guide, and remember, if you give one a kiss, it's seven years of good luck!  Many tour companies also employ photographers who will take photos of you posing with the stingrays for an additional fee, so you won't have to worry about getting your personal camera wet.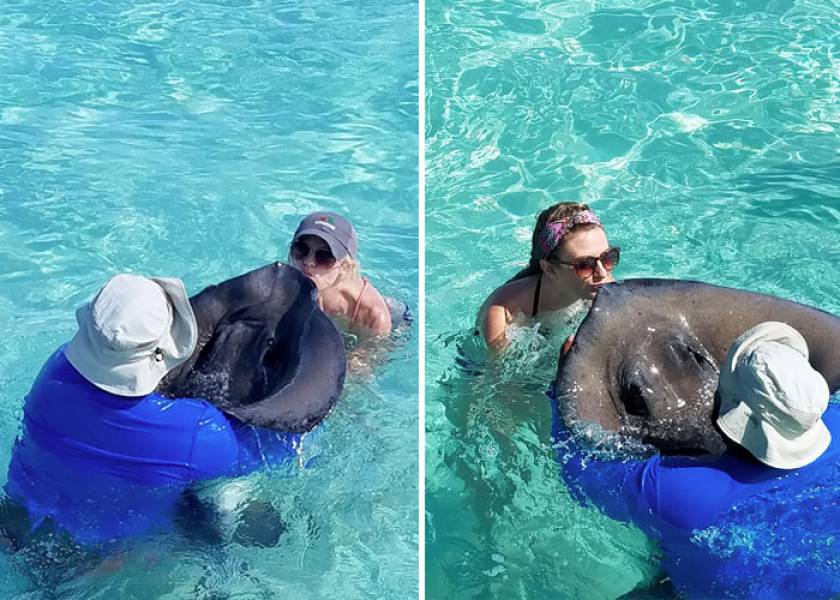 Tour Options
There are many ways to book a tour to Stingray City, from private options for small-groups to large tour excursions. Here are some more in-depth stories about a couple of our recommendations, if you'd like a place to get started on your research.
Share Your Memories
We hope we've covered the basics of a trip to Stingray City and have you convinced it's a must-do item for your next trip. Have you already visited Stingray City? Do you have a favorite memory from your visit, or did we miss any tips you'd like to share? Are you a first-timer with some specific questions? Let us know in the comments below!