Romance in Grand Cayman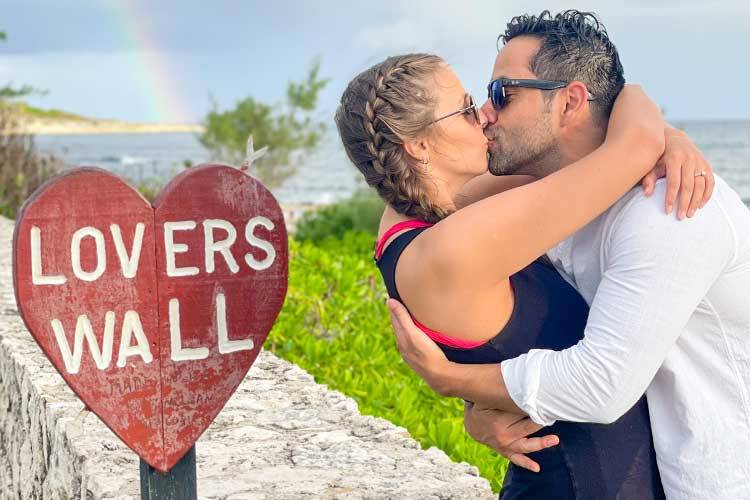 Turquoise waters, swaying palm trees, white sands and sunsets that not-even-Michaelangelo-could-compete-with all make Grand Cayman one of the most romantic places in the world. And that's just the natural setting! Cayman also offers many romantic activities that couples can enjoy while here. Browse through ten enchanting activities below, and plan a getaway for you and your Valentine.
If you happen to be here now, check out this calendar of activities happening today for Valentine's Day. The below are all romantic suggestions you can enjoy together in Grand Cayman throughout the year.
1. Moonlit horseback ride
Horseback tour group, Spirit of the West offers a Moonlight Stroll around the full moon every month. You can choose to go with a group, or go the extra mile and opt for a private ride for you and your special someone.
2. Lovers Wall—Take the picture!
Shortly after driving into the East End (from the west side of the island) you'll come upon Lovers Wall. It's right before you reach the Blow Holes. The stone wall is capped on each side with twin wooden signs that read "Lovers Wall" with a heart and cupid's arrow. You might think it cheesy to stop and take a photo, but trust us you will cherish this sweet picture (and maybe even have fun embarrassing some kiddos later). So get out and take a selfie by one of the signs. A smooch adds the cherry on top.
3. Dinner in the Culinary Capital of the Caribbean

As the Culinary Capital of the Caribbean, Grand Cayman offers a plethora of romantic dining options. Among your many options, The Grand Old House has been a long time favorite for special anniversaries and date nights. My husband and I have enjoyed beautiful sunsets from their deck every visit, were serenaded by a harpist once and even got to enjoy our dinner listening to a live symphony orchestra another time. Watch their calendar for specials like the symphony event. Check out restaurants on the Cayman Good Taste website for more ideas on where to dine.
4. Picnic on a remote beach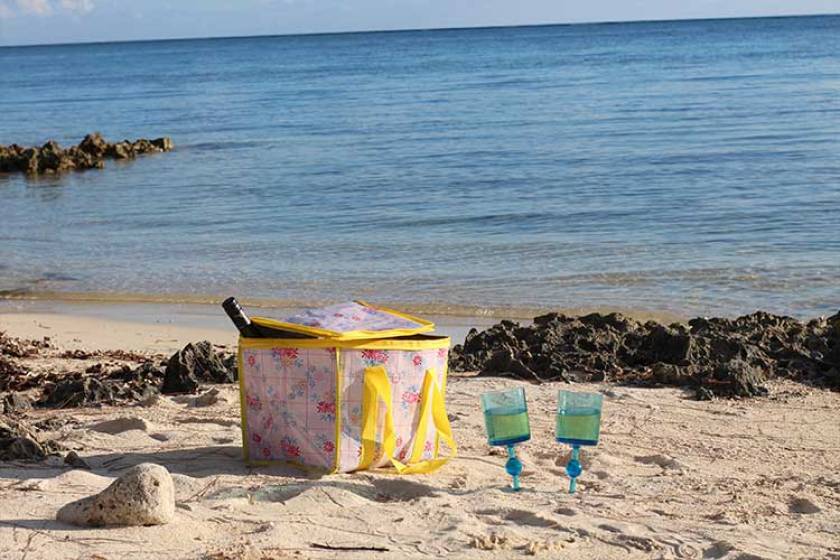 What's more romantic than a picnic with your loved one on a remote beach? Grab a blanket, some wine, water and a charcuterie board and head to a quiet spot. We suggest finding a spot on the beach in Barker's National park or heading out towards the East End—Heritage Beach is a great option. For the charcuterie check out the amazing spreads offered by Graze Girl.
5. Watch an epic sunset at CCC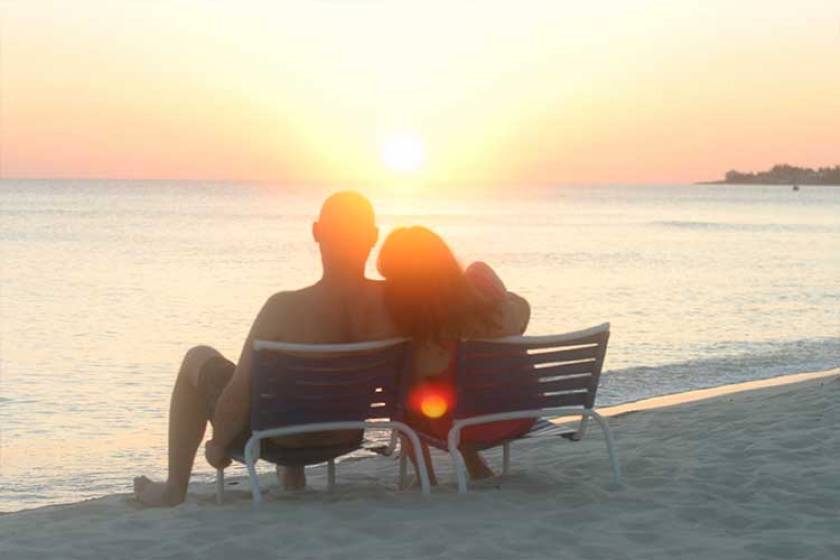 Grab your blue chairs, a drink if you fancy, and pull up a front row seat to the most amazing sunsets in the world. You'll find them right here on the Christopher Columbus Condos beachfront.
6. Take a cooking class together
Great food is a human romance for all. Why not learn to make amazing dishes with your sweetheart, and enjoy the slow simmer of love and flavor! Bon Vivant in Camana Bay offers high end cooking classes and events—even specifically Date Night themed cooking classes! And the National Trust offers incredible traditional Cayman cooking classes. They're not date night themed, but you'll love building a deeper connection to the island with the love of your life. Check their events calendar often for these to pop up.
7. Charter a sunset cruise on the Caribbean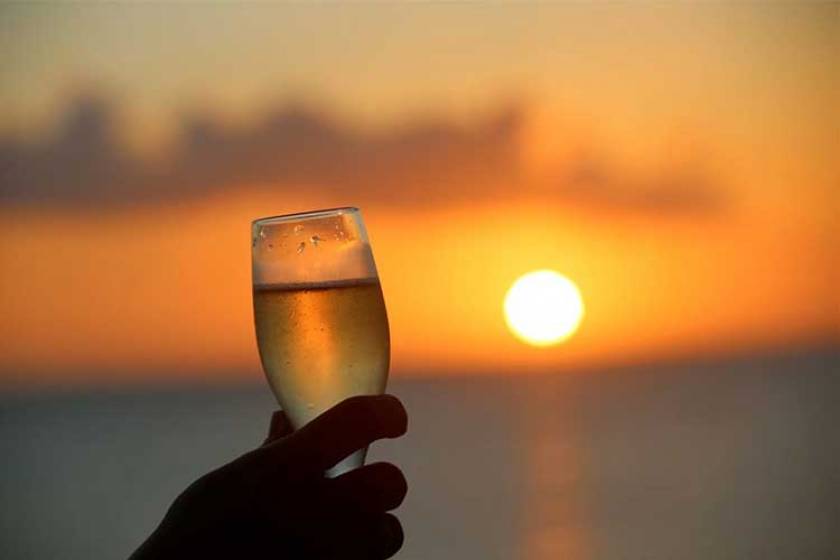 Pull out the red carpet—or rather the sparkling Caribbean Sea—with this ultimate romantic gesture. Look up a boat that can be chartered for you and yours to enjoy a long dinner and toast while cruising the waters of Grand Cayman at sunset. The alluring waves and sultry bursts of color in the sky will impress! There are many great charter groups to choose from like Ezona's Aquatic Charters or others here.
8. Couple's Massage
When it comes to couples massages there are many great options. The Spa at the Seafire offers 6 different body treatments (including a full body massage) that can be offered as couples treatments. The Da Vinci Centre offers a couples massage experience up the road in West Bay. The Hibiscus Spa inside the Westin offers a Customized Couples Retreat Package that includes a Swedish massage and more! And most relaxing of all, Perfectly Pampered offers mobile couples massages, meaning they will come to your unit at Christopher Columbus Condos! 
9. Move as one with salsa & bachata
Jump in on some dance classes to get saucy and get moving together! Salsa Tuesday at The Wharf is a great place to feel the beat. Grab dinner and then let the dancing begin at 9:30. Free lessons included! Also, check out the Fuego Latin Dance group for salsa and bachata classes and then head to Cuba Libre on a Friday night to show off your new moves!
10. And Alas, Walk on the Beach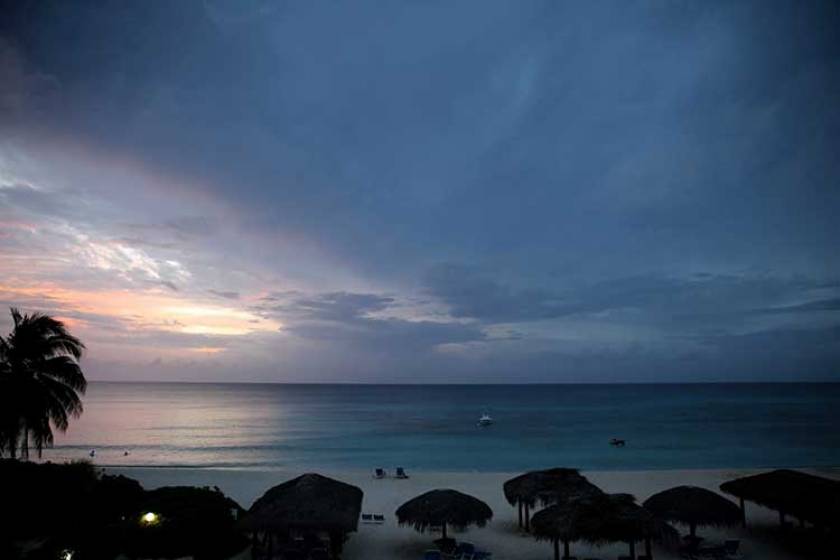 We'll leave you with an obvious one, but one that should not be forgotten! A walk on the beach is the perfect chance to connect. Kick up a wave at your significant other and make it flirty, have a special heart to heart—or do both. You can't go wrong strolling down Seven Mile Beach together especially at twilight. It's truly paradise.
Make a reservation with us and treat your sweetheart to one or all of these!