Passionate About Paddleboarding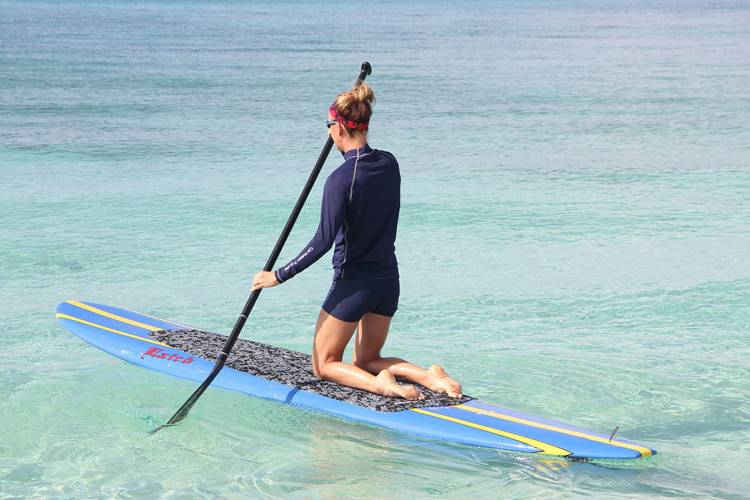 It's no surprise that Grand Cayman offers many water-based sporting activities for anyone looking to have an ocean adventure. However, for repeat guest Susan Corbitt and her husband, paddle boarding is so much more than a sport. It has served as a source of tranquility, and it can for you, too. (Several rental companies will even deliver paddle boards to Christopher Columbus Condos for your ultimate convenience.)
We chatted with Susan about her experience paddle boarding during her last visit to CCC and exactly what makes it so special. Keep reading to learn more.
Question: What were your expectations of paddle boarding before you ever stepped foot on a board?
Susan Corbitt: Just to have fun! I also wanted to go out farther in the ocean than I could just by swimming.
Q: How long did it take to get used to the paddle board/to stand up?
SC: Not long at all. I was standing up within the first 5 minutes. (See our tips for first-timers at the end of this post if you're not as lucky as Susan—we don't all get up on the first try. )
Q: What kind of sights did you see while out on the water?
SC: We got to swim with a school of fish like we were a part of them. We also saw coral, and a tiny shark!
Q: What is the best difference between traveling in a boat versus a paddle board?
SC: You are more like a part of the water, closer to and in it. The water would splash in my face and I loved that!
Q: What makes paddleboarding such a unique experience for you?
SC: The tranquility of it, it's such a peaceful and relaxing experience. Paddleboarding gives me a calm and ability to appreciate all of God's creation.On the last day we had our boards, we went out into the water right before sunset and it was perfect.
Q: Do you have any tips for others who want to try paddleboarding?
SC: Do it! Don't be afraid to stand up. Be aware that the further you are from shore the waters become rougher.
Other tips for beginners:
1. Be sure to check the weather and wind conditions.
2. Make sure the board's fin is deep enough underwater that it doesn't touch the ground once you put your weight on it.
3. Stand with your feet, hip-width apart, knees slightly bent and back straight.
4. Keep your eyes on the horizon for best stability.
5. Keep your paddle in a vertical orientation, using your core muscles to propel yourself, not just your arms. For a more detailed explanation of paddling technique, check out this helpful video.
Susan's paddle boards were rented and delivered to Christopher Columbus Condos from Paradise Paddle. Each rental includes a paddle board, paddle, leash, life vest and a crash-course lesson (if you want one), making it an excellent option for a first-timer. Paradise Paddle offers a variety of other items like kayaks and snorkel gear, as well, if you want to go all out on your next ocean adventure!
Did we miss any must-know tips for beginning paddleboarders? Let us know your paddleboarding secrets in the comments below!