Nightlife in Camana Bay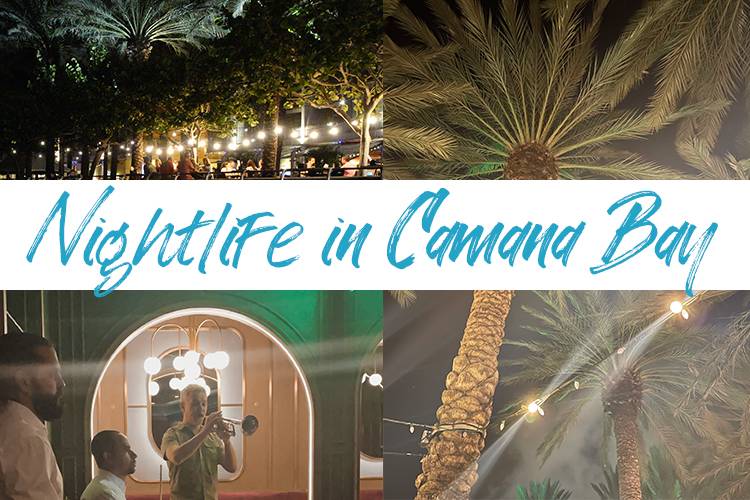 Camana Bay is a gorgeous city center that includes restaurants, shops, bars, living spaces, office spaces, beautiful landscaping, fountains, courtyards and more. It's like a mix of a traditional downtown and a city park with plenty of places to sit (and play!) amongst the beautiful architecture and tropical landscaping. Any time is a good time to visit Camana Bay, but it's especially great at night. In this post, we'll share our favorite nightlife activities to indulge in at Camana Bay. You're in for some fun!
Music
What's a night out without music? They really go hand in hand. Enjoy smooth melodies every Thursday at Next Door's "Jazz Island" night. This is a top recommendation. Not only is the music enchanting, the bar itself is decorated with a nostalgic and sultry art deco feel. Sitting in one of the booths sipping on a specialty drink (many made with local ingredients like soursop for example) you'll feel weightless and inspired. The club also offers other entertainment throughout the week. Check their calendar for details.
Union Grill and Bar also offers a lovely jazz night on Thursdays leaving you the perfect opportunity to jazz hop from bar to bar. Throughout the week you'll find other musical artists featured. Theirs is another calendar worth checking.
Thursday is quite the night of music in Camana Bay as harpist Eugenio Leon graces patrons at Pane & Pasta with his talent every Thursday, too.
If you're looking for live music on Saturday, Abacus is your place. They host musicians every Saturday evening from 7-10.
Dinner
Dinner is served—delicious, unforgettable and on trend in Camana Bay. Steak? Pasta? Curry? Choose any of the these and more from the menus of the approximately 10 outstanding restaurants in the city center. The hardest decision will be where to dine, but the good news is you can keep coming back! We'll leave you with their names and links to each of their dinner menus, so you can get to looking:
Abacus | Agua | Bar Carnivore | The Edgy Vedge | KARoo | Mizu Asian Bistro + Bar | Pane & Pasta | Pani Indian Kitchen | The Brooklyn Pizza + Pasta | The Waterfront Urban Diner | Union Grill & Bar
After dinner treat your sweet tooth at Gelato & Co or Haagen-Dazs.
And More
Wednesday nights at KARoo you'll find one of the most unique and cool events—Open Canvas. Every Wednesday artists are invited to set up shop on the patio at the restaurant and work on their paintings "live" in the open air, amongst the crowd. If you get a chance to check it out we highly recommend it. Consider enjoying dinner at KARoo while the artists work on their masterpieces. Or take up Union Grill & Bar on their "Date Night" special which occurs every Wednesday—they offer a complimentary glass of bubbles for you and yours with your meal.
For the ultimate chill night, catch a movie at the Camana Bay Cinema. You can't go wrong with popcorn and a good flick on the big screen.
And finally, if you're feeling spunky run through the water jets down at the Harbour. ;) They're beautifully lit at night and always ready to help you feel like a kid again.
Where to Stay After it All
Of course, you'll need a place to stay after your night out in Camana Bay and while you are in Grand Cayman. We would love to host you and yours here in paradise. Check availability here.