Meet Lisa: The Lady Who Makes this Place Shine!
Lisa Hernandez has worked at Christopher Columbus Condos since 1998. She is the property manager here at Christopher Columbus Condos, and she, along with her staff keep this place shining. When you first speak with Lisa you'll notice her sweet Caymanian accent, her extremely attentive nature and her genuine desire to help others. I recently sat down with Lisa to get to know her better. I asked her everything from where she was born to what she most recommends on the island. Enjoy!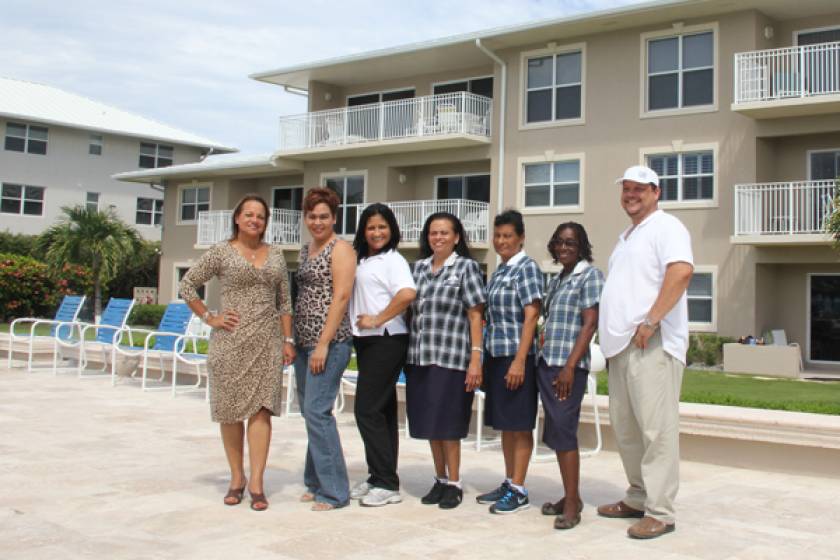 Me: Are you Caymanian?
Lisa: Yes. I'm a born Caymanian. There are many that call themselves Caymanians now which is fine, but I was born and raised here… a "born Caymanian".
Me: Have you always lived here?
Lisa: I have. When I go away and come back there's just something about our island. It's just so different. Although we've grown it's still peaceful. You feel safe. I can't imagine living anywhere else.
Me: What are your favorite activities to recommend to vacationers?
Lisa: I love to tell people to get in their car and drive…to take their own island tour! It's such a neat place. Of course, I always tell guests that they have to check out Stingray City and The Turtle Farm. I recommend snorkeling. And you can even snorkel from our beach. Many times guests come back with the best snorkel stories right from our beach. People love horseback riding so I recommend the beach rides, and Dolphin Discovery is cool. There are so many things to do here. I could go on and on.
Me: What's one of the island's best kept secrets?
Lisa: Oh the local entertainment! We have great local bands with excellent singers who put you in the island mood. Listening and dancing to them gives you that feeling every time. We also have great local food and fruits that you can find at the Farmers' Market in Lower Valley. And you should really get out to Pedro Castle while you're here, too.
Me: What do you love about your job?
Lisa: I love seeing guests year after year and meeting new guests. Hearing new guests say the same thing that repeat guests always say is neat. They all say they love our island and our property. We also have a great bunch of owners. They're very positive and helpful which makes my job very enjoyable.
Me: So, what separates the Cayman Islands from other Caribbean islands?
Lisa: Our friendly local Caymanians!
Me: What do you think makes Christopher Columbus better than other condos and hotel accommodations?
Lisa: Although we're a small complex, we have a large beach, lots of shade, a kiddie pool (very few places here have a kiddie pool). We're very family friendly. There's great snorkeling from right off the beach. I'm always told how friendly our staff is and how our property is so well maintained. We're on the quieter side of Seven Mile Beach, so we're away from all the hussle and bussle.
Me: What tips would you give to travelers before coming?
Lisa: All of our units are unique. They're different in their own way. Get to know the unit that you're booked in before you come.
Me: What are some of the most common questions that guests ask you before and during their vacations?
Lisa: Do you have hair dryers, and do you have iron boards? Answers are yes and yes. We also provide basic necessities like soap, toilet paper, paper towels, dish soap, beach towels, etc. Call us if you have questions!
Me: Tell us a little bit about your personal life.
Lisa: I have two lovely daughters. They both live and work on the island [Grand Cayman]. I have a wonderful husband whom I've been married to for 31 years, and we live here at Christopher Columbus.
Me: Anything else that you'd like to share about Grand Cayman?
Lisa: Tourism is the biggest industry here. We're very proud of our island. We like to keep our island clean, and we like to promote that everyone help us take care of the island.