It's Beginning to Look a Lot Like a Cayman Christmas!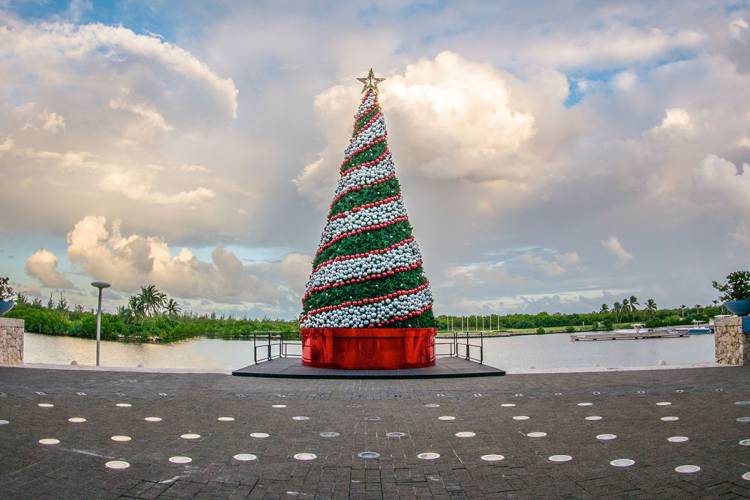 It's beginning to look a lot like Christmas here in Grand Cayman! Christmas lights, holiday concerts, shopping and more are taking place across the island as Caymanians and Christmas vacationers alike are anticipating the big day.
Santa Spottings on Grand Cayman
Santa arrived by plane last Saturday at the airport park at Grand Cayman International airport and brought lots of joy to the kids on the island. Santa has also been making weekly appearances at Camana Bay on Thursdays from 5 p.m. to 7 p.m. in Gardenia Court. We hear he'll be there every Thursday through December 18th. You can get your traditional Santa photos then!
Even Santa needs a break! He's been sporting his island wear on Saturdays from 3 p.m. to 5 p.m. on "The Island" in Camana Bay and is posing for Caribbean Style Santa Photos, too. Come join the fun on Saturdays through December 20th.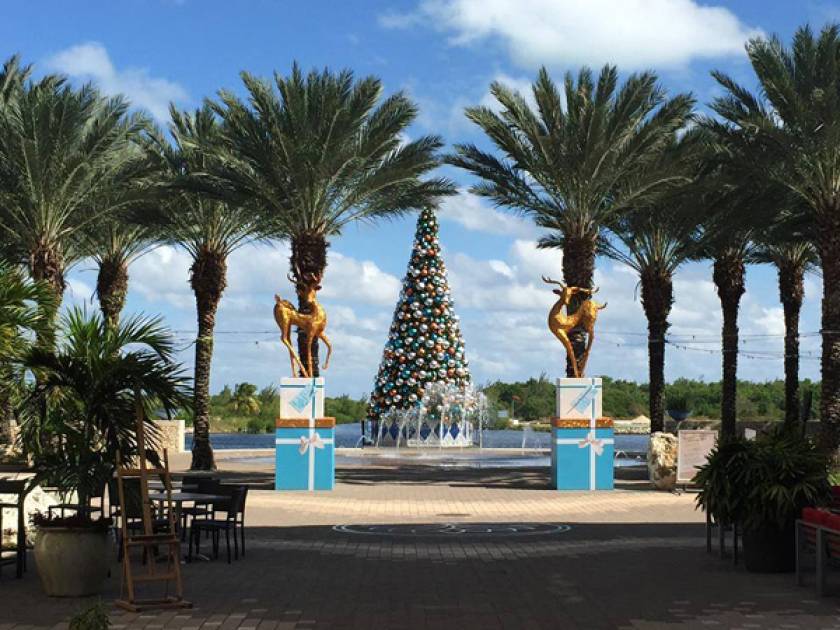 Camana Bay Christmas Events
Camana Bay has no lack in Christmas Spirit. This community is chalk full of holiday cheer and events. Aside from both Traditional and Caribbean Santa Photos, they're featuring a weekly Moonlight and Movies Christmas Series on Tuesday nights at 7 p.m. in Gardenia Court. Show up early because you won't want to miss the snow that falls in Camana Bay every Tuesday from 5 p.m. to 7 p.m. Movies and snow run through December 23rd. There are a plethora of other events going on this Christmas season at Camana Bay so make sure to check out the calendar on their website for all the jolly details. Launch Camana Bay Holiday Calendar >>
Christmas at The Fort
Enjoy Christmas carols, tree lighting and all kinds of gifts at the newly renovated Fort George during Christmas at the Fort on Thursday, December 11th from 6 p.m. to 9 p.m. There will be cocktails, hors d'oeuvres and special performances by local artists! Event is FREE!
Christmas Decorations at Botanic Park
Nature and Christmas come together at the Botanic Park during the holiday season. See the already gorgeous park decorated for Christmas with a visit to their grounds.
Decorated Homes
Driving to see elaborately decorated homes on the island is a favorite holiday activity for many. The most popular homes are the Bodden sisters' home in the South Sound and the Crighton home and garden near Savannah. They go all out and have been decorating their homes for years. The Bodden sisters often greet people outside of their home, and I read in the Cayman Christmas Catalog that the Crighton family takes 6 weeks to decorate their home!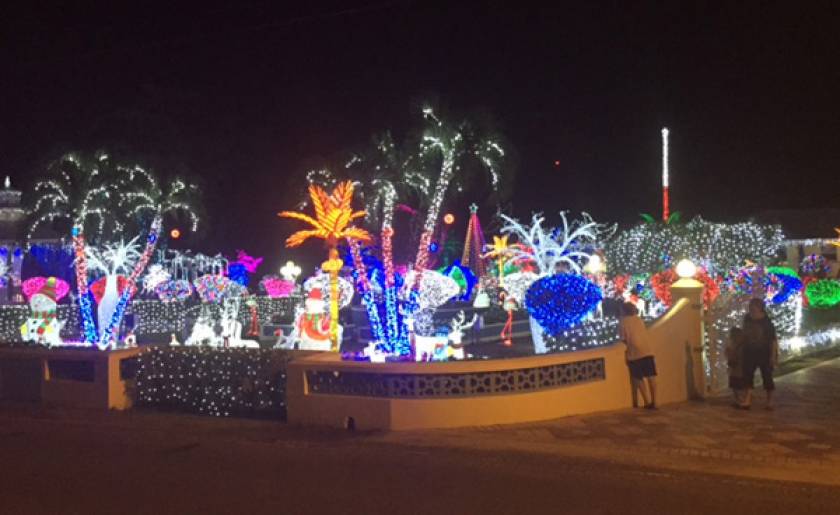 Holiday Concerts
Many enjoy attending Christmas themed concerts at churches across the island. The East End United Church Hall will hold an "Old Fashion Treasured Christmas" on December 13th. Entry is $10 and the event includes skits, caroling, games, poems, memory gems, food and more. They suggest bringing a gift for the charity box. St. Ignatius will host a Candlelight Carol Service on December 17th with bands, choirs and readings for the season. Find more details on the Cayman Compass calendar.
Dashing Thru the Sand
Dashing Thru the Sand, one of our guest favorites, is an annual event that takes place the day after Christmas. It's a 1.5 mile walk/run on Seven Mile Beach. The fun starts at 7:30 a.m. Registration includes a t-shirt, breakfast at the end of the route and lots of prizes. The route starts just North of Hemingway's Restaurant at the Hyatt and runs North to Calico Jacks. Cost is CI$25. More details here.
Cayman Christmas Traditions
Aside from the many Christmas activities on Grand Cayman there are also some really cool traditions from times past. I found this great article on the Cayman Islands Tourism Association's website about Caymanian Christmas traditions. The Sand Yards sound particularly fun and interesting.