Going Under with Atlantis Submarines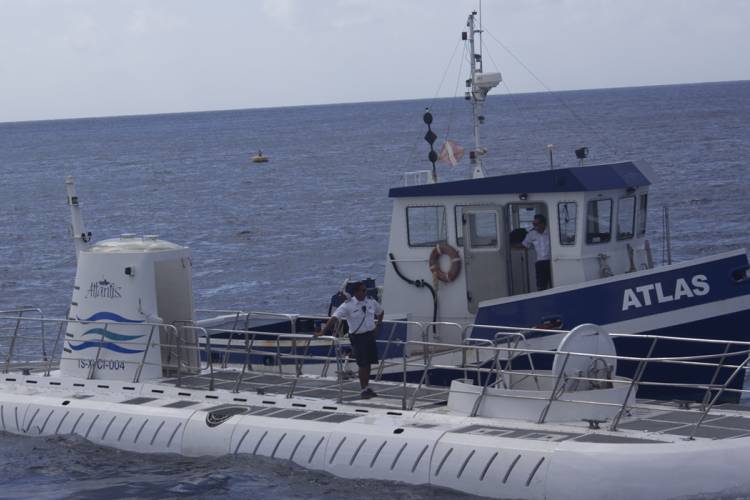 I'm going to dive into my first submarine experience with a lot of honesty and a little bit of a backstory.
During my first trip to the Cayman Islands in the fall of 2015, one of the main activities I looked forward to the most was scuba diving. I imagined the experience would be once in a lifetime and anticipated seeing what the world looks like underwater and the creatures that call the sea home. It wasn't until this trip that I had the opportunity to make my scuba diving wish a reality. After making arrangements with a local diving company, our instructor for the day picked my group up from the condos and took us to a beautiful location (right in the middle of Cracked Conch and Macabuca restaurant's) we would dive from.
Over the course of the next hour, I could feel an irrational anxiety building up within me as the very educated and kind instructor explained to my group various hand signals and breathing techniques we would rely on while underwater. I'm not quite sure what came over me since I do not usually chicken out of participating in activities, although I somewhat chalk it up to the day before when I went swimming in choppy water. Let's just say I struggled a bit, and had a few traumatic flashbacks to when I was four years old and thought I was drowning at my local swimming pool…I'm not exactly a fish. Anyway, I made the decision to stay on dry land while the others in my group continued on with the diving excursion (which they of course said was absolutely amazing).
Although I felt I made the right decision for myself, I still had the longing to go deep underwater and experience the sights and sea life found there. Once we returned to our condo, I started wondering if there was a way to satisfy both my desire to go underwater and be in a comfortable more familiar environment. I mean, I can't be the only person frightened by the idea of scuba diving, right? I began researching online and that's when I found the perfect solution. A submarine tour! I chose to book the day dive with Atlantis Submarine tours in George Town. As explained by their website "the submarines are specifically designed for underwater sightseeing excursions", while the cabin is air conditioned and maintains sea pressure level, which means no effect on the ears.
When the day of my tour came I checked in at the front desk, (they require guests to arrive 15 minutes prior to tour start time) received my boarding pass and waited for my group's turn. The tour guide Richard, introduced himself, announced our departure, and we boarded our awaiting sub-shuttle to take us to the submarine. While riding the shuttle Richard explained to us a few basic safety procedures boasting over 70,000 dives with no need to use the emergency safety gear! I felt as though I was in good hands.
Next up, we arrived at the submarine anchored to a small tug boat at the Jackson Point dive site. Once in the submarine we were introduced to Captain Rodney who has 28 years of diving experience under his belt, as well as our Co-captain Delroy. Before we began our dive underwater Captain Rodney went through several safety and security checkpoints with the crew members staying above water to make sure the sub was in prime working condition. During this process everyone on board was also informed that Captain Rodney would be in constant communication with the crew above throughout the entire dive.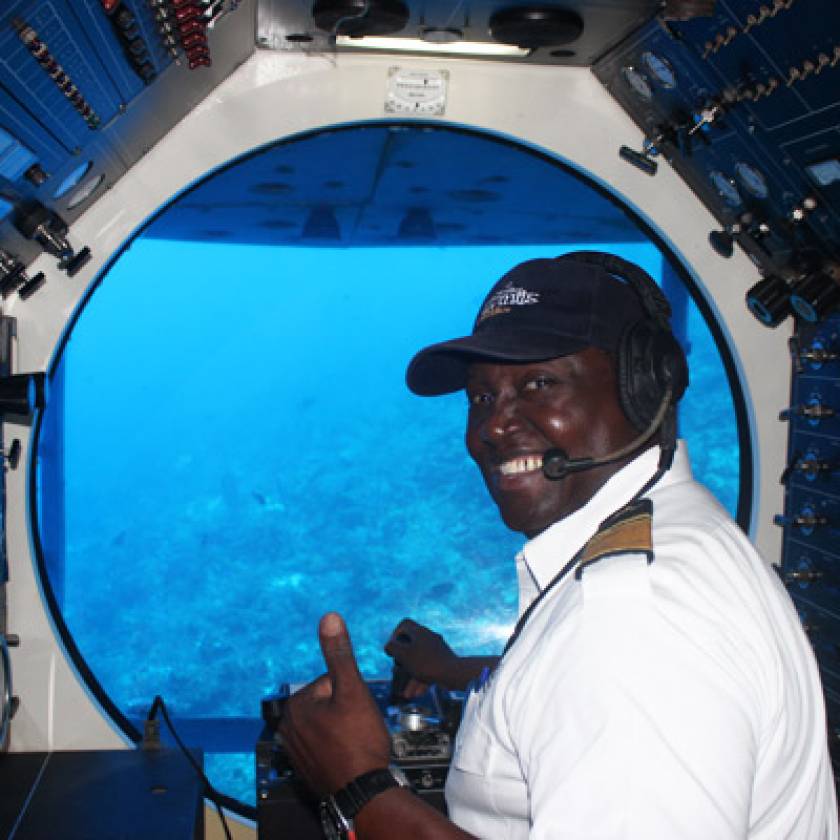 Since I was by myself for this particular tour, I chose to sit near the front of the submarine and make friends with Richard and Captain Rodney. They were both incredibly friendly and knowledgeable. They also took the time to answer my questions and point out a specific fish or other marine life swimming by the submarine to ensure the passengers wouldn't miss a moment! At one point we even saw an eel which Richard said was very rare during the daytime since they like to hide in the dark!
We descended for awhile finally reaching our maximum depth of 102 ft. although the particular submarine we were in can go as far down as 150 ft. Before I knew it, we were back up to the surface boarding the sub-shuttle back to land, but not before getting our certificates stating that we completed the dive. I enjoyed this special little touch, and I'm sure the kiddos would love receiving these even more!
I had an enjoyable experience with Atlantis submarines, and since no two dives are the same I would go back under in a heartbeat!
Read reviews for Atlantis Submarines on Trip Advisor.
Atlantis also provides a night dive for a chance to see the creatures that only come out at night. (Wednesday nights only.)