Find Your Center at These Island Yoga Studios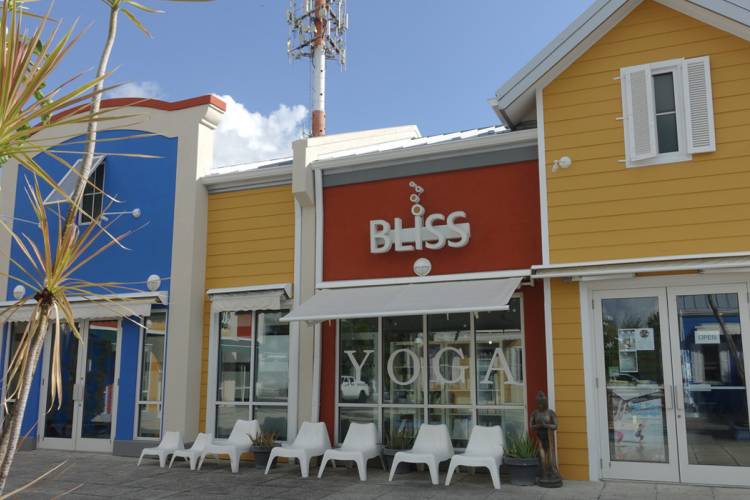 If you're looking to keep up your workout routine while in Cayman, want to jumpstart a relaxation habit you can take back home with you, or just want to try something new, there are a few fantastic yoga studios on island I would highly recommend. Bliss Living Yoga and Cayman Yoga Club offer a variety of classes seven days a week. Whether you're a seasoned yogi or have never downward dogged in your life, there's a class that will be fun, relaxing, and challenging for you.
Plan Your Class
You should look at the class descriptions on the studios' websites to see which type of class interests you the most. There are plenty of offerings each day of the week for all levels of yoga skill. The two studios are located between West Bay Road and Esterly Tibbets Highway, near Camana Bay, which is around a ten-minute drive from Christopher Columbus.
Both studios allow drop-in classes, so there's no need to call ahead—just arrive around fifteen minutes before class time so you can sign in at the front desk and get situated. If you don't want to worry about packing a mat, you can borrow one for the class. A mat is complimentary for your first class, but you can also borrow one for a small fee for successive classes.
A single class is around $24 USD, but if you think you'll come multiple times, a class pack might be a better deal. They'll ask for just a few pieces of information and then you'll be ready to get your yoga on.
What Should You Bring?
Wear comfy clothes you can freely move around in—t-shirts, tank tops, athletic or yoga pants are all great choices. Yoga is much easier to do barefoot, but you can wear socks if you would be more comfortable. You should also bring along a bottle of water, which you can bring into the studio with you, and a mat and towel if you want to bring your own. The studio will provide blocks, straps, blankets, bolsters, and other props you might need.
What To Expect
After you sign in, you'll remove your shoes and store your belongings in cubbies—the yoga studio itself is a phone-free zone. Once you find a spot for your mat, you can start stretching or kick back and relax until class starts. Each class is lead by a trained instructor who will talk you through each pose as well as demonstrate proper technique.
I attended classes on two ends of the spectrum, one Flow class at Bliss Yoga Studio and one Power Vinyasa class at Cayman Yoga Club.
Flow
If you're looking for a way to relax your muscles after a long flight, find some quiet time amid a busy itinerary, or just take your time with a workout, this is a great choice. The flow class is an hour long and focuses a lot on your breath, stretching and holding poses, and the meditative aspects of yoga. It's accessible to all skill levels, from beginner to advanced. Many of the poses in this class were seated, and several props were used, which helped everyone modify poses to suit their flexibility.
My class was an early afternoon session with Janelle. She had a fantastically soothing demeanor and helped me relax my sore, plane-ride-agitated shoulders. I'd highly recommend this class to anyone, but especially for any first timers—you'll get a good idea of what yoga is all about without getting into many difficult poses.
Power Vinyasa
Power Vinyasa is a rigorous class that focuses on working your whole body and the breath as you move from pose to pose. This hour-long course is designed to make you sweat and really challenge yourself. All skill levels are welcome and anyone can get a workout from this class, but I would recommend that you are already comfortable with flowing between poses (e.g., downward dog into the Warrior series) before attending this class.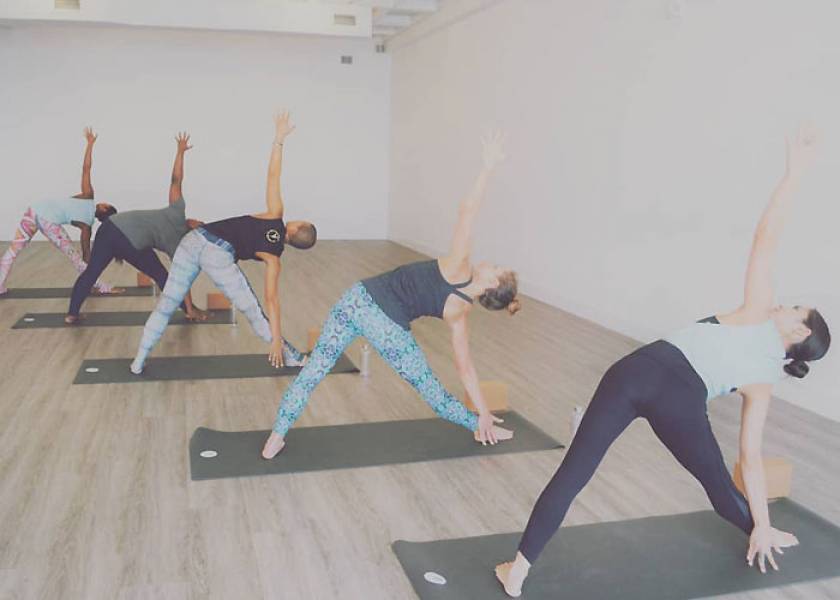 I attended a later evening class with Janine, who included some much-appreciated motivational wisdom within her instruction. She was also incredibly gracious and gave me some tips on improving a pose I struggle quite a bit with. If you're nervous about taking a class, don't worry, your instructor is happy to help and guide you—it's what they're there for!
Get Started!
Don't let vacation throw off your fitness resolutions this year. Stop in for a yoga class next time you're on island, relax, and take that Cayman vibe back home with you! And don't forget you can also visit a traditional gym or take a bike ride around the island for other great ways to keep active while on the island.