Easy-to-Miss but Fascinating Historic Spots in George Town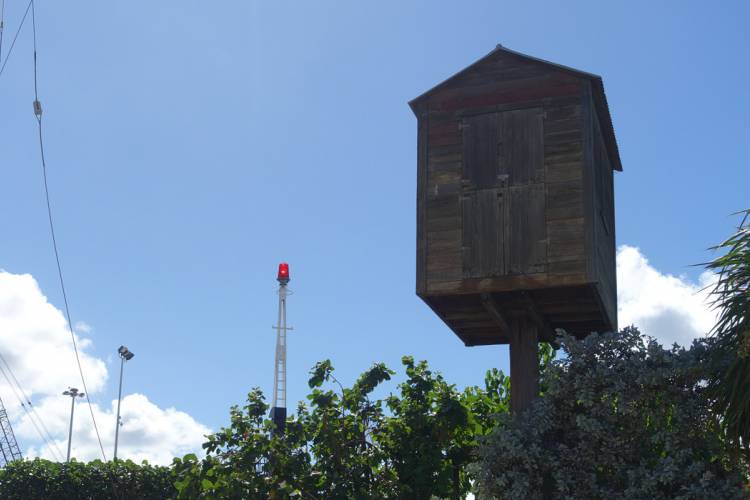 Central George Town is home to an abundance of fun shops, delicious restaurants, and breathtaking ocean views, but did you know George Town is also home to some unique and interesting historic sites? Next time you're in town on a mission to shop 'til you drop, take some time to see these amazing historic places!
Mr. Arthur's Home and Print Shop
At 186 North Church Street, you'll find a small home and print shop that now operates as a general store. This small, white shiplap shop could be missed if you don't know what you're looking for. The shop offers a glimpse at Grand Cayman's historical architecture and is the perfect place to stop if you need some snacks and drinks while walking through town.
Built in the late 1800s, the store was originally Mr. Arthur's Home and Print Shop, owned by Arthur Bodden and his family. Known for his spotless white shirt, cap and pipe, Arthur was the first wireless operator and weather specialist on Grand Cayman. The print shop across from his home operated for more than 50 years printing Cayman Islands Government stationary.
Fort George
If you've ever noticed the wooden hut on a tall pole in George Town, you might have wondered where it came from. It's a unique sight to see while strolling the shops on Harbour Drive, but this small site has a lot of tales to tell.
The hut is actually what remains of Fort George. Fort George was built sometime around the 1790s as a means to protect the island. It's not clear whether Fort George ever successfully warded off an attack, but it was manned by local militias for many years. Eventually, the site was mostly abandoned and the sand-bottomed fort became a play area for children at the neighboring school. During World War II, a lookout hut was added to a silk cotton tree and was used by watchmen to monitor for German U-boats that commonly patrolled the Caribbean. It was abandoned after the war.
When a developer began to demolish the dilapidated Fort George in 1972, locals dedicated to protecting Grand Cayman's history protested by standing in front of the remaining structure and eventually saved it.
Now a National Trust protected site, a replica of the lookout house was constructed using pieces of the original that had crumbled over years with no upkeep; it is now one of the more prominent features of a stroll through town, and one passersby ask many questions about.
When you visit, you'll want to check out the three-panel mural painted by local artist John Broad that depicts three events that represent the strong history of both Fort George and Grand Cayman: an attack by Spanish marauders, a U-boat bombing, and an Easter Regatta.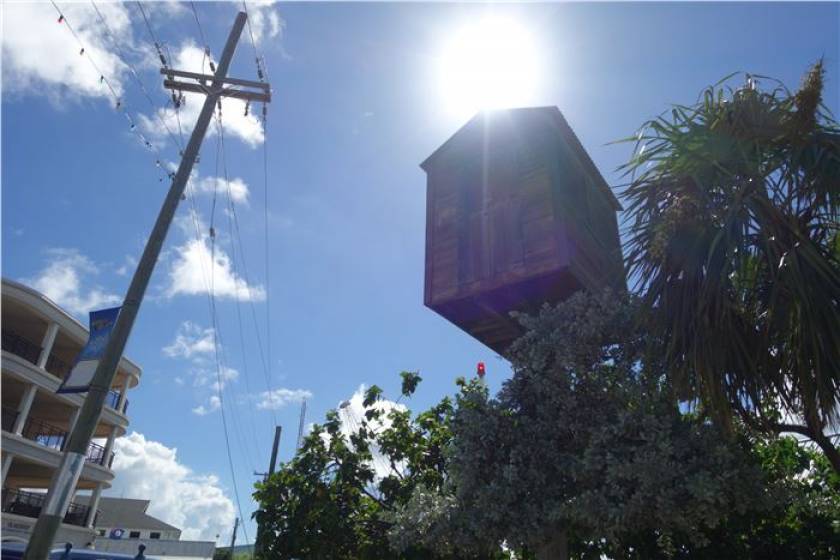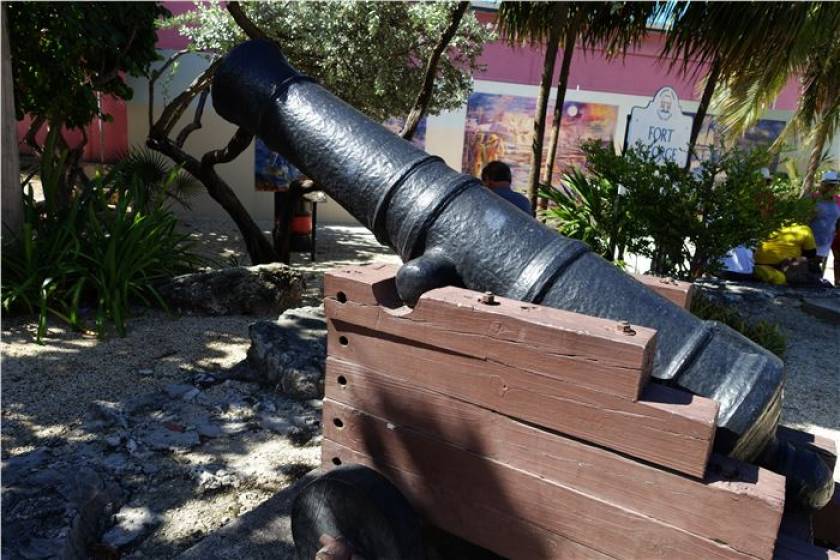 George Town Step Well
Perhaps one of the easiest sites to miss and most unique in downtown George Town is the George Town Step Well.
When you're picking out a souvenir cap at Outlet Embroidery Shop in Bayshore Mall, make sure you look at your feet. Viewable through a pane of glass, the George Town Step Well is believed to be one of four freshwater wells recorded in Grand Cayman in the 1700s. The well likely served as the main water source for residents of Hog Sty Bay and ships that docked at the port. The well was discovered by developers in 2003 and was excavated by local archeologists who found remnants of 18th-century pottery, glass, and other treasures. You can even see some of these artifacts outside the shop. The Grand Cayman Water Authority also found the water at the bottom of the well was perfectly good to drink today!
Take a Walk Through Time
If you're interested in learning more about the history and cultural background of Grand Cayman, these unique sites are must-sees, even if they're hard to spot at first. Next time you're wandering through George Town, make sure you take some time to take a trip back in time at these amazing sites.