This Cayman Coconut has a Huge Heart for her Homeland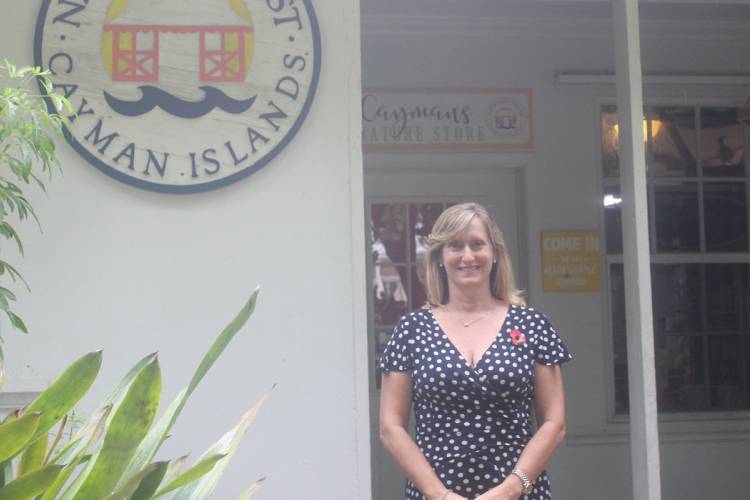 Nadia Hardie is a natural leader, and I don't just say that because she is the leader of the National Trust for the Cayman Islands. She is indeed the Executive Director, but when I first met her last fall at the National Trust, I was enamored by both her professionalism and charismatic personality. Nadia is definitely the kind of person I'd want to follow!
She's a self proclaimed "Cayman Coconut," with a fascinating cultural background like so many others in Cayman. Although a world traveler practically from birth, Cayman has earned the beloved title of "home" for Nadia. She was born in Trinidad to a Welsh father and Austrian mother. She spent a brief time in the Bahamas as a baby, but lived most of her first eleven years in Switzerland. Then the family returned to the Caribbean, making Cayman their home in 1985—wow, can you imagine a lifetime of travel in just your first decade of life? And that was just the start for Nadia. After her family moved to Cayman she was back and forth between the Caribbean and London, where she attended boarding school and university.
Nadia remembers her summer holidays in Cayman with fondness. She grew up in a Cayman of about 20,000 people, where everyone knew everyone and it was safe to hitch a ride home from anyone driving by. She spent her summers walking from her house on South Church Street to the Holiday Inn on Seven Mile Beach. Without smartphones and social media to plan meetups, the beach at the Holiday Inn served as the local meetup and place socialize. "You knew if you went there everybody would be there."
After university Nadia spent a little over a decade working in London, and of course visiting her family in Cayman when she could. She felt a special yearning to return home to be with her family, so she took some time to backpack around the world and then settled back at home in Cayman in 2002.
Nadia has a wide range of experience working in both of the major industries in Cayman: tourism and finance. She spent 10 years working in sales at different hotels across the island and another 6 years working for businesses like Deloitte in financial services. When asked about her current role at the National Trust, she says it's a dream come true. She gets to use the skills she's acquired in business over the years to help protect historic and environmental places of significance in the Cayman Islands. Taking care of her homeland is a mission that is near and dear to her heart. It's easy to see how much she loves this place when you talk to her about the work of the Trust.
In Nadia's own words, "Cayman is a lovely place to grow up," and now she and her husband, Damon, have the gift of raising their two girls, Sasha and Mia, here. Damon, originally from New Zealand, came to Georgetown to visit a friend and celebrate the new millennium in December of 1999 and never went back home. He got a job offer and phoned home that he was staying in the Caribbean. Shortly after, he and Nadia met and the rest is history.
When she's not working to protect Cayman, Nadia loves spending time with her family. They're an active family that love boating and the sports life. Nadia herself was a huge football (soccer) player and a "massive field hockey person." Now she laughs that her sport is driving her kids around from sport to sport. One daughter is a squash champion and the other is an excellent football player. "I encourage them to be as active as possible," Nadia adds. The family loves taking holiday vacations to New Zealand during their winter to ski and to the North Carolina mountains for a different landscape experience. She adds, "When we live here why would we go on a summer holiday? We have the best beaches right here."
We talk some more and Nadia tells me all about the work of The National Trust (perhaps enough for an entire blog post—hint hint—one that might be coming soon to a blog near you soon).  She also tells me about her furry love, Maisy, a Shih Tzu who's like her 3rd child and an absolute sweetheart. She starts to recommend local restaurants I should try: Vivine's on the East End, Singh's Roti in Georgetown, Champion House II (where you might meet Shelly), Vivo for the vegan hearted, and Alfresco's to dine on the beach. She leaves me with a book recommendation as well, for Don't Stop the Carnival. She says it's a hilarious comedy about escaping a mid-life crisis in the Caribbean. Maybe just the book to read next time you're on the beach! (Catch these tips to make that reading experience even better.)
Stay tuned for more from Nadia and The National Trust for the Cayman Islands as we share a post about all the great work the Trust is doing next month.