Behind the Scenes of Davinoff's Concrete Sculpture Garden with David Quasius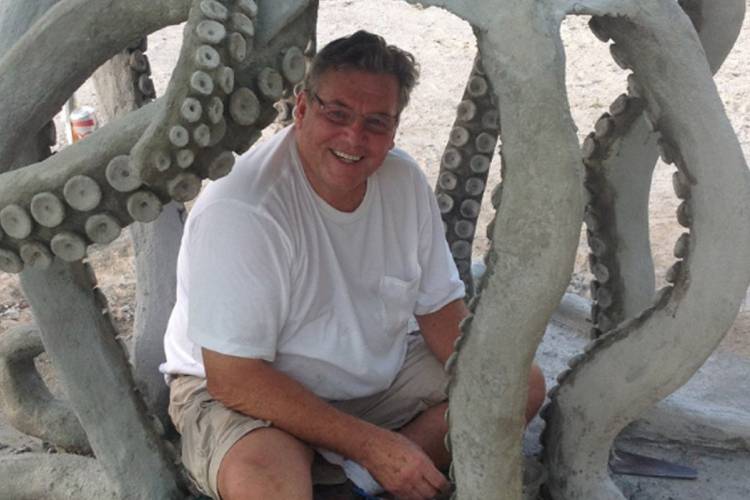 Davinoff's Concrete Sculpture Garden consists of more than twenty super-sized concrete animals. Located on the north side of the island, this drive-up tourist attraction is a great place to take photos with the family—kids absolutely love it. We recently had the opportunity to chat with the man behind the park, David Quasius.
Originally from Sheboygan, Wisconsin, David and his wife Kathy began visiting the island about twenty years ago when they inherited a beach house. The Concrete Sculpture Garden started off as a personal project to keep David busy. He started creating a small sculpture for their garden each year for their personal enjoyment. In 2010, David and his friend Leo Verrett, an artist from Minnesota, decided to make a larger blue iguana sculpture named Ivana the Iguana for the front yard. Once that piece was completed, it started to gain some attention. "People started stopping and I'd go out to chat. I was hooked," David says. Shortly thereafter, David moved all of the small pieces out into the yard and, as they say, the rest is history.
Since then, David has created a new piece to add to the park each year. Most of these sculptures are of animals that are native to Cayman. When asked about his inspiration, he said he wants to find Cayman animals that appeal to kids. David says that his biggest joy in creating the Sculpture Garden is the sounds of the children laughing in the park. He loves seeing parents and grandparents snapping pictures of the kids with his creations. "To have this happening in your front yard is very neat," says David.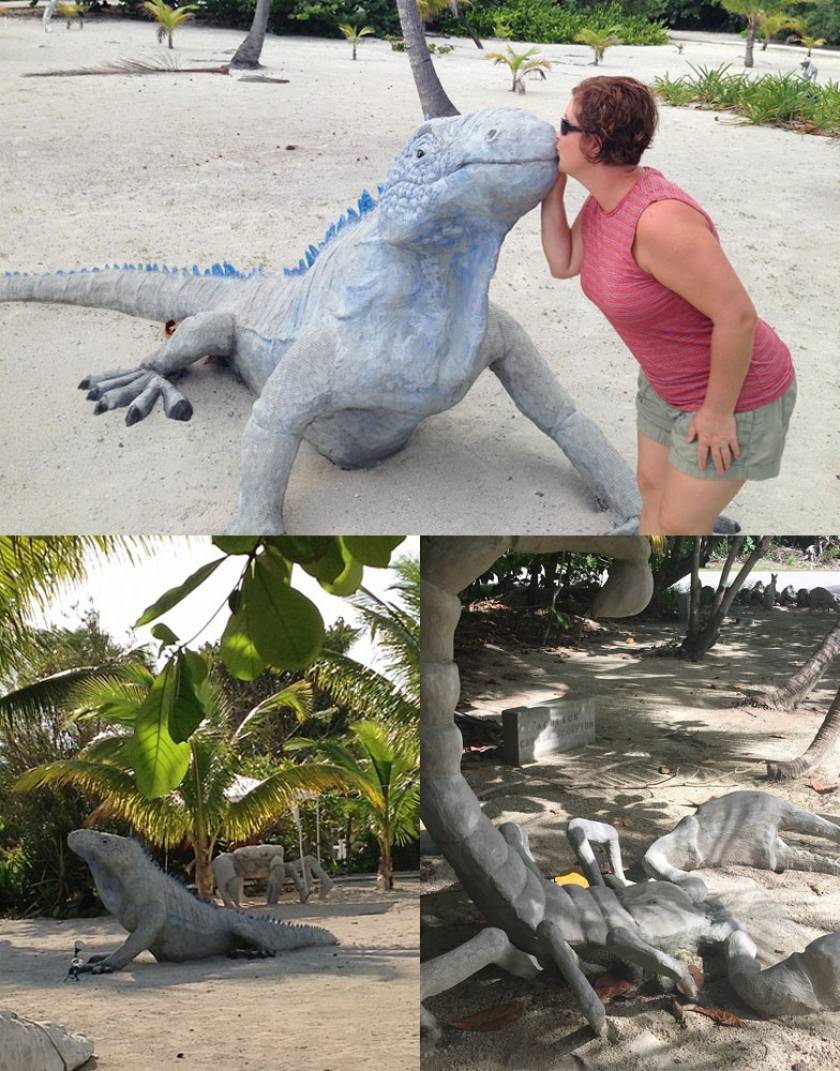 Today, the Sculpture Park has multiplied and is home to many large concrete sculptures. A few of the sculptures you will see are Finley the mahi-mahi, Henrietta the chicken, and Clawdette the crab (our favorite). David has created a haven for photo opportunities. For example, when he created his newest concrete shark, Sharkie III, he added a concrete inner tube as a prop for a more interesting picture. His goal is to make the park more interactive and a fun place for families to visit.
When asked about his training and how he learned to make these amazing sculptures, David explained that he is a self-taught artist. He says that he comes from an artistic family and they exposed him to making concrete sculptures. His sister is a professional artist, and he learned some of his techniques working on family art projects. Being such an amazing artist, we were surprised to find out that David is actually a retired CPA!
David enjoys the complexities of creating the sculptures. "Each one has its own problems to solve," says David. For example, he had to figure out how to attach 400 suckers to his giant octopus. We tried to get him to choose his favorite sculpture, but he just couldn't. He did say that if he could only take four back to Wisconsin with him, it would be the crab, octopus, blue iguana, and the crocodile. With so much work going into each piece, it must be hard to choose a favorite.
Each sculpture that David creates takes anywhere from six to eight weeks to complete, and the process is fascinating. David starts building each sculpture with an armature made of metal rebar, which he then wraps in a metal mesh. This gives the sculpture its basic shape and acts as a skeleton. Designing the armature is the most important part of the sculpture since the concrete cannot take shape without an armature. When creating a sculpture, David says that most of his time is spent on this step. Once the armature has been completed, it is time to add the mortar and put the finishing touches on the sculpture. Two layers of mortar are added with an additional finishing coat. David even has tutorials on YouTube showing how he creates these masterpieces (here's one about the scorpion!).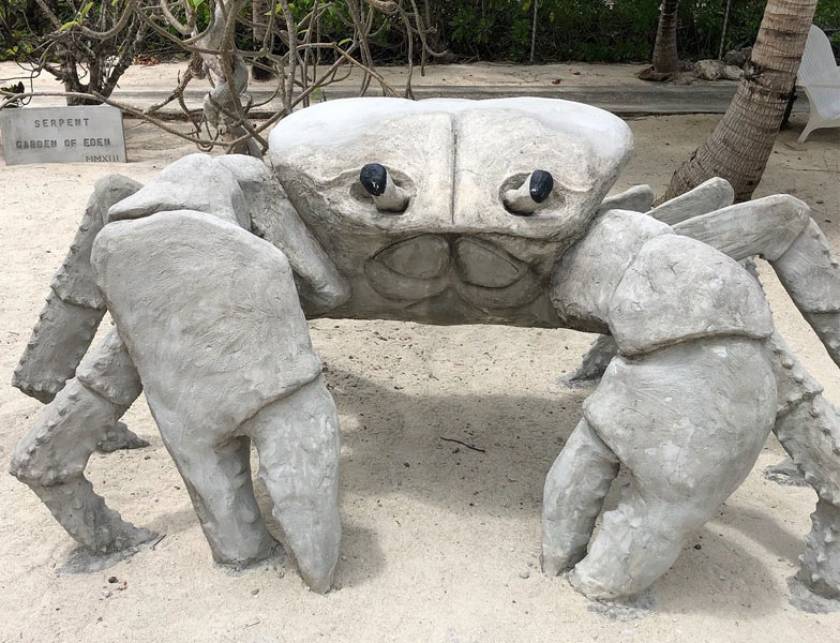 Clawdette in all her glory.
Since his first visit to Cayman 20 years ago, David says he's loved the whole island, but has an extra special place in his heart for the north side. He describes it as a place where everyone knows everyone, there is very little traffic, and no roundabouts. While the north side may not have all your typical tourist attractions, they do have a really cool sculpture park!
For his next project, David plans to create a sculpture of the national bird, the Cayman parrot. If you stop by to visit the park this winter, you might be able to catch up with David and his wife, Kathy. Since their house is on the property, David and Kathy usually step out to visit when they hear a car door slam or hear children laughing. They love meeting both locals and visitors to the island.
Davinoff's Concrete Sculpture Garden is open to the public 24 hours a day, 7 days a week, and it's free! If you are looking for some really cool photo opportunities, stop by for a visit. You can find more information about David and the park on his website.