Life's a Stage in Cayman—Our Chat with Marc Thomas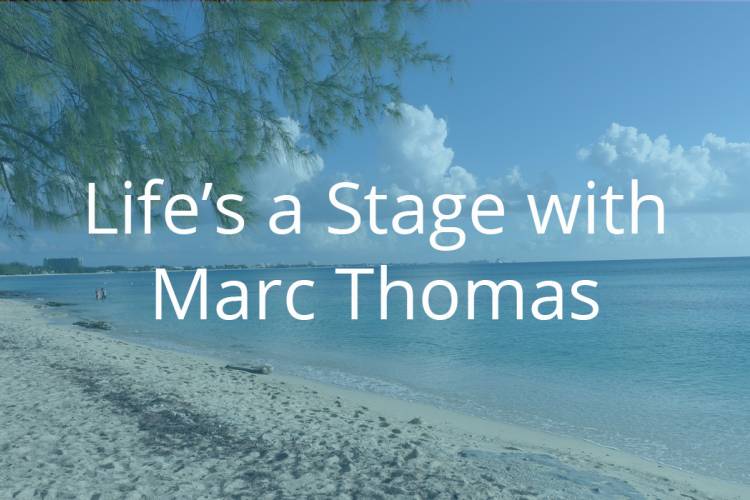 One of my favorite things about visiting Cayman is the instant change of pace I feel as soon as I arrive. The moment I step off the plane, I feel calmed and welcomed by everything—the breeze, the scent of the ocean, and, of course, the people. The last time I visited, I didn't even have to get off the plane to be welcomed by one of Cayman's colorful residents.
I met Marc Thomas on my flight, and he started chatting with me as though I were an old friend. He told me everything I could have ever needed to know about his life, his kids, and his love for the island we were flying to. Initially, I was a little caught off guard by how friendly and open Marc was—I fly pretty frequently, and I don't always end up having in-depth conversations with my seat-mates. However, after chatting with him for just a few minutes, I couldn't wait to hear more of his story, so I asked him to lunch. We met up a few days later and became fast friends even though we'd only known each other for a few days.
Marc shared with me that he's originally from London and first came to Grand Cayman in 1988 when he was visiting a friend he met while at university.
Immediately, he fell in love with the island's beauty and easy pace.
"As soon as I stepped off the plane, I thought, 'This is it,'" Marc told me.
He visited a few times after that, and in 1990, he moved to the island permanently.
When Marc first moved here, there was a population somewhere between 30,000 and 35,000, and Grand Cayman was a much different place. The island was relatively rural with no cinema, only a few restaurants, and limited services—in fact, services were so limited, it took six weeks to get the telephone installed in Marc's first apartment! But he didn't mind the delay; he was on island time now.
During his nearly 30 years on the island, Marc has lived quite the life. He's a father of three, an avid scuba diver, and a world traveler, having visited about 40 or 50 countries! He also has an unexpected passion: theater.
Theater is a passion Marc discovered by accident. As he tells it, he experienced a mid-life crisis around age 50, and, while most guys would have fulfilled that with a fancy new sports car, Marc wanted a new hobby. Between his office and his home was the Prospect Theatre, which was advertising the first rehearsal for the annual Christmas show. He decided to drop in for a look and somehow ended up in the show. He's been a part of the Cayman Drama Society ever since, and has been cast in plays like Joseph and the Amazing Technicolor Dreamcoat and Barefoot in the Park.
Even though it started with an impromptu audition, Marc says the theater has changed his life and given him more than something to do in his free time—it's given him a community.
In 2017, Marc's wife passed away, and his theater family was there to provide the support he and his family needed. What surprised Marc even more was the overwhelming support he and his family received from what felt like the entire island of Grand Cayman. People he didn't even know were showing up at his door with food for his family and offering to assist in any way they could.
"You'd find it difficult to find somewhere more wholesome and friendly than here," he said.
I can't help but agree.
Seeing Marc perform is on the top of my list for my next trip to Cayman. Luckily, the Cayman Drama Society puts on a number of plays and musicals throughout the year, and the Prospect Playhouse is only 17 minutes away from CCC. Marc also suggests making a trip to The National Gallery, home to an array of beautiful art exhibits that allow visitors to immerse themselves in Cayman expression.
If you're an art lover, be sure to add both of these to your "must visit" list next time you're on island—you might even spot Marc on stage!