23 Things to Do in Grand Cayman in 2023
With a new year, comes new goals. We've rounded up 23 that we think you'll want to add to your list for 2023 below. See how many you've already done, and mark off those you haven't this year! And if you need a place to stay on island we happen to know a place—with a huge beachfront, kind staff and magnificent views. Book a condo for 2023 to make it the best year ever! Now let's get to checking these Cayman activities off the bucket list.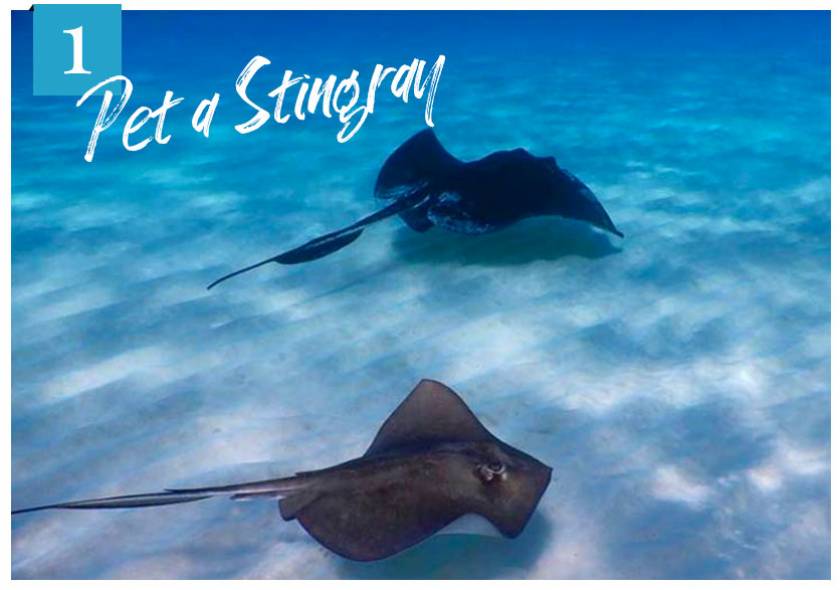 Pet a stingray at the Stingray City sandbar
They're the "puppies" of the Stingray City sandbar and the number one attraction in Cayman. Book a trip to Stingray City for the experience of a lifetime. Best to do this with a pro guide, as they'll make sure you get an up close experience with the rays. (Don't pet stingrays without guidance from a pro.)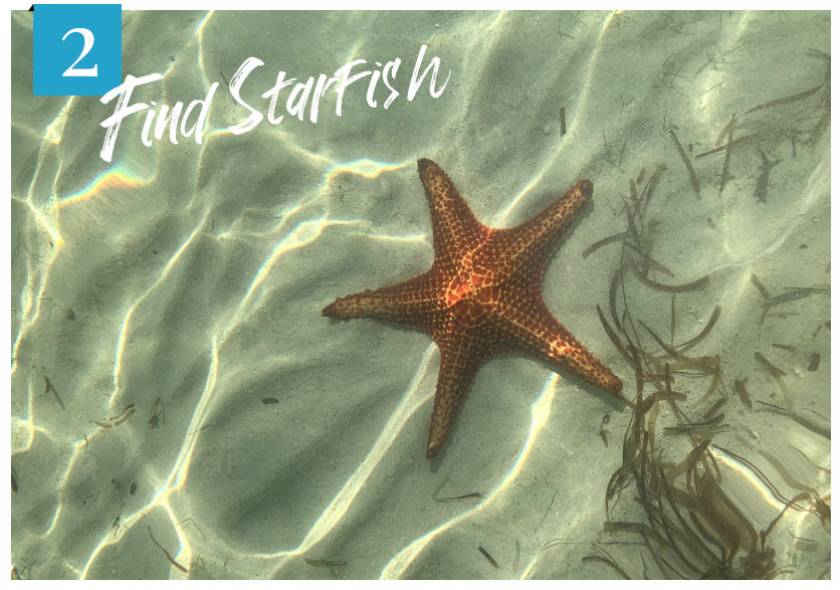 Find Starfish at Starfish Point
It won't take more than a few minutes. Wade into the water at Starfish Beach and set your sights on spotting a starfish. Usually you'll be able to find a few of these 5 pointed beauties. It's like looking for easter eggs—each time you find one you'll feel a little wave of joy.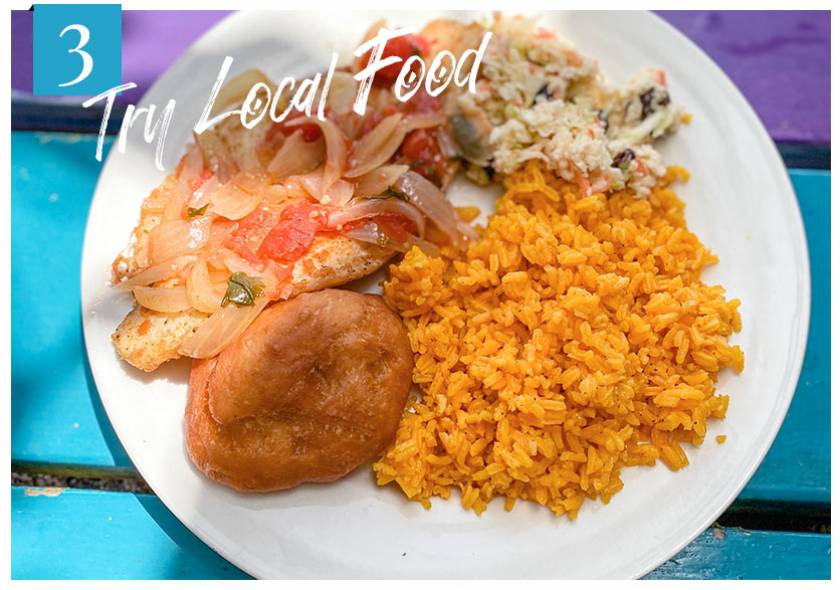 Try Local Cayman Food
Cayman Style Fish anyone? Jerk chicken? Fish rundown? Don't deprive yourself of the delectable tastes of local Cayman dishes. Get a taste and you'll find yourself craving Cayman food long after your vacation. One more reason to come back!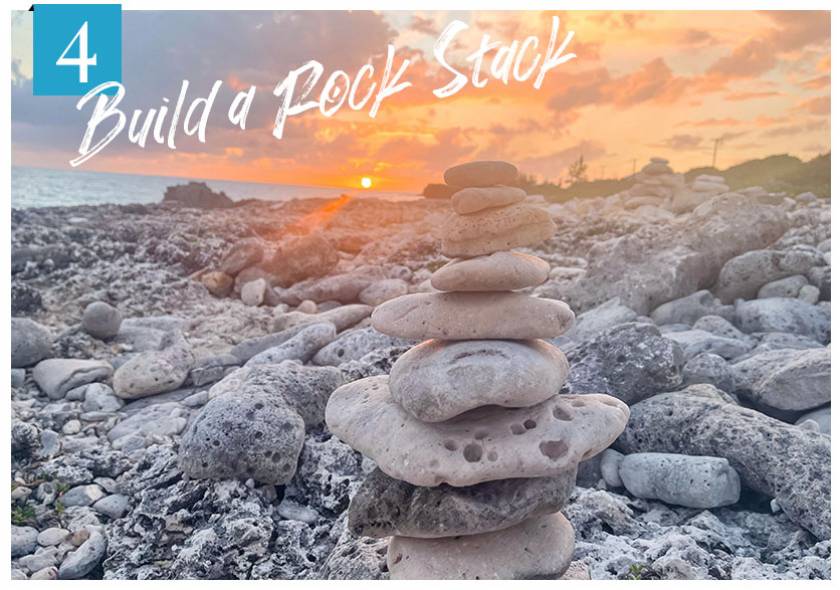 Build a Rock Stack at the Blow Holes
Over the past few years stacking rocks has become a bit of a tradition at the Blow Holes. Pay this site a visit and build your own. May we suggest stopping here at sunset after a lovely dinner at one of the restaurants on the East End.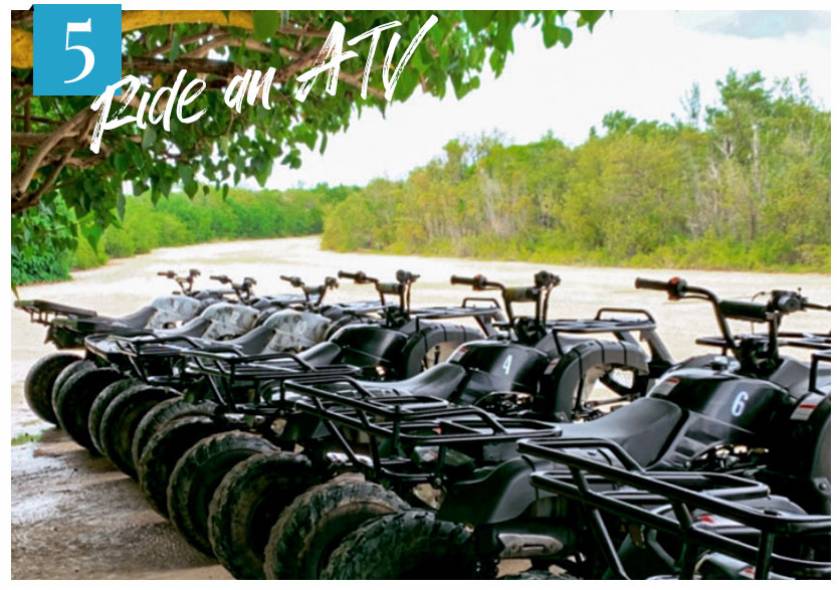 Ride an ATV through Barkers National Park
Untouched beaches, mangroves for days, and thriving Caribbean nature at its best, Barkers National Park is a treasure. See it all on a joy ride with Cayman ATV.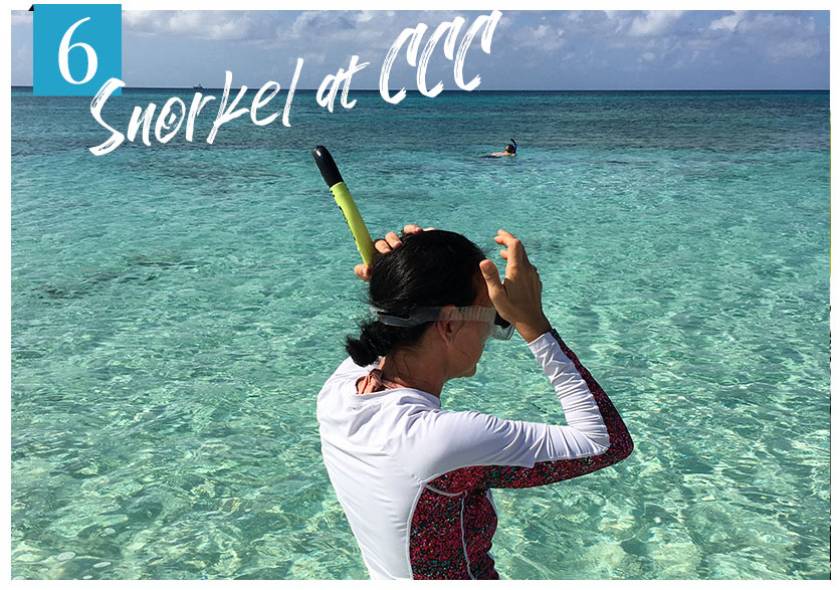 Snorkel From the Christopher Columbus Condos Beach
Many have said it's the best snorkeling they've experienced in Grand Cayman. Grab your gear and snorkel directly off our beach! We recently interviewed someone who's been snorkeling here for years, so we could share the best advice for seeing it all.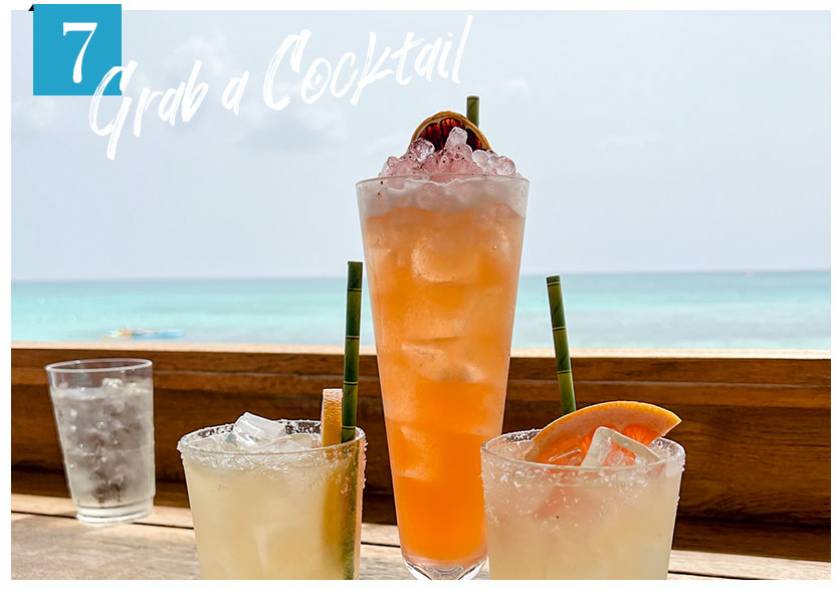 Find the Perfect Island Cocktail or Mocktail
Searching high and low for the best island cocktails and mocktails is a tough life, but someone has to do it. Step up to the plate in Cayman and your tastebuds will thank you. Food and Wine magazine recently wrote about how "Cayman is setting the bar for Cocktails in the Caribbean." Read all about it at the link below. And don't miss the amazing mocktails bubbling up, too. Door No. 4 mentioned in the Food and Wine article for example serves a delicious Not an IPA and fun Champagne No Thanks.
Kayak through the Bioluminescent Bay
You have to see it to believe it! Watch these underwater miracles light up in the bioluminescent bay on a tour with Cayman Kayaks. Photo provided courtesy of Cayman Kayaks.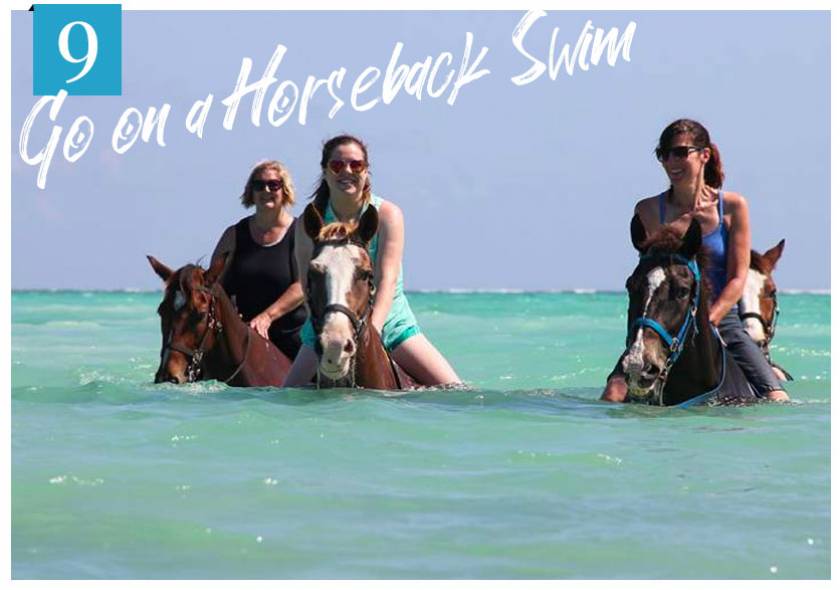 Go on a Horseback Swim
An unforgettable experience! Riding a horse along Barkers beach is magnificent in and of itself but going on a swim with them in the sea is another level.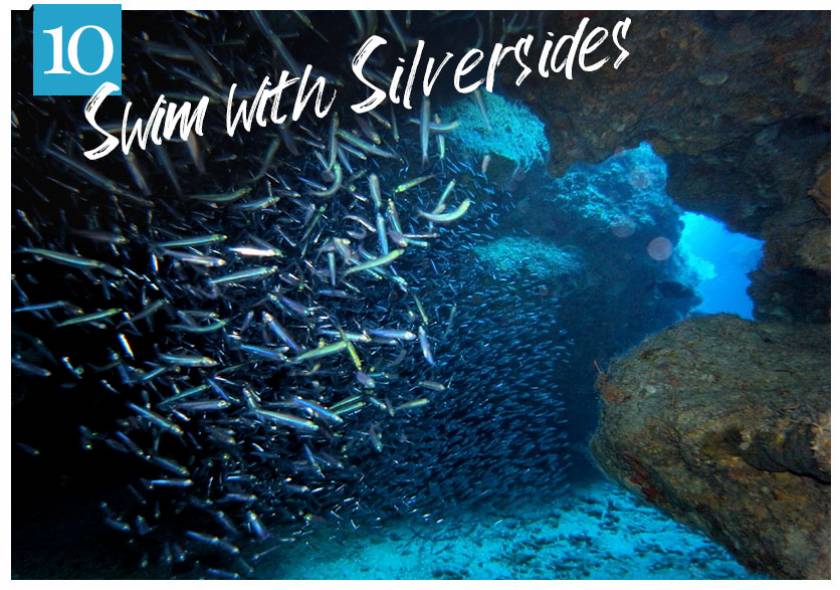 Take a Dive & Swim with Silversides
Feel the awe of being surrounded by silversides on a dive!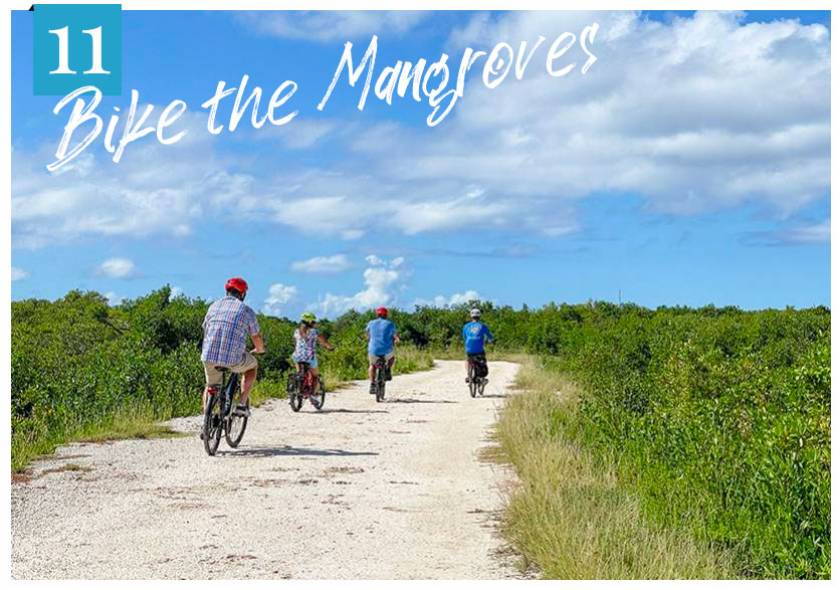 Ride an E-Bike Through the Mangroves
Go where few get to go. Enjoy remote pathways through the West Bay mangroves on a tour with Paddle Wheel Adventures.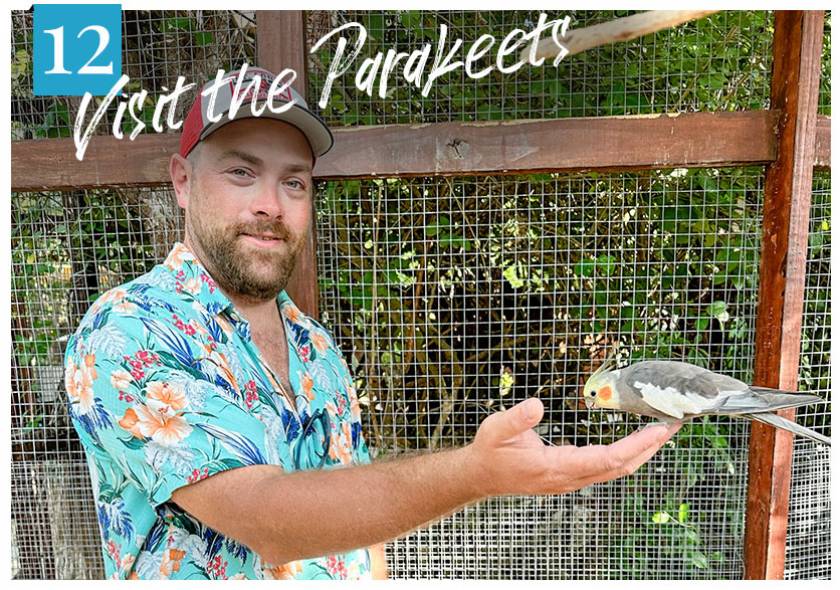 Visit the Parakeets in their Enclosure at Cayman Parrot Sanctuary
The staff will give you feed then all you have to do is step into the parakeet enclosure at the Cayman Parrot Sanctuary to feel sweet bliss. The birds will fly down to your open palm, land in your hand and snack away.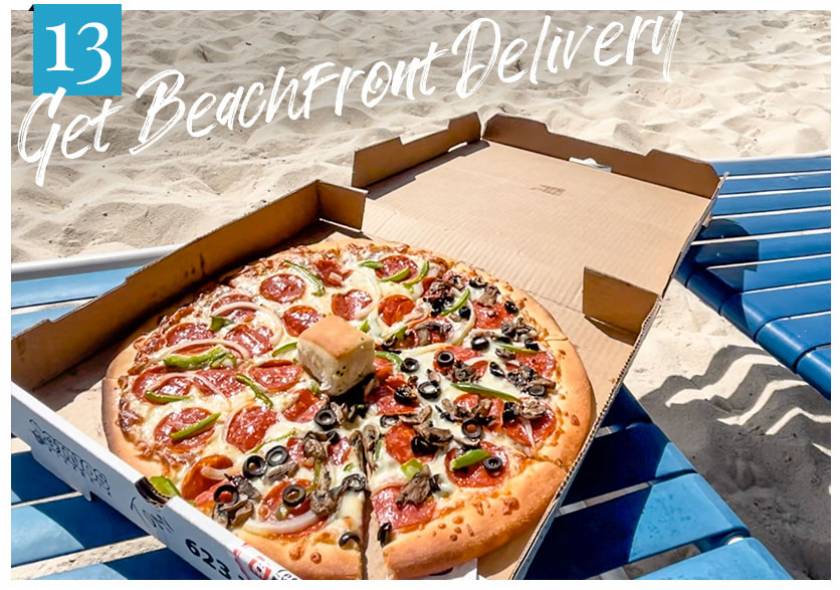 Get a Pizza Delivered to the Beachfront
Delivery is wonderful. Beachfront delivery is wonderful x 2. Extend your time in the sun and get your next lunch or dinner delivered directly to the Christopher Columbus Condos beach. Download the Bento or Let's Eat apps on your phone for great options and quick ordering. Request a beachfront delivery in the notes!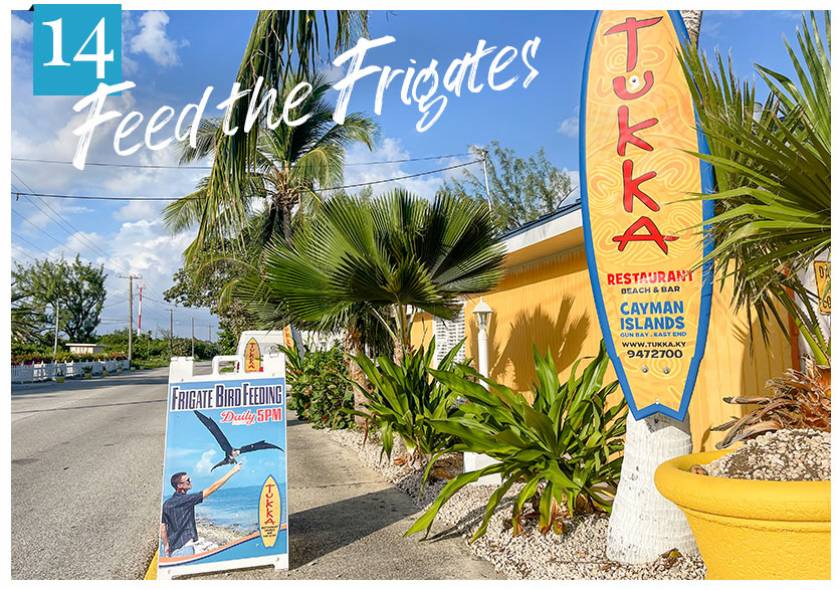 Feed the Frigates at Tukka
These birds are huge! Come experience them for yourselves at Tukka. They have a feeding every night at 5:00. Since they are wild, they don't show every night, but many times they do and when they swoop in you'll be amazed!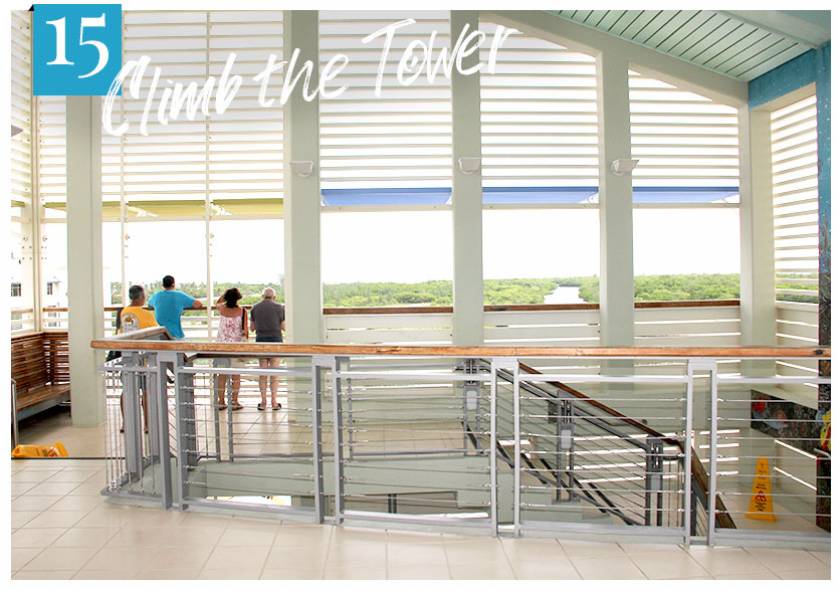 Climb the Observation Tower at Camana Bay
Get your steps in and get rewarded with a great view of the Camana Bay canal and Caribbean ocean.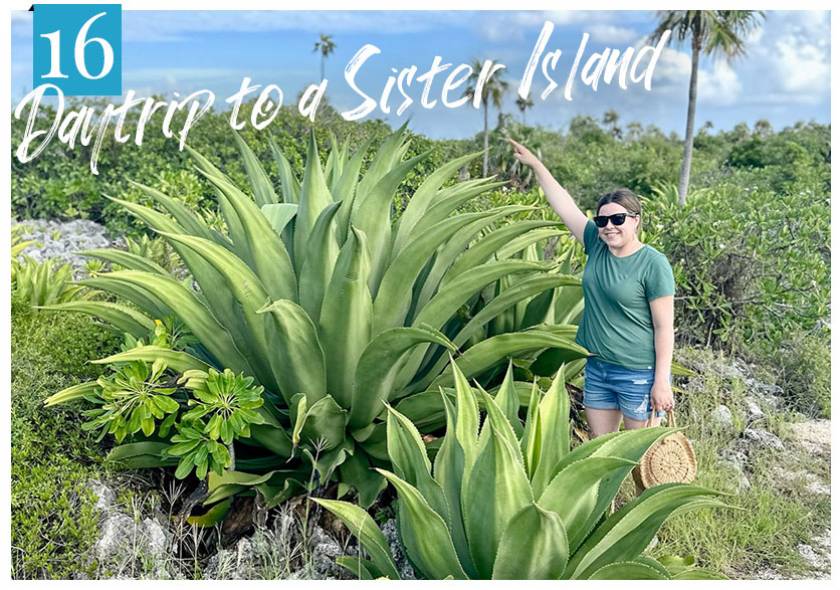 Take a Daytrip to a Sister Island
It's worth the early rise! Book a roundtrip flight to and from a sister island for a daytrip to Cayman Brac or Little Cayman. If you're looking for adventure go the Brac way. If you're looking to sit on a remote beach all day go the Little Cayman way.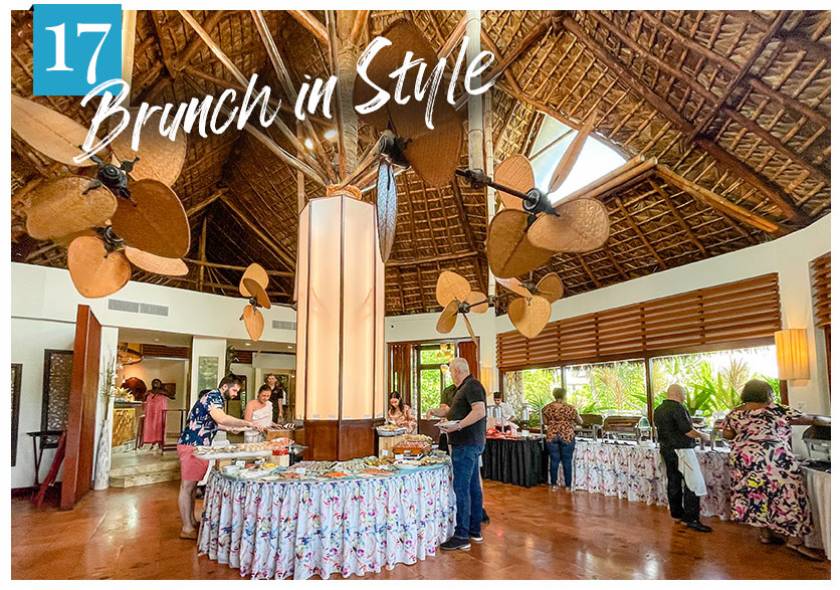 Brunch in Style in the Culinary Capital of the Caribbean
Grand Cayman offers many incredible options for brunch and the options get even better on Sunday. Pappagallos for example (pictured above) hosts a Sunday Brunch with a spread you have to see to believe.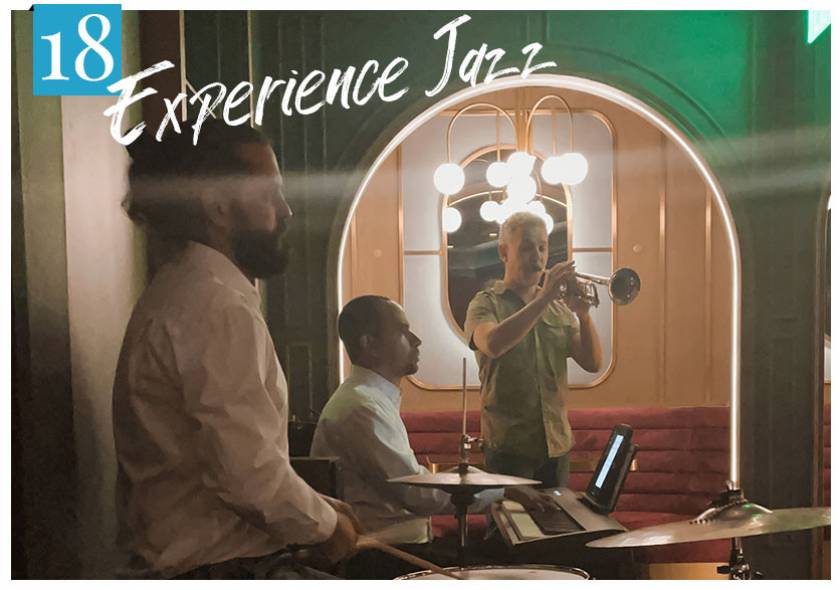 Experience Jazz at Next Door
Sultry jazz in an art deco inspired setting will leave you feeling inspired every Thursday night. Plus the bites and drinks are amazing.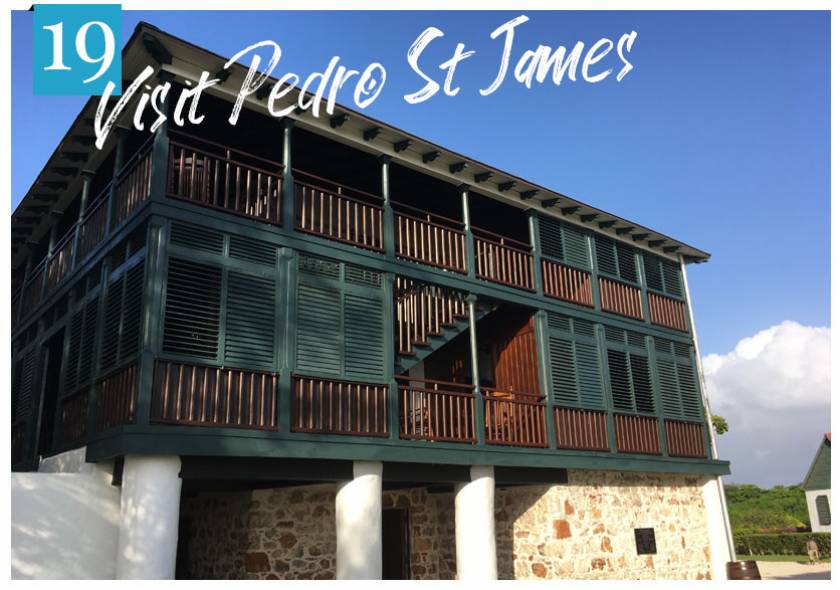 Get a Taste of Living History at Pedro St. James
Get up close and personal with Cayman history in this grand house. Often referred to as Pedro Castle by locals, this long standing structure has a myriad of significant stories to tell. Tours are offered daily. General admission is CI$15. Adults 65+ and children 5 and under get in free.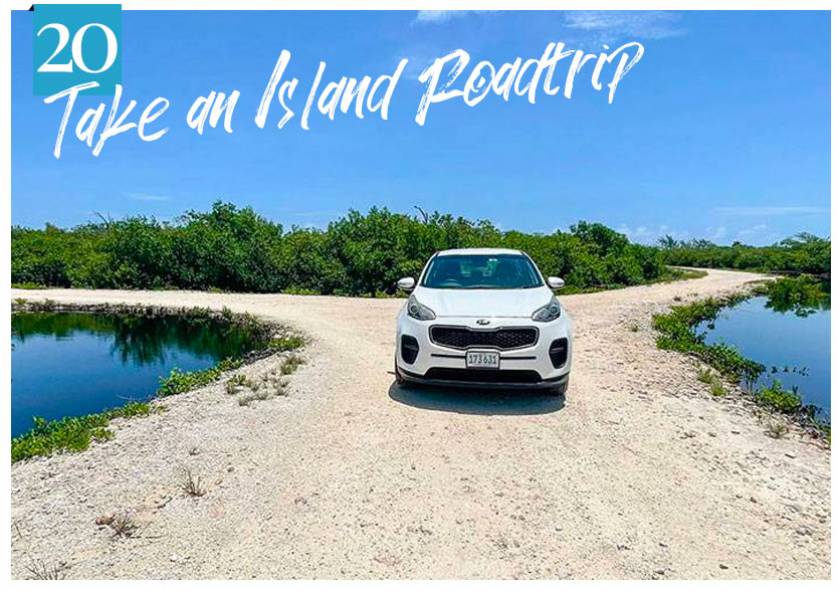 Take a Roadtrip Around the Island
Drive the perimeter of Grand Cayman in one day—stopping at places you feel beckoned to explore along the way. Start in Barkers National Park and wind around the exterior of the island counter-clockwise.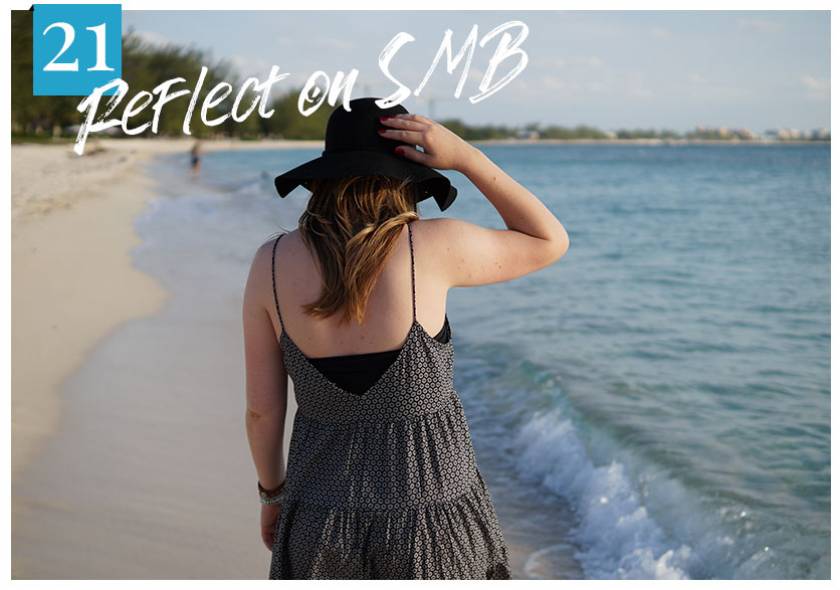 Reflect with a Walk on Seven Mile Beach
Savor and relive your adventures by reflecting. A walk on Seven Mile Beach always does the trick.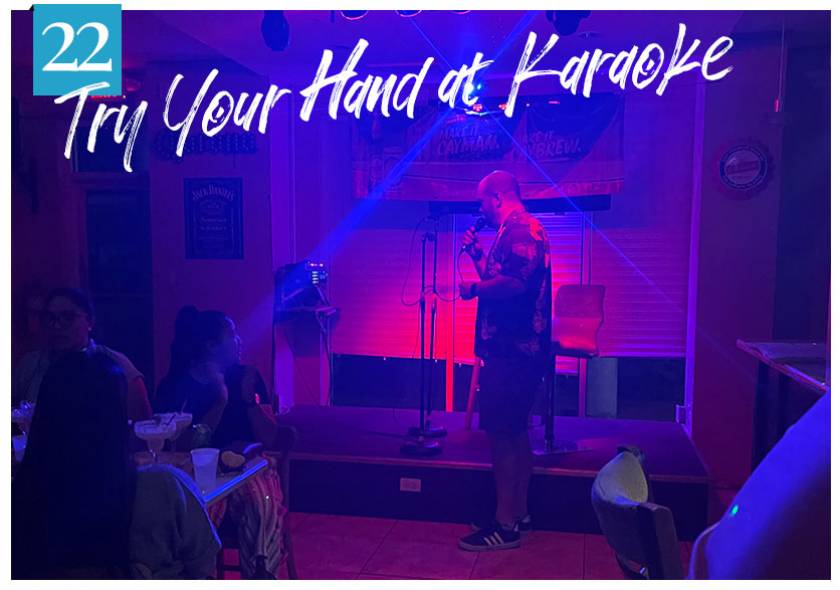 Try Your Hand at Karaoke at Popo Jebs
Good times will be had by all at Popo Jebs. This Filipino restaurant by day and karaoke bar by night is always a blast. Come prepared to sing and ready to let go of your inhibitions! (Don't forget us when you're famous!)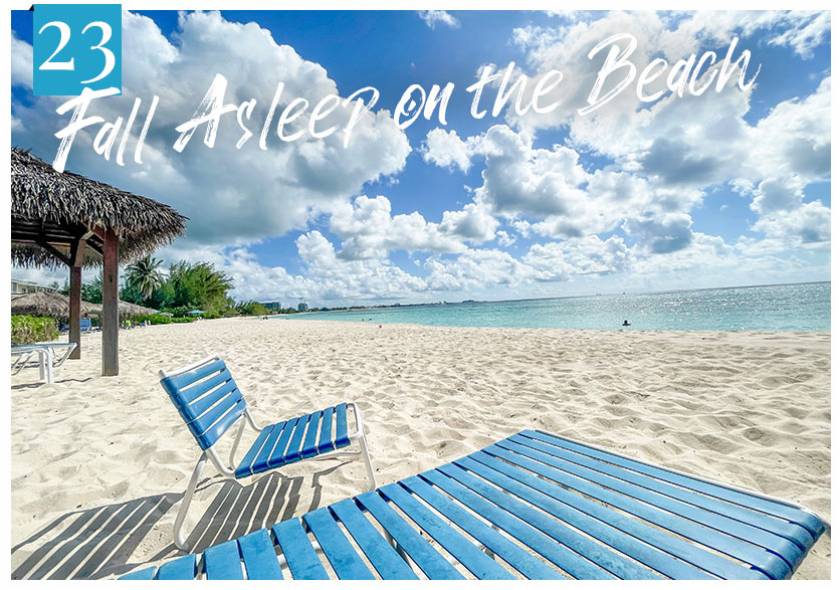 Fall Asleep on the Beach in a Blue Chair
Nothing beats drifting asleep in a lounge chair while enjoying a soft breeze and listening to the sounds of the sea. If you're thinking "take me there now" make a reservation with us for 2023!