Getting Off the Beaten Path in West Bay with Paddle Wheel Adventures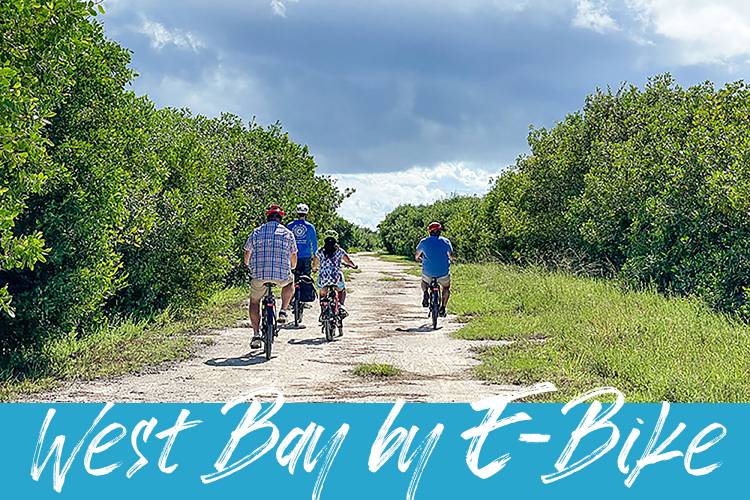 Do you like being in nature, enjoying a casually active morning, and learning about the makings of a place? If so, the West Bay e-bike tour offered by Paddle Wheel is a must on your next trip to Cayman. Even if you're unsure, Ryan DeNoyer, lead naturalist at Paddlewheel will make you a believer.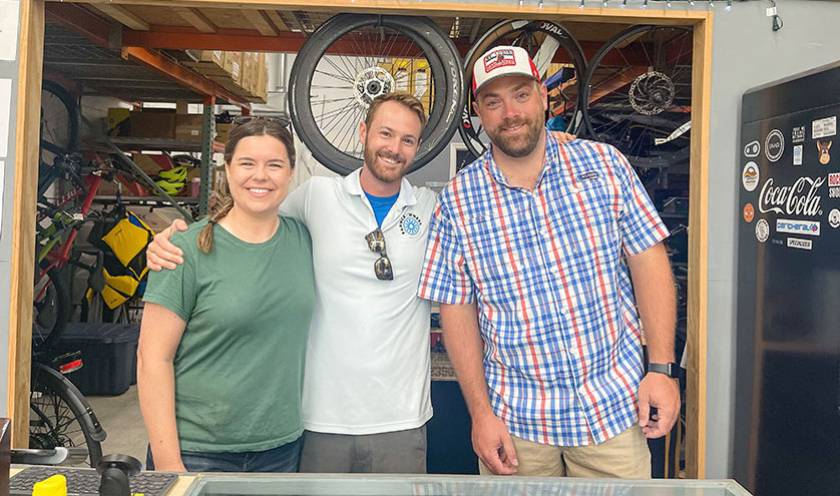 My husband, Brandon, and I took the e-bike tour on our last trip to Cayman and thoroughly enjoyed our time with Ryan, and the other couple along for the ride—Scott & Juliette. We could tell from the get-go we were going to have a great time. After I told them all I was going to write about our adventure, Ryan joked that I should write about the devilishly handsome tour guide and Scott and Juliette were just so friendly—the kind of people you instantly enjoy being with.
Learning to Ride an E-bike and Hitting the Open Road
I had never rode an e-bike before, so I was a little nervous. Ryan quickly eased my anxieties. He walked us through our controls one-by-one and took us on a practice spin around the parking lot. I picked it up pretty easy, and became a fast fan of my new apparatus. Once Ryan ensured we were all comfortable, we hit the open road.
From Paddle Wheel we headed to one of Ryan's favorite beaches.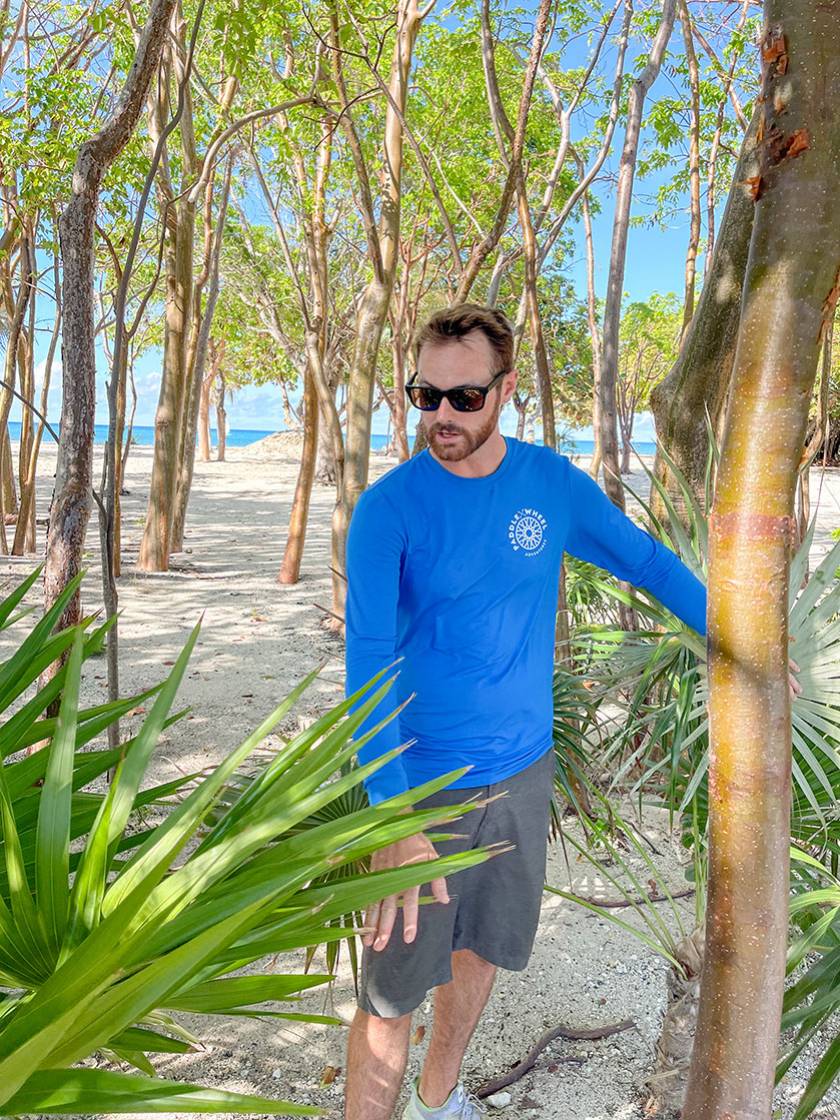 The Silver Thatch & More at Ryan's Favorite Beach
Here Ryan pointed out both native and invasive trees on the island. He explained the significance of the Silver Thatch Palm, an endemic species to the island and discussed roles other trees play on island as well, for better or worse. Both his ecological and cultural knowledge were very impressive which makes sense since he referred to himself as a human ecologist—a new concept for me, and one I found so fascinating!
Ring 3 Times
Our heads full of new knowledge, we headed to our next destination. About this time, my eyes started to burn and I realized sunscreen must had rolled into them. Luckily, Ryan had told us if we had any issues to ring our bike bell 3 times, and he'd check on us. He heard me give 3 rings and immediately pulled over the whole crew over. I of course didn't think I'd ever need the 3-bell SOS, but I was so glad he had equipped us with this option. I took a few minutes wiping my eyes clean (everyone was so kind and patient), and then we were back to it. We stopped again shortly up the road for another show and tell across from Heritage Kitchen. Ryan shared more fascinating information about the island before we continued on.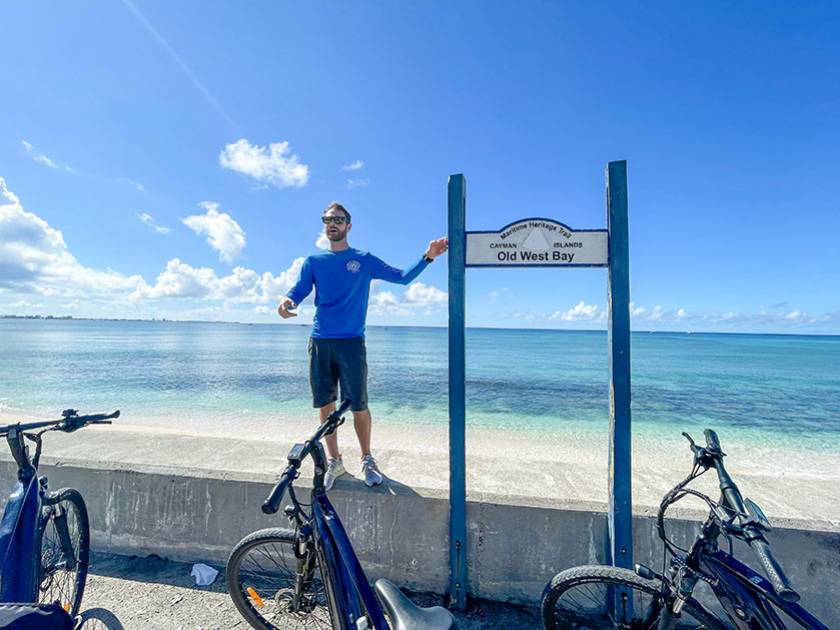 To Hell & Back (It's ironically quite nice.)
Next, it was time to go to Hell. You read that right! If you're unaware there's an attraction called Hell in Grand Cayman. It's a geological site with it's own Post Office which means you can send a letter from Hell! The site has a couple of entertaining shops with souvenirs to suit. Ryan took us there to show off and explain the ecological wonder of the site. He used this as a jumping off point to explain how the island itself has came to be over millions of years. (The tour is worth it for this story alone. Don't miss it!)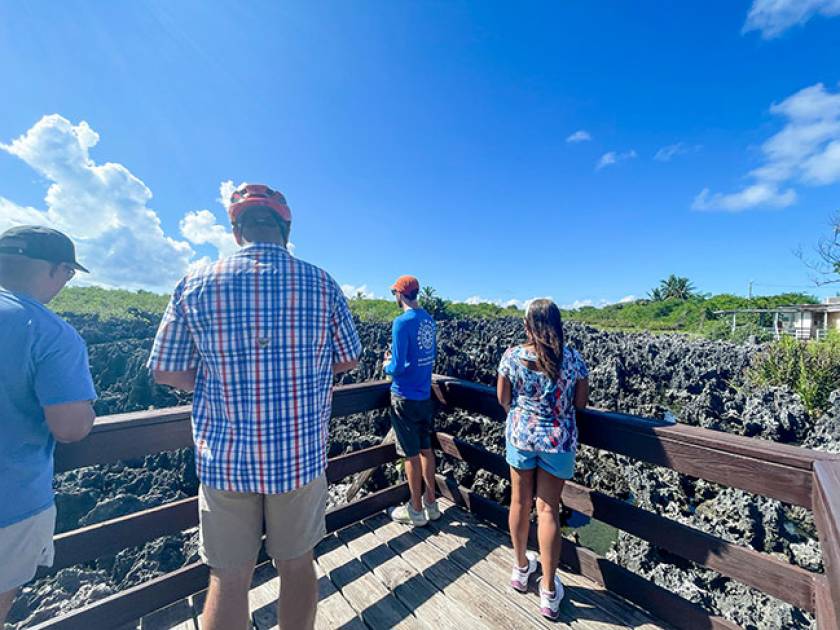 Touring the West Bay Neighborhood
We rode our e-bikes through several areas of the West Bay district, exploring brand new developments and long standing neighborhoods. Ryan exchanged familiar hellos with all the neighborhood pedestrians that we passed. I heard one man even ask if a part had come in for his bike yet. It was heartwarming to experience this element of the small-island community.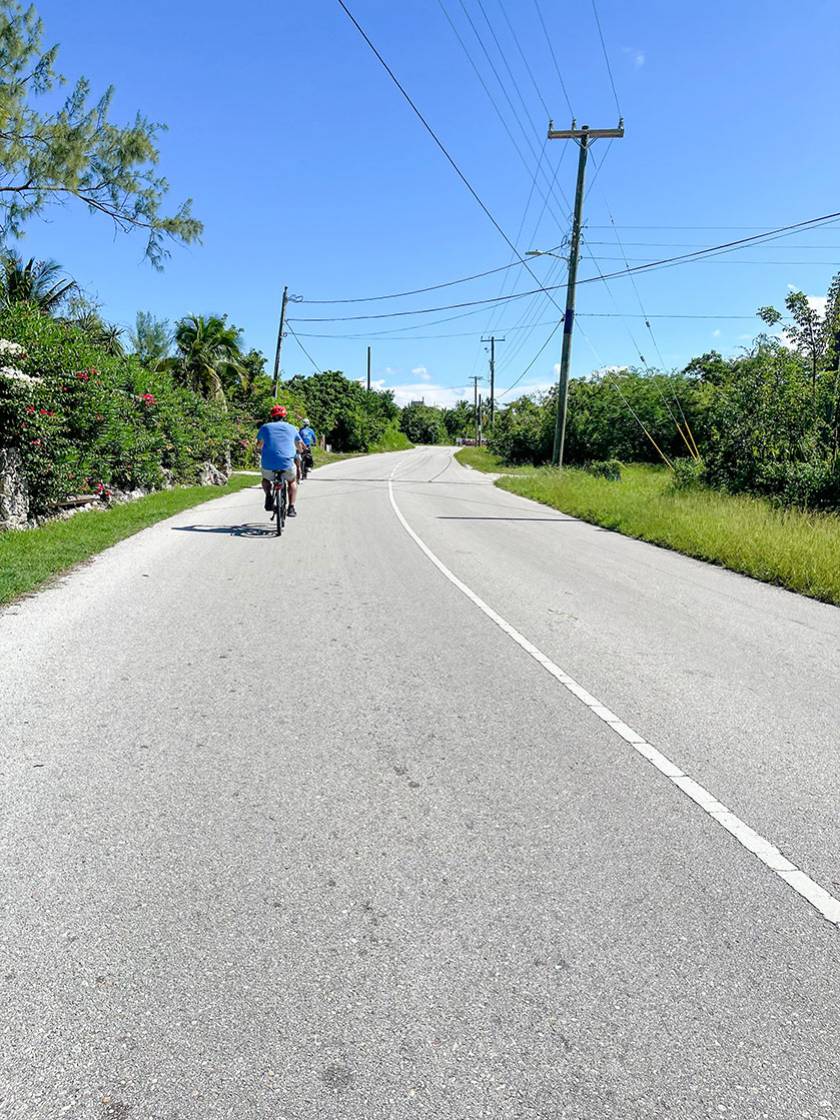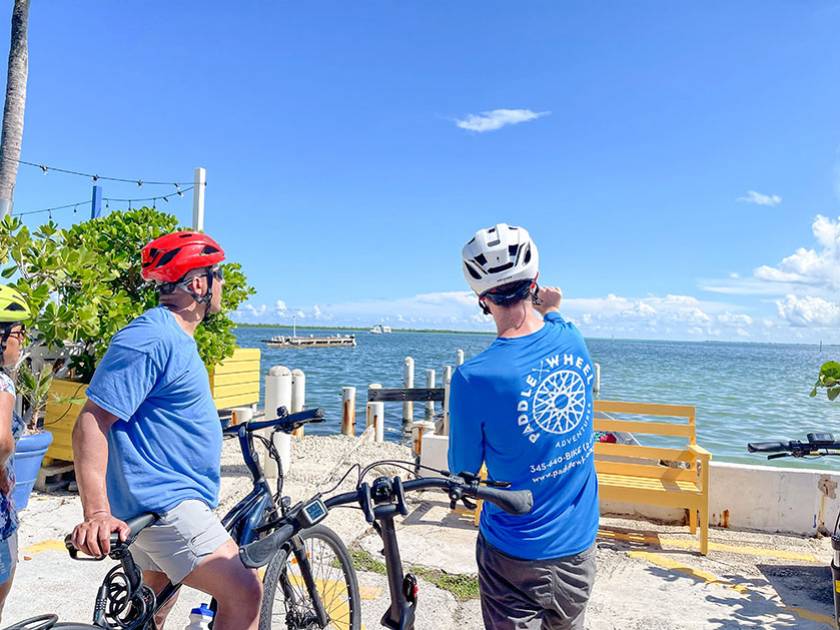 Surrounded by Mangroves
Ryan saved the best part for last. The mangroves. We wound our way through beautiful backroads surrounded on either side by mangroves. A few stops were made for ecology 101, and even trying the mangrove leaf that tasted like a "potato chip" because of it's natural saltiness. (Ryan pointed out that one should not touch or eat any plants without a trained professional along.)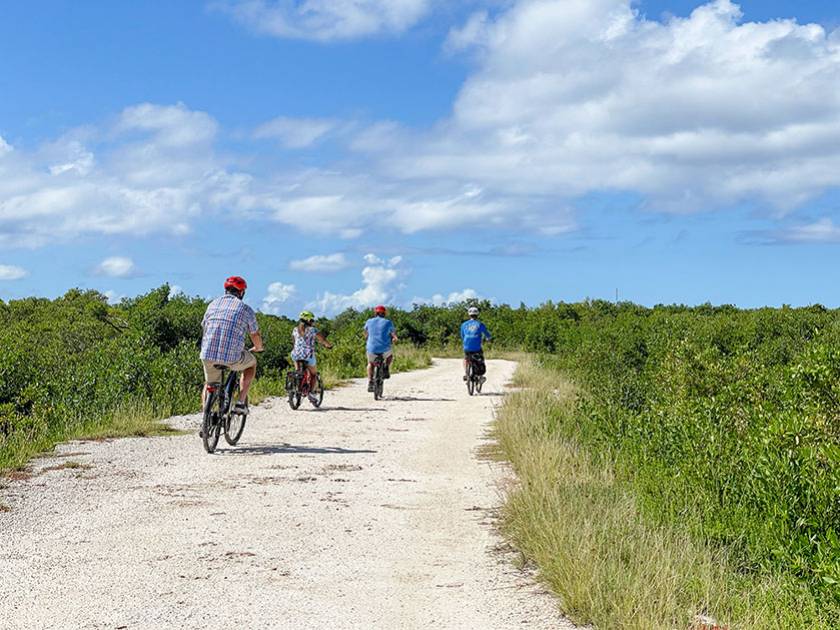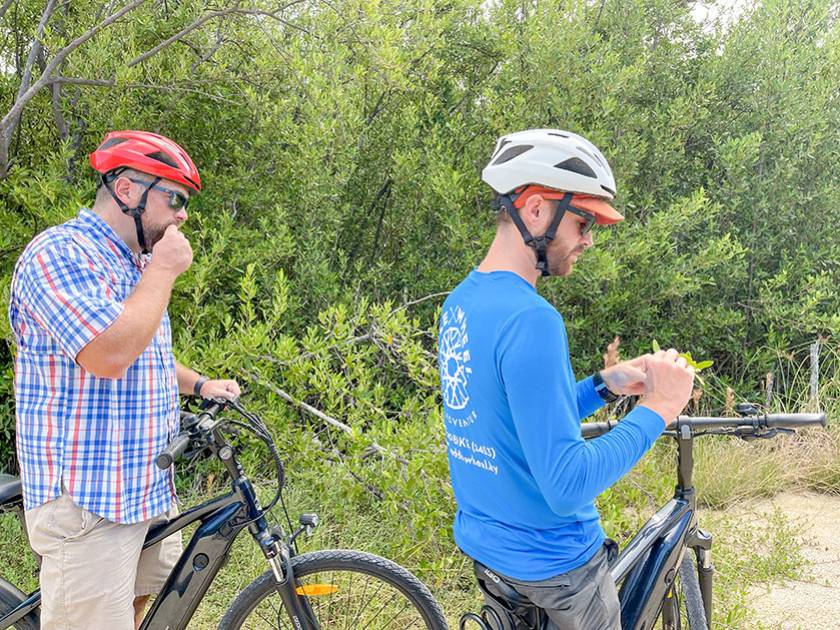 Riding through the mangroves was extremely peaceful. For a few moments we disconnected from the busy world and had a wonderful connection with nature. We had a soft breeze, and a beautiful blanket of clouds. After awhile we noticed that blanket getting kind of dark, and realized a popup rain was likely on it's way. But like a pro, Ryan got us back to home base before any rain hit.
A Unique Experience in Grand Cayman
Back at the Paddle Wheel shop, we all chatted about how much we had enjoyed the tour and shared our plans for the day. Scott & Juliette were off to Door #4 to enjoy a drink from the Tour Package they had purchased through Trip Advisor. Brandon and I were off to Heritage Kitchen, the craving firmly planted after our earlier encounter.
I'd highly recommend taking a tour with Ryan and Paddle Wheel next time you're on island. Learning more about Cayman instilled a deeper connection to the island for us. Plus we got in some light exercise, enjoyed time in nature and learned to ride an e-bike! There are a few different bike tours available, and Ryan said truly no two are ever the same. Paddle Wheel also offers kayak tours through the mangroves which we've decided we'll be checking out on our next trip.