Take a Daytrip to Cayman Brac!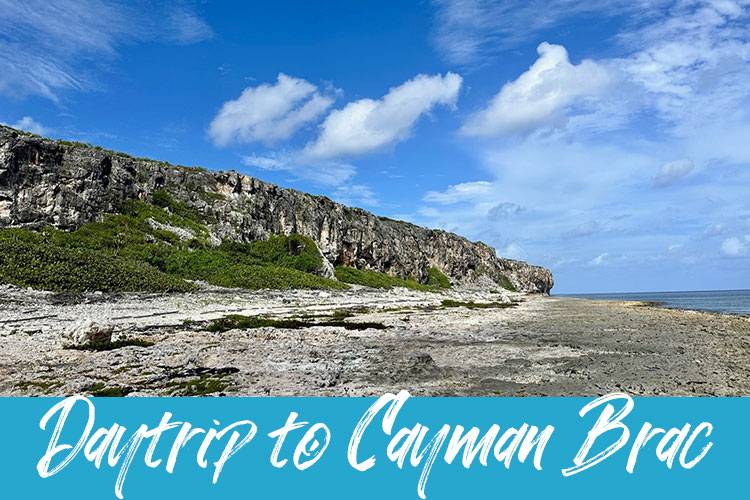 Have you been to Cayman Brac? If not, make room on your next Cayman itinerary for a day trip to this sister island. The slow pace, unique landscape, hiking trails, hermit crabs and more will capture your heart. I've been visiting Grand Cayman since 2013, and made my first day trip to the Brac a couple of months ago. With my husband by my side, we packed in a full day of adventure.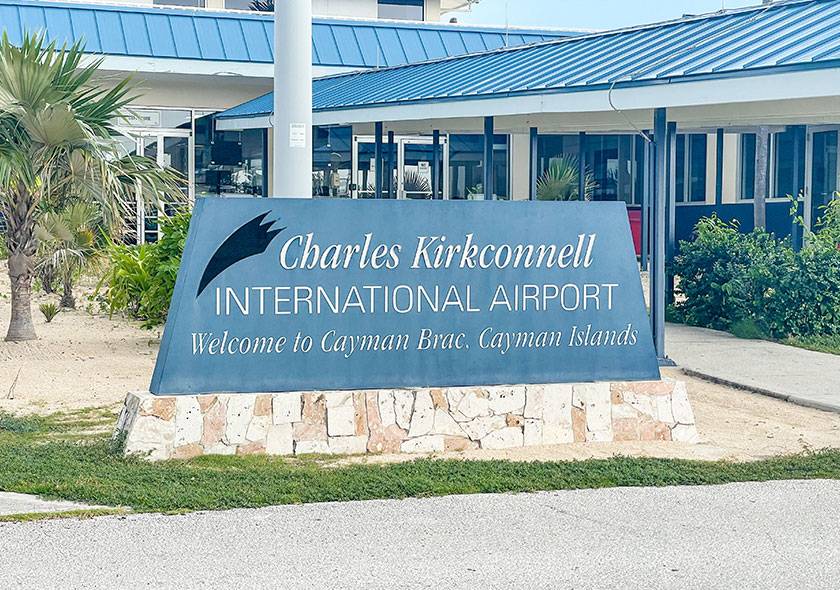 Getting There
To get to Cayman Brac from Grand Cayman you'll want to book flights from Owen Roberts International Airport (GCM) to the Charles Kirkconnell International Airport (CYB). You can grab roundtrip tickets on the Cayman Airways website. We chose a flight that left GCM at 7:25 a.m., landed in the Brac at 8:05 a.m. and then left the Brac at 6:20 p.m. for a 7:00 p.m. return to Grand Cayman. That left us about 9 hours to explore the island.
The Brac is only 14 square miles in size, so we had plenty of time to get a good taste of the island. But, don't let the small size fool you—it's packed with lots of surprises and fun experiences to be had. We left wanting more, so you will find plenty to do!
To get the most out of your experience you will need to rent a car. We rented ours from the only car rental at the airport, CB Rent-A-Car. It was easy and convenient.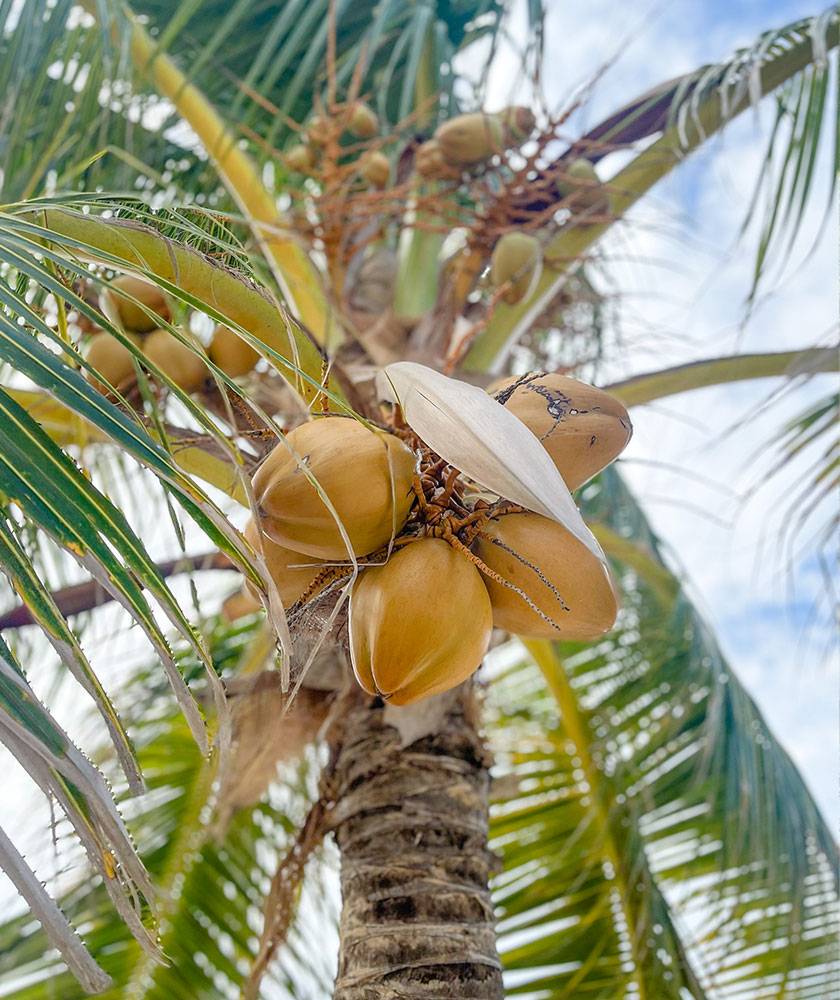 Sweet Breakfast at Star Island Restaurant
After you get your rental car, the day is yours! We started by looking for breakfast. We found a quaint little spot called Star Island Restaurant. It was no-frills, very welcoming and endearing. There was one other couple dining inside when we arrived. Very cheerful, they ended up being from the same area of the states as my husband and I. We laughed that we were on a remote island and still ran into others from near home.
First trail sighting & the museum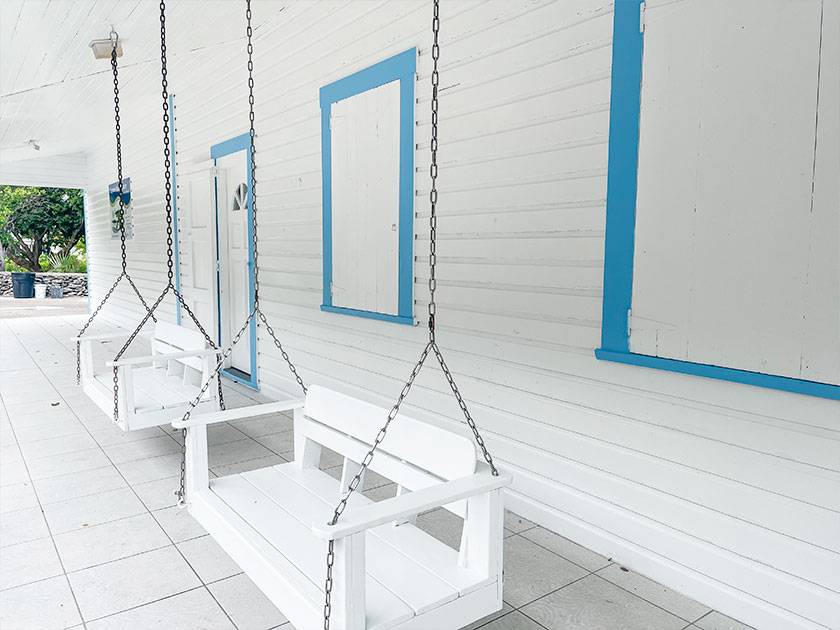 With full bellies, and the day full of possibilities we set off to explore. We noticed a sign for a hiking trail right away and pulled over to check it out. We hiked up some stairs to the trail and far enough into the wooded landscape to see our first huge agave of the day. This trail was mostly rock (much like ironshore), so after a short jaunt we decided to turn around and see what else the island held for us.
Very near this trail we spotted the Cayman Brac Museum. It's worth a stop just to sit on their "days gone by" swings. Entry to the museum is free. We popped in and spent most of our time in the exhibit about the 1932 hurricane. The stories were haunting, but also full of humanity and hope.
We left the museum with incredible respect for the people of Cayman Brac. With this sense of community upon our hearts, we cruised along the North side of the island passing caution signs for "Iguanas on the road", more signs for hiking trails and lovely sea views.
We drove all the way to Spot Bay, and then pulled into NIM Things (NIM standing for Native Island Made). I had spotted this souvenir shop on Google maps beforehand and was excited to find it. We parked near the handmade wooden sign, and walked up to the cheery, yellow shop.
Starrie the Star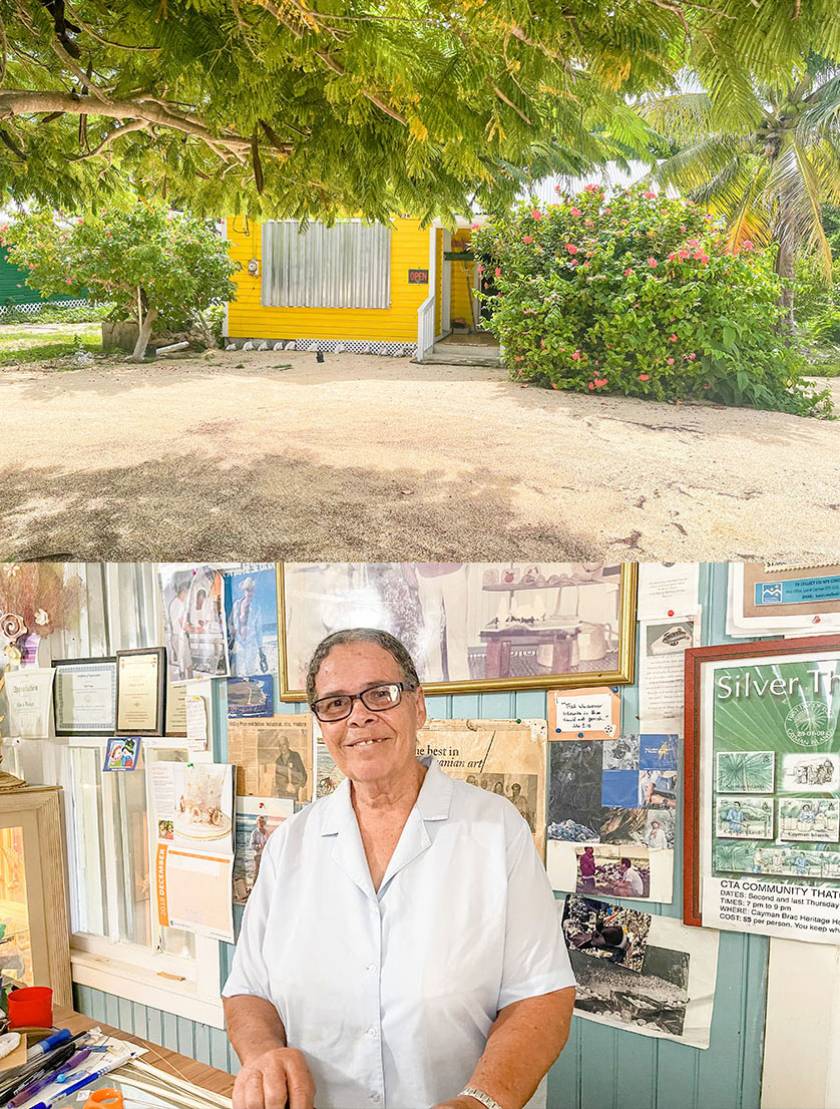 Inside we immediately felt embraced by a spirit of warmth as we were greeted by owner and artist Starrie. She chatted with us as we looked around the shop, letting us know everything was handmade on the island. The authenticity of the gifts and artwork was wonderful. There were many thatch plaited gifts (handbags, ornaments, hats and more)—all unique and all beautiful. I had been admiring silver thatch totes for several years, and decided this was the perfect place to pick one out. I also grabbed a fish thatch ornament, and a turtle thatch magnet. While I was making my stack of goodies at the counter, Starrie secretly signaled to my husband to grab a Christmas Tree topper I had been admiring and snuck it in as an extra gift to me. I was so touched by this gesture and chuckled at the thought of her scheming with my husband, Brandon.
Starrie also took the time to show us how she plaited, making a small fish in front of us in the matter of minutes. She has such talent! (Later, at a resort for lunch, a clerk there told us that Starrie had taught her plaiting in primary school.) Starrie is certainly a treasure! The time spent with her in her shop was a highlight of the day for me, and as you continue to read you'll see the day still held many wonderful adventures.
Hermit Crabs' Greeting at Peter's Cave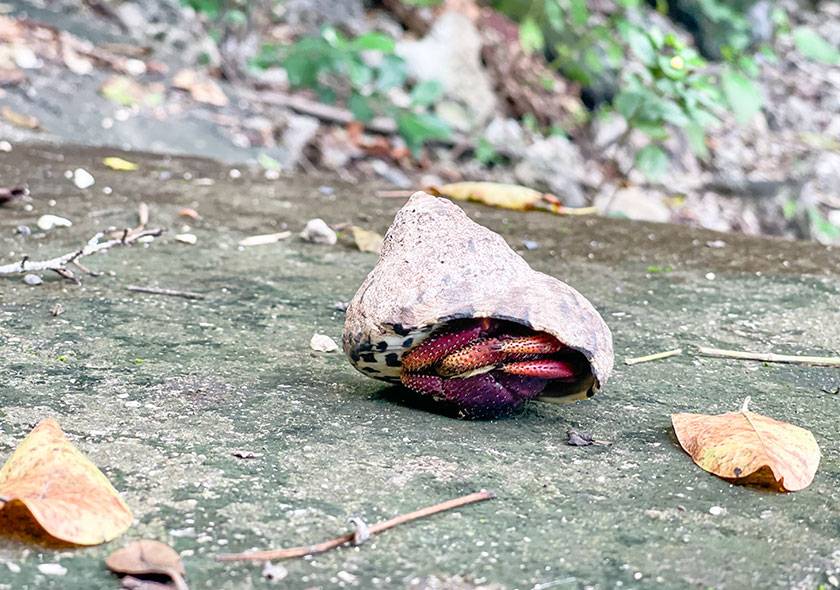 Before we left NIM Things we asked Starrie how to get to Peter's Cave. She walked out of the shop and told us to follow her. We walked with her a few houses down the street, and then she pointed up at the bluff and showed us where we could find Peter's cave. She said she and other community members had hid in the cave during Hurricane Ivan. At the museum earlier we had read that many residents took shelter in the caves on the island during the '32 storm as well.
Signage at the cave pointed us up steep stone stairs, but before we had a chance to start the climb we heard lots of clicking and clacking. After a minute or two we saw the source—hermit crabs that saw us coming were hightailing it off the stairs. They were quite literally running to the ends of the rocks and freefalling to get away as fast as possible. It was very amusing, and as far as I could tell they weren't harmed from their "get out of dodge" jumps. As soon as they landed they were scurrying as fast as they could to the next rock edge or to a hiding spot. We watched and enjoyed them for several minutes before heading up to the cave.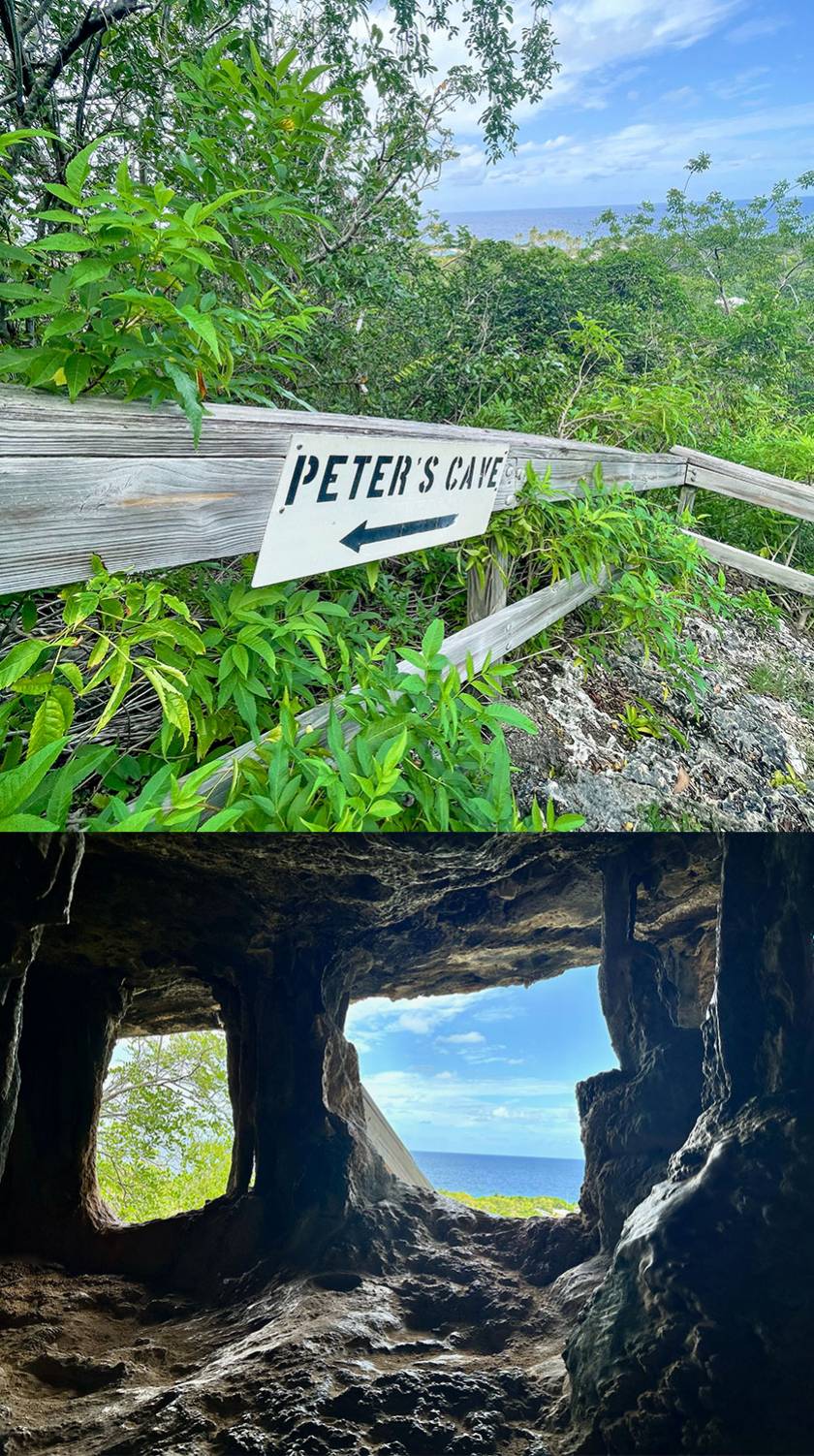 As we ascended to the cave the view got better and better with lush tropical plants and an incredible ocean view. The cave was worth the climb. It was natural and mostly untouched inside. There were several openings and from a couple of them you could see the ocean. It was a one-of-a-kind experience to be high up looking at the sea, yet inside the earth surrounded by rock.
Lunch at The Tipsy Turtle Bar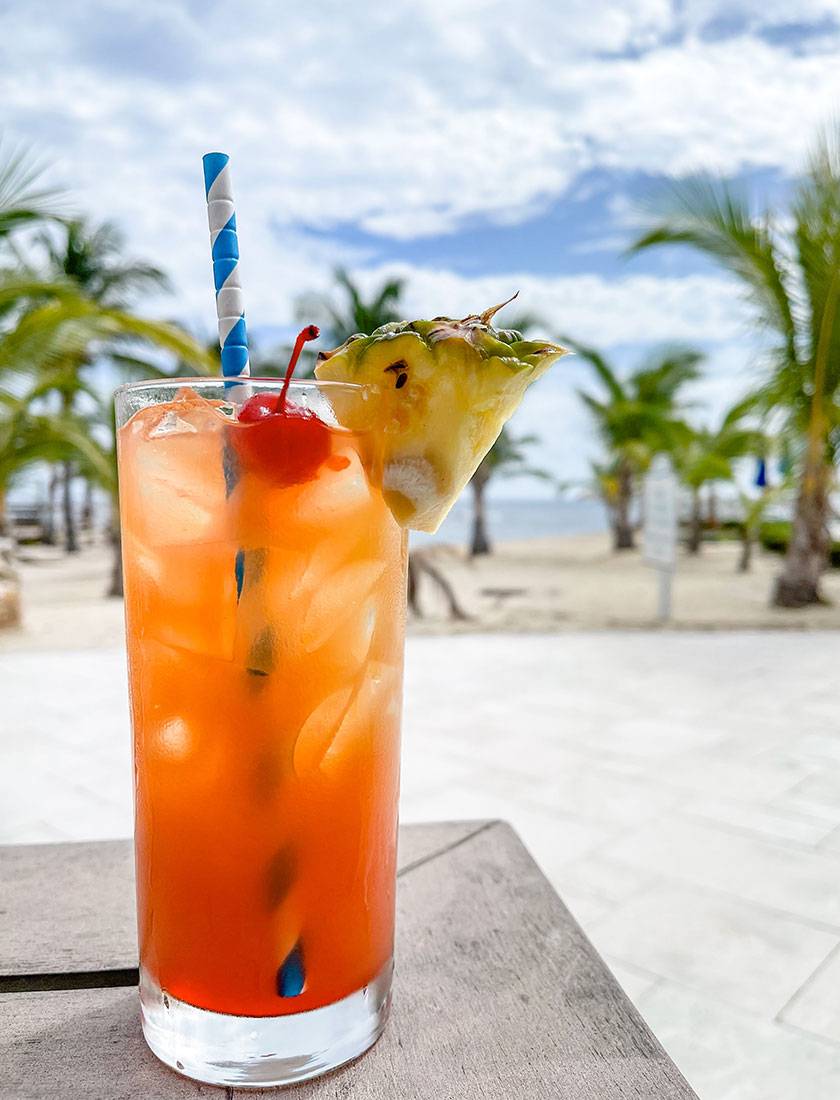 From the cave we headed to find lunch and landed at The Tipsy Turtle Bar at the Cayman Brac Resort. Brandon ordered the snapper escovitch and I got a delicious salad that was served on top of a pita. The views and vibes were great at The Tipsy Turtle Bar. We could tell guests sitting around the bar had become familiar with the bartender and each other over their stay, really encapsulating the feel of a small island getaway. We saw a boatload of divers unboarding at the dock as we ate as well, and as they passed the bar some came up to exchange stories, others continued on. We wrapped up our lunch and continued on ourselves—back to the other end of the island, but this time the south side.
Off to The Bluff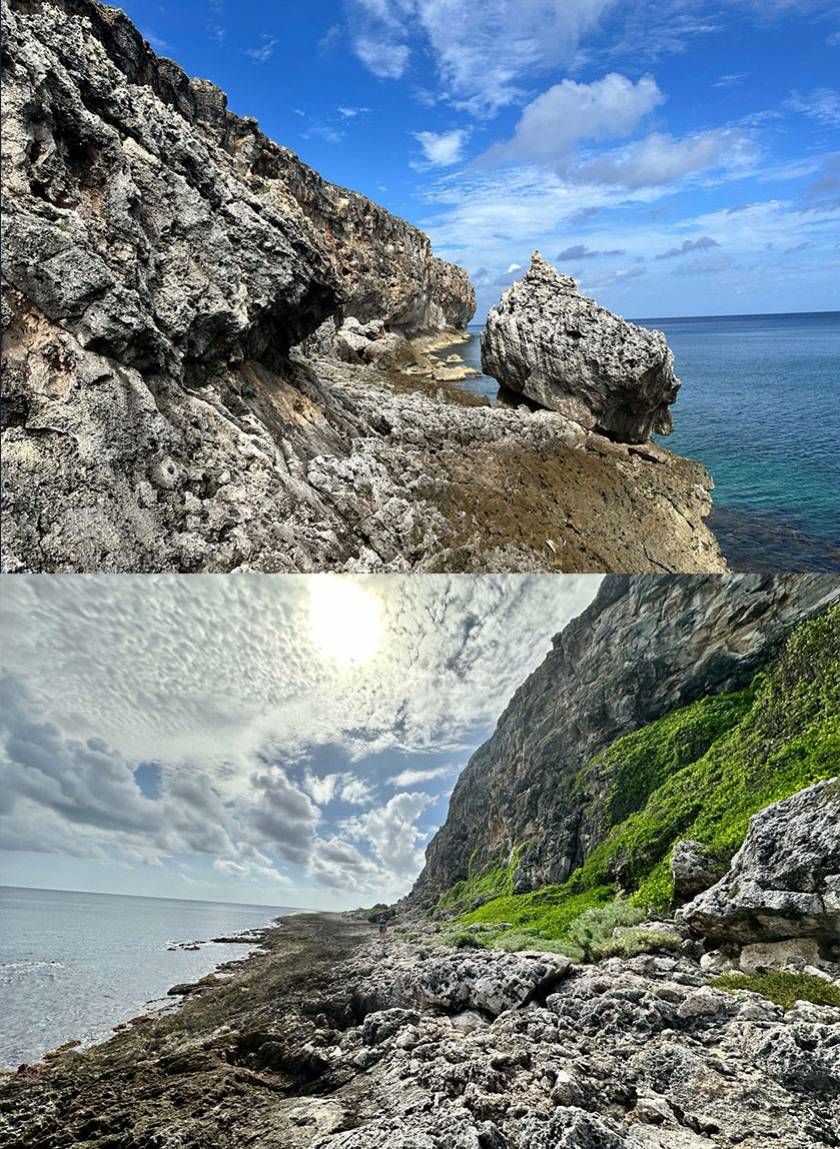 We drove until we couldn't drive anymore—arriving at the dead end of the south side of the island, where the Southeast Shore Trail begins. Here you can get out and walk along the expansive iron shore with the ocean to your right and the iconic bluff to your left. There are many fossils to see embedded in the rocky footpath and ocean critters in the pools of water that gather in the iron shore craters. We spent at least an hour on this trail and had it to ourselves the majority of the time. Before we left we were fortunate to spot a Brown Booby in flight along the bluff.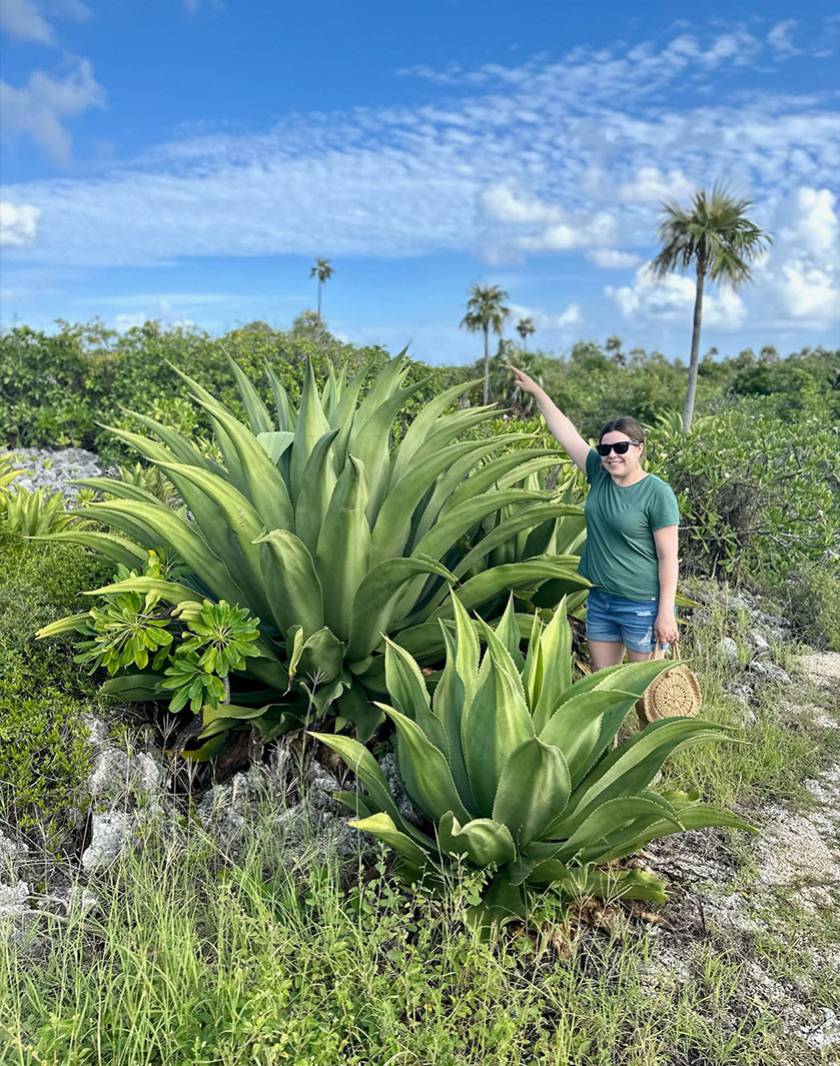 Next up, we hopped back in our car and headed up to the top of the bluff to hike the Lighthouse Trail. Here we found huge agave, beautiful palm trees and gorgeous island flora. After being below the bluff for a good hour it was neat to see the view of the sea and much of the island from on top of it. It was easy to understand why this bluff is so iconic.
Rounding out the day with a birdsong
On our drive back down, we saw signs for a Parrot Walk, and stopped to see what it was all about. It was a lovely boardwalk that took one immediately into the forest. Signage explained that this area was known to be home to Cayman Brac Parrots. Only a few feet in and we had the pleasure of hearing one singing in the distance. My husband spotted the bird, but my eyes failed me. Nonetheless, I felt so lucky to have heard this special bird's song. It was a great send off.
More than expected
On our way back to the airport we grabbed a to-go plate at Barry's Golden Jerk. We pulled into the airport parking lot to chow down before returning our car. Trust me when I say, you'll enjoy Barry's authentic jerk chicken and homemade sauces. We dropped our car off and then caught our plane back to Grand Cayman. We got back to Christopher Columbus Condos around 8:00 leaving just enough time to relax before retiring for the night and reflect on our day. Cayman Brac was so much more than I expected, and I'm so glad we finally visited.
If you decide to take a daytrip to Cayman Brac while staying with us in Grand Cayman, we'd love to know how it goes. Share your photos and your adventures with us on Facebook.
Make a reservation with us for your dream Grand Cayman vacation! | Browse Vacation Rentals