Experience a Horseback Ocean Swim with Pampered Ponies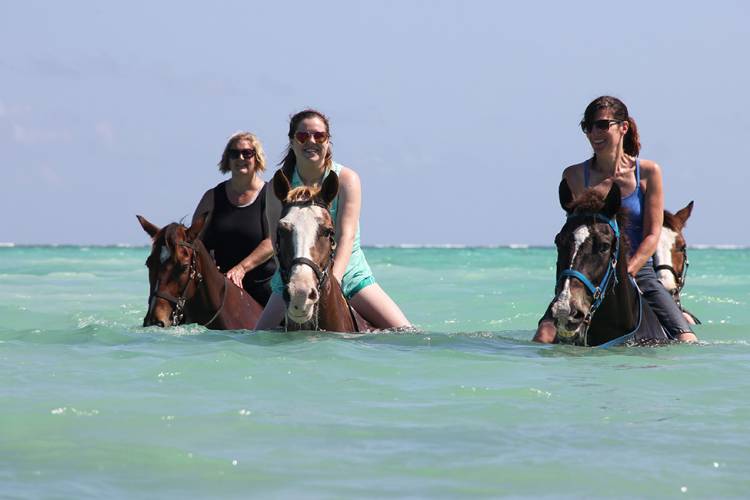 Have you ever rode a horse in the ocean? Until recently, I didn't even know horses could swim, and soon thereafter I got to actually ride a horse as it swam in the ocean! Our friends at Pampered Ponies, in Grand Cayman, offer this unique experience as a part of their horseback riding tours.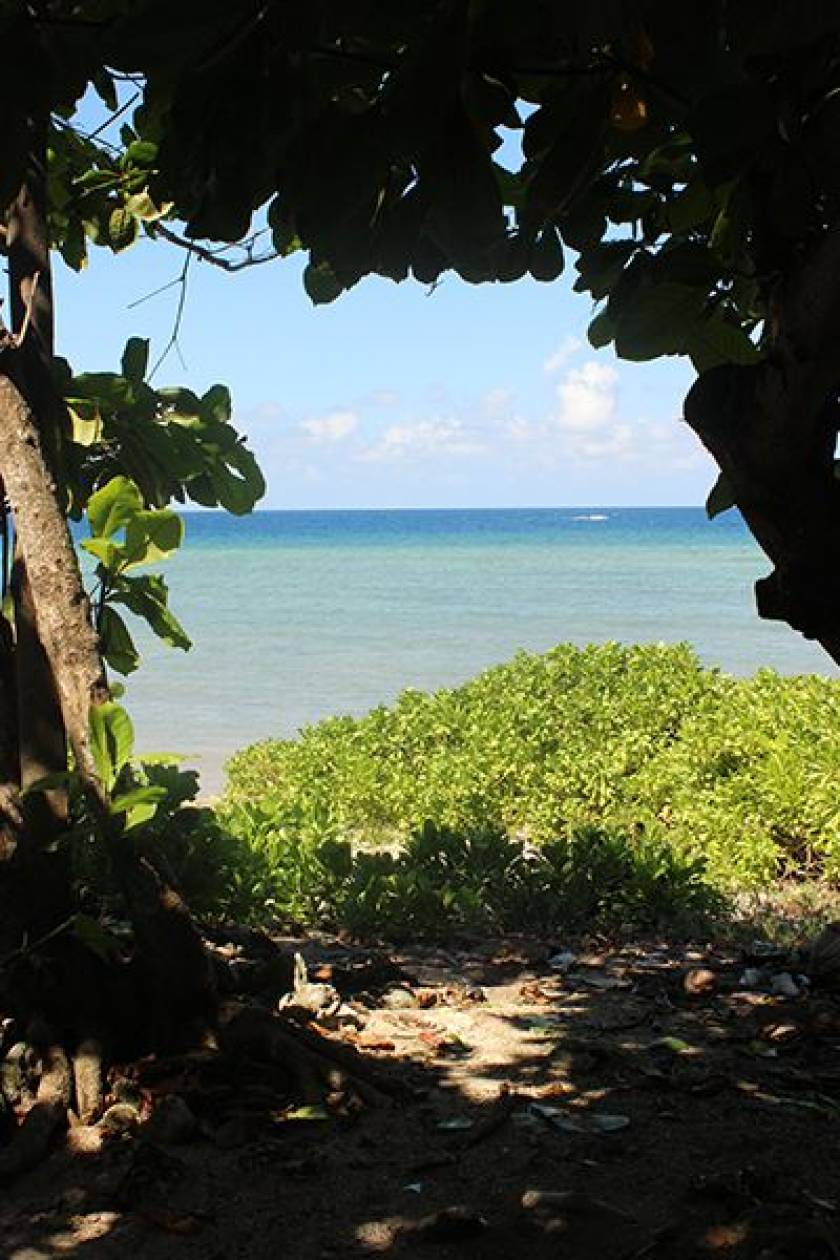 Last time I was on island, several friends and I had the opportunity to go on an excursion with Pampered Ponies. When we arrived, the owner Lori, gave us a great tutorial on horse riding and then one by one we climbed their helpful set of stairs to get on our horses. We started our ride from their sweet, little horse farm in West Bay and headed towards the beaches at Barker's National Park on a remote sandy-dirt road.
I've only rode horses a couple of times, so I was smiling ear to ear as we started the journey. Our guides, Bing & Jim, were extremely nice and made sure we were comfortable with our new 1200 pound friends.
My horse, Moonstruck, liked to snack along the way so Bing had to help me encourage him to keep moving…several times. As Moonstruck would sneak in snacks from the side of the road, my friend's horse behind us would follow suit, so we got blamed for being a bad influence on the pack which we all laughed about. We were already having an awesome time and we hadn't even reached the beach.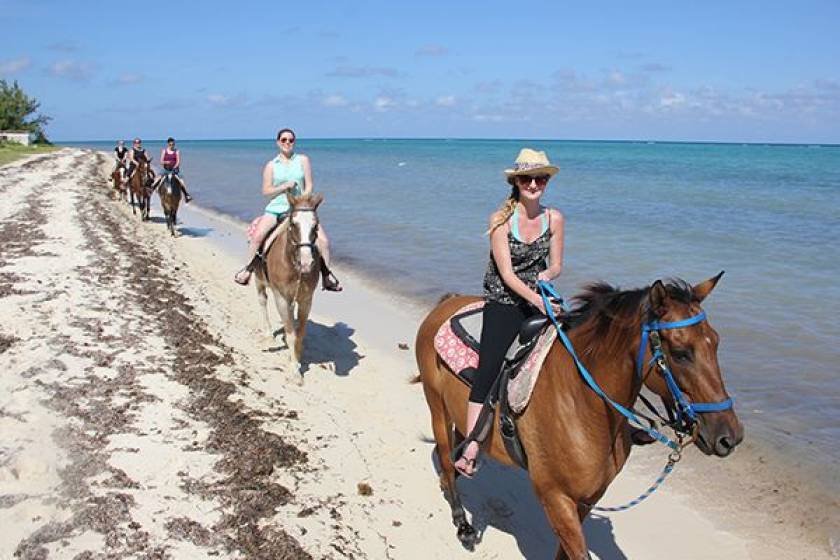 When we arrived at the beachfront I got pretty wide-eyed and giddy. I had never rode a horse on the beach and neither had any of my friends. We all began to chat with excitement, and I grabbed my camera that I had slung cross-body in preparation for epic pics. Our guides led our bunch to the beach and we began riding parallel to the shoreline looking out over the blue-green Caribbean sea. It was magnificent, peaceful and freeing. I attempted to snap some shaky photos, but Bing came to the rescue and asked if he could take some photos for me. He was obviously way better at multi-tasking on a horse. He was such a go-getter, and rode around capturing photos of each of us riding our horses.
After a good trot, we stopped along a scenic patch of the beach to tie up our horses and prepare for the plunge into the sea (ditching the saddles, our shoes and such). Off to the right there were several kite surfers showing off some impressive moves. We got back on our horses and Bing and Jim led us into the ocean. We squealed with excitement and disbelief as the horses started to swim out. Moonstruck and the other horses started to make funny noises and Jim told us that they were filling up their lungs so that they could swim easier. I had to cling on pretty tight because it felt like I was going to slip off a few times, but I didn't mind because it was all so cool. I felt very adventuresome as Moonstruck carried me through the ocean waves. When we got back to the shore we all took some time to dry off and observe the kite surfers before making our journey back.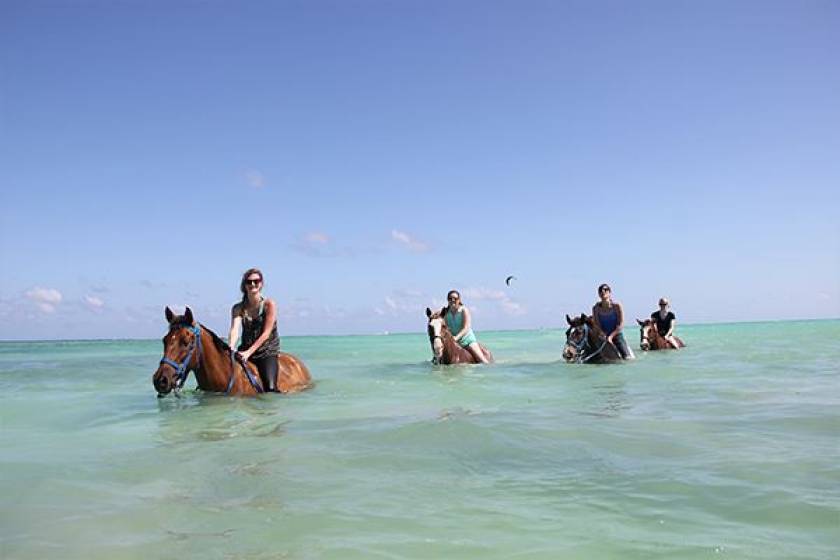 A few tips for first time horseback swimmers:
I would recommend this to anyone 15 and up just because it did take some concentration to stay on the horse in the water and could make a little one nervous, but that totally depends on your kids' personalities and your comfort level with horses and adventure. : )
Wear your swimsuit under your clothes.
Wear clothes that you don't mind getting wet. I wore gym shorts and a loose tank top. Some of my friends wore capri sports pants which worked out well, too.
The whole thing was truly a blast, and I hope to have the chance to do it again someday!