Immerse Yourself in The Grove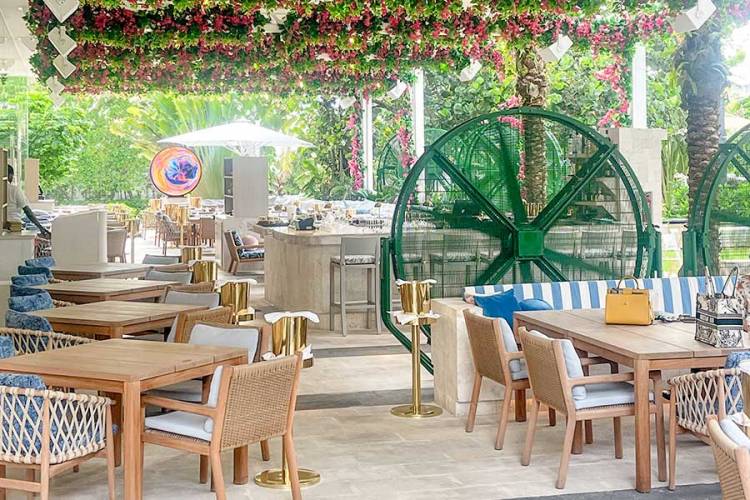 The Grove is a new area in Grand Cayman along the Seven Mile Beach strip where you can eat, drink and play. It's often described as a mini Camana Bay, and with the recent addition of the fabulous Greek restaurant, Mykonos, it's really blossoming.
Mykonos is the second place to open in The Grove where one can indulge in food and drink. Door No. 4, a swanky bar with small bites, first put The Grove on the map in 2022. They are well known for their artisanal cocktails and cool vibe. With the addition of a full service restaurant in Mykonos, The Grove is primed to be a hot spot this season.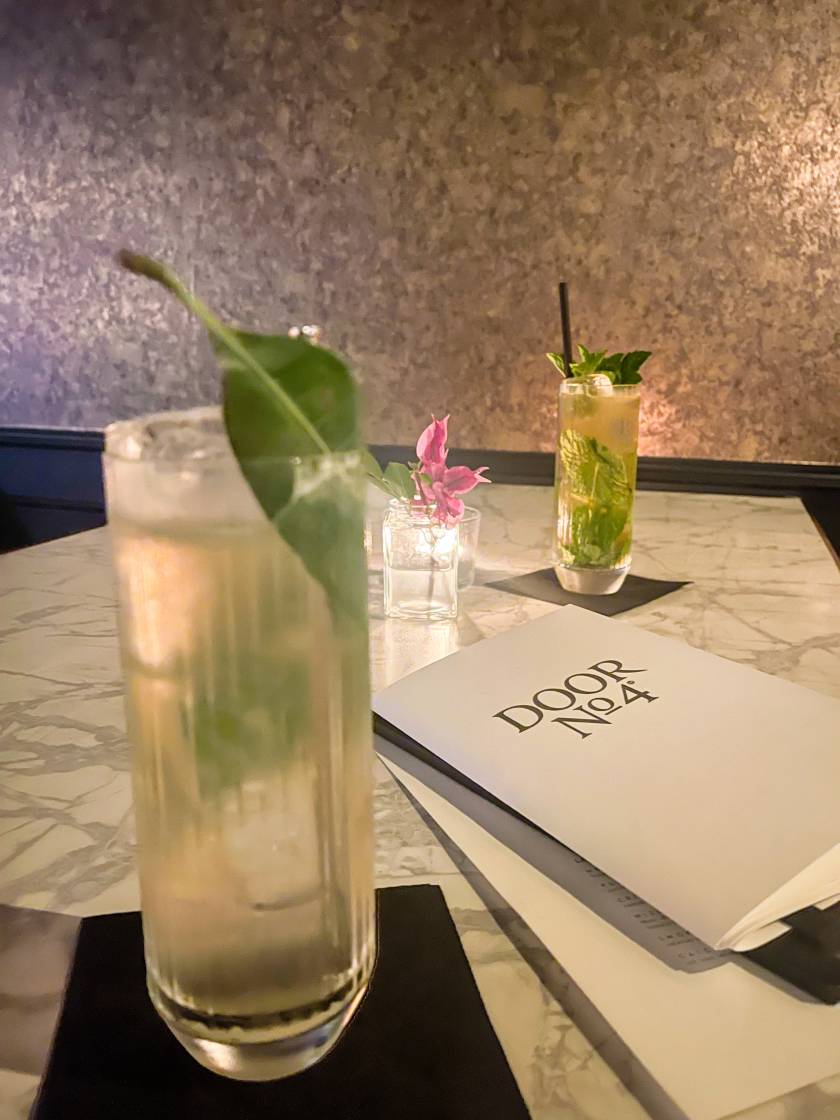 Drinks at Door No. 4.
Mykonos alone provides an experience that will make it a destination restaurant. There's nothing else like it on the island. It's elegant and vivacious, and encourages guests to linger long into the night. Delicious European fare, specialty drinks and the air of live-life-to-the-fullest will keep guests coming in droves.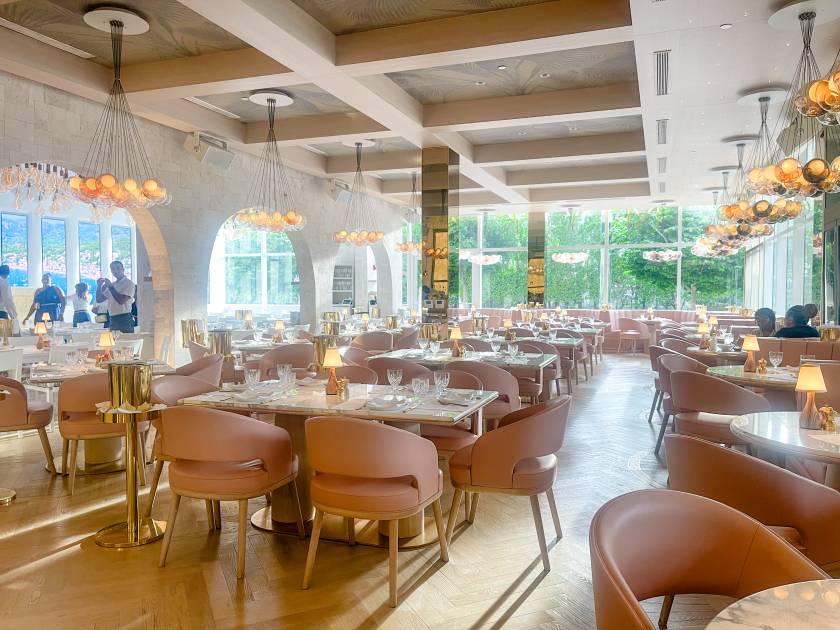 Inside Mykonos. (Mykonos outdoor patio pictured in header photo.)
Social outdoor seating is available at both Door No. 4 and Mykonos, making The Grove a communal place to enjoy an evening out. There's also an amazing art studio/gallery that stays open every evening until 8pm offering the opportunity to browse the manifestations of over ten artists that call it home. The studio, Carlos V Garcia Fine Art Gallery, is named for the founder Carlos Garcia who has naturally expanded the gallery into a working studio and collaborative space for partner artists including his teenage son. The range of art mediums, styles and themes is wide, and you can see works-in-progress coming to life throughout the space. Spark a conversation with whomever is inside—they're likely to be one of the artists!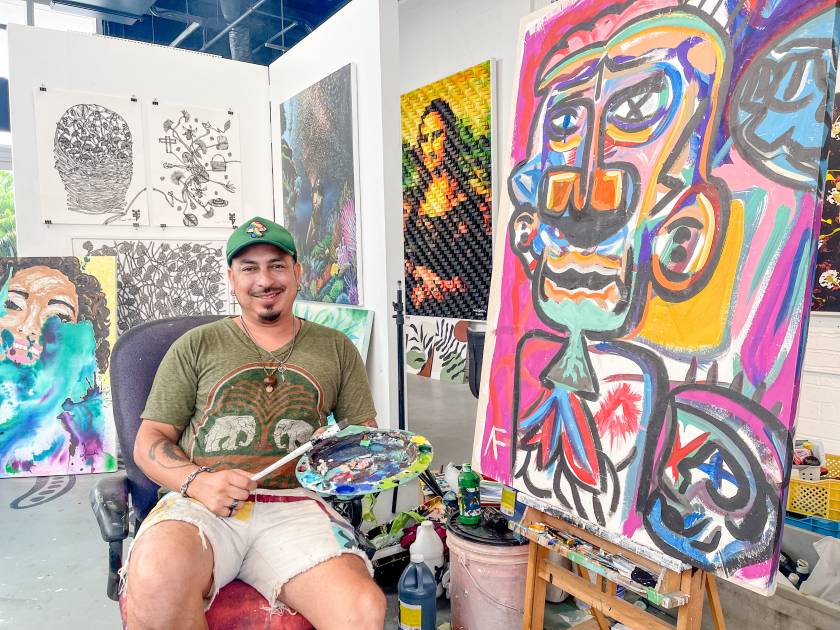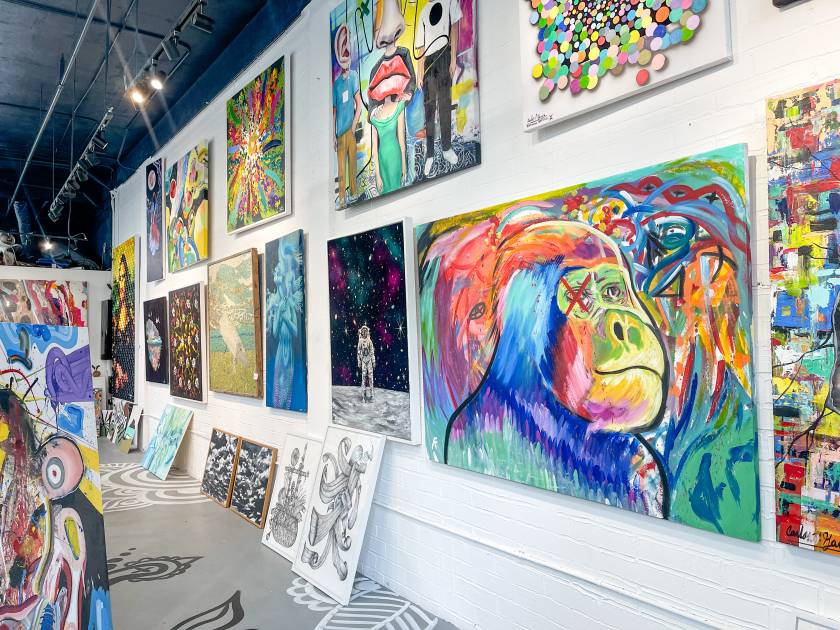 Carlos Garcia inside his collaborative art gallery.
While the nightlife is quite the draw, there are also several reasons to visit The Grove during the day. In fact, visit during the day and you're sure to see kiddos enjoying the splash pads that lay at the foot of a story-high tall parrot sculpture. The sculpture is made mostly of living plants, and it's directly across from Cay Cubs, an indoor playhouse for kids. There's a small cafe where guardians can grab a coffee to try and keep up with excited little ones at play. There's also a nice boutique nearby, Riviera.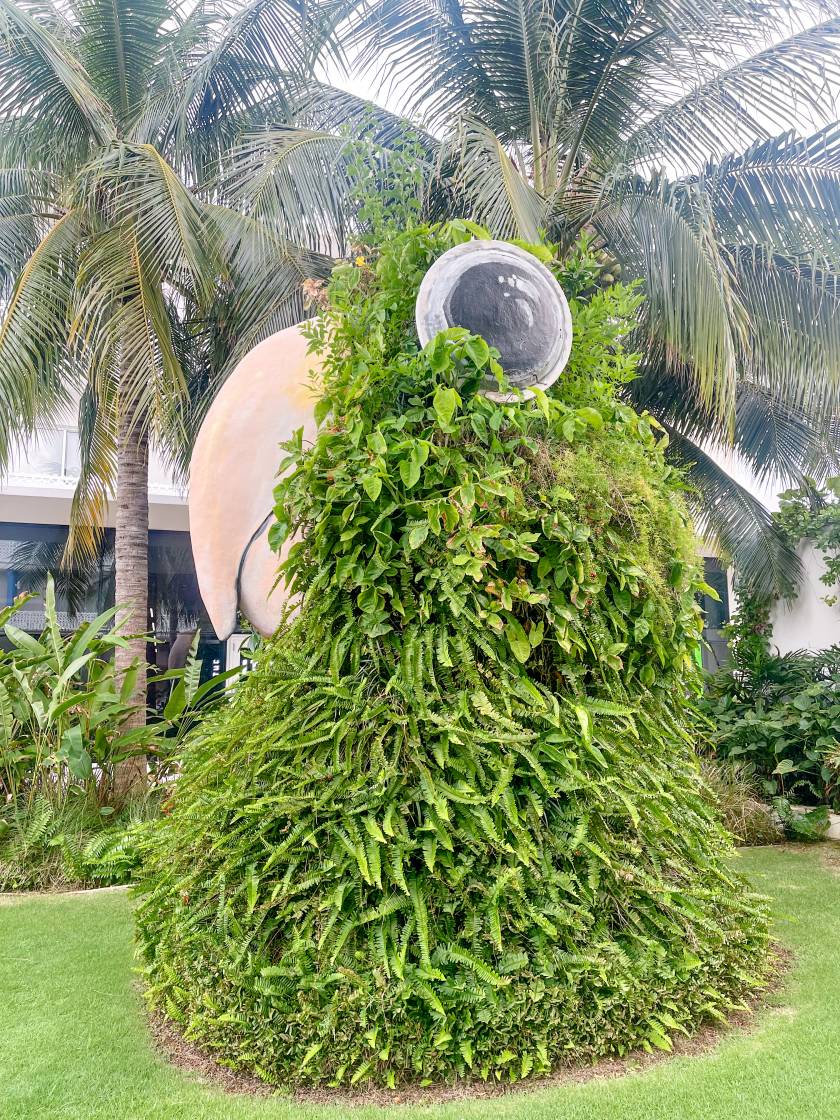 Parrot plant sculpture in outdoor space at The Grove.
If you're looking for an adventure that starts and ends at The Grove then check out the bike tours offered by Paddlewheel. We wrote all about one of the tours here. Stroll through the Grove and you'll find lots of beautiful landscaping and a handful of other businesses. There's also many second story living spaces. This new area is buzzing with life.
The Grove development team is busy developing a second space similar to The Grove called The Grove Too. Keep your eyes peeled for more on this exciting commercial and residential neighborhood that's sure to be another hotspot to explore when you vacation here.
In the meantime, definitely check out The Grove on your next trip to Grand Cayman to discover new food, art and activities. You'll have a blast doing so. Best of all it's only a couple minutes by car to get there from our condos. You can browse the availability of our vacation rentals here. Make a reservation, and then come experience all that Cayman has to offer!