Cayman Cookout 2015 was a Foodie Paradise as Always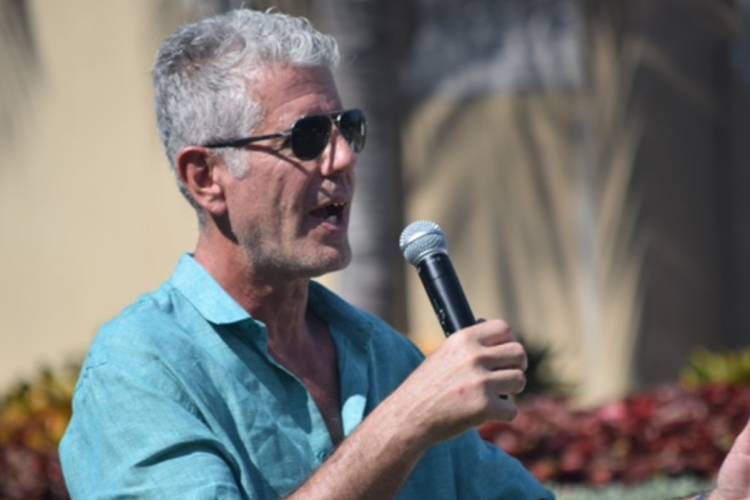 Every January world-famous chef, Eric Ripert, hosts a weekend in Grand Cayman celebrating the newest in food trends from a stellar line-up of renowned chefs. This past weekend I attended the 7th Annual Cayman Cookout (also the 7th time I've personally attended). As in years past I had an absolutely great time sampling delicious food, meeting accomplished chefs and learning food tips and tricks from the best of the best. It was a foodie paradise to be sure! Hope to see you in 2016 and enjoy the "scrapbook" of this year's events I was able to attend below.
Jose Andres
Jose Andres put on an amazing paella session on the beach. These are a few photos I snapped before he started. The calm before the exciting cookout with Jose!
Rundown with Anthony Bourdain
Anthony Bourdain hosted a luncheon session with chefs from local Cayman restaurants. During the session he went around station to station explaining what the chefs had prepared, and attendees could walk up to any station in any order to sample food and drinks. (You could even get seconds!) Tables shaded by umbrellas were available for guests to enjoy their cuisine in comfort. It was a delicious feast for both the eyes and palette!
Southern Cuisine with Sean Brock
Virginia native, Sean Brock – ower of Husk (Charleston & Nashville, TN locations) – cooked up some tasty southern cuisine from his cookbook, Heritage, including marinated shrimp and Hoppin' John!
Lynn Crawford
Lynn Crawford was a completely hilarious and engaging chef from Toronto. She got audience participation and made some killer rum cocktails and fish tacos. Lynn was so friendly (Even got my photo with her below!), and cooked such good food. If you don't have banana leaves to poach fish in, use foil or parchment paper.
Marcus Samuelsson
Marcus Samuelsson gave all the secrets to good fried "yard bird" or chicken! It was fantastic. Marcus was very personable and is an acclaimed chef from Ethiopia who was adopted at age 3 by Swedish parents and raised in Sweden. He has a restaurant in Harlem named, Red Rooster. The "yard bird" demo was outside of Blue (Eric Ripert's elegant restaurant on the island), then we moved inside Blue for a four course luncheon. The wines were from the Phelps Winery in Napa, and the dessert served was a popcorn accented caramel mousse. Samuelsson went table to table, signed cookbooks and posed for photos. It was a completely amazing experience.
Michael White
Then we attended a session with Michael White, Executive Chef and Co-Owner of the Altamarea Group which owns many acclaimed restaurants. He cooked a scrumptious seafood risotto, and demoed how to remove conch from its shell. Claw hammers were a necessary tool!