5 Perfect Island Cocktails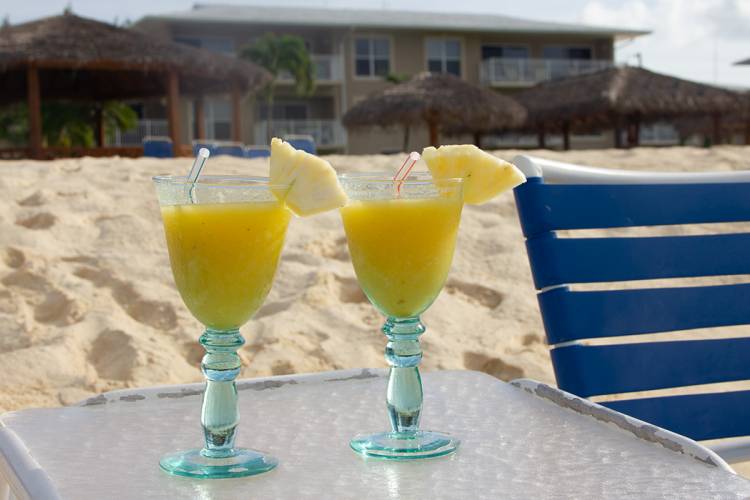 You get off the airplane at Owen Roberts International, take a short drive to Christopher Columbus Condos and dash to the white sandy beach. Your toes hit the sand and you take a deep relaxing breath as you take in the beauty of the Caribbean Sea. As you park yourself under one of our thatched huts you realize the only thing missing is the perfect island cocktail.
Here are 5 tropical drink recipes that you can easily whip up in your condo kitchen to get a drink in that hand!
1. Callie's Sparkling Pineapple Punch
Named after the gal that first made this for me, this drink is light, fruity and fun. You'll need: 1 fresh pineapple, 1/2 gallon of orange juice, 2 bananas, 1/8 cup of sugar, 1/2 cup of sparkling water and your choice amount of vodka.
Slice the pineapple and bananas. (Put a couple pieces of pineapple aside for garnish.)
Blend the pineapple and banana into a liquid pulp
Add sugar, orange juice, sparkling water and your choice amount of vodka.
Blend, add ingredients to taste and then pour into a pitcher.
Enjoy with a group or store in the fridge for quick drinks later. Will serve 6-8 drinks.
2. Piña Colada with Fresh Coconut
Pick up a couple of fresh coconuts from a local produce stand or market and get ready for the best Piña Colada! This recipe also calls for rum, so make sure to grab some of our locally brewed rum to make this ultra Caymanian. You'll need: A fresh coconut, 6 oz of pineapple juice, 2 cups of ice, couple of cherries and your choice amount of rum.
Put your pineapple juice, ice and rum into a blender. Blend until nice and smooth.
Poke a couple of holes in the eyes of your fresh coconut and pour out the coconut water into a bowl. Next, crack it all the way open and scrape some of the coconut meat into the bowl as well. Mix and then pour choice amount into the blender.
Blend until smooth and creamy.
Pour cocktail into glasses, and add a cherry to the top to finish it off.
Depending on how much coconut water you add to the mixture this should make enough for 2-4 drinks.
3. Classic Strawberry Daiquiri
You can count on a strawberry daiquiri like a Cayman sunset. You'll need: 12 oz fresh strawberries, 2 limes, 4 tsp of powdered sugar, choice amount of rum, 4 cups of ice and whip cream.
Add strawberries, powdered sugar, rum and ice to blender. Squeeze juice from limes into blender and blend all until smooth and creamy.
Pour drinks from blender into cocktail glass. Add whip cream to the top and garnish with a whole strawberry on the side of the glass.
You may want to bring out the cute little drink umbrella for this one! Should serve about 4 drinks.
4. Dark 'n Stormy with a Lime Twist
The Dark 'n Stormy has picked up in popularity lately. Dare I say it's taken everyone by storm? For each drink you'll need: 1 ginger beer, a shot of dark rum (or choice amount) and 1/2 lime.
Mix 8 oz of ginger beer with choice amount of dark rum.
Cut your 1/2 lime in half. Squeeze one of the wedges into drink and garnish with the other wedge.
Take your highball out on the balcony and enjoy a Cayman sunset.
5. Famous Cayman Mudslide
The Cayman Mudslide was invented and made famous by the Wreck Bar at Rum Point. Actually, legend has it that the mudslide itself was invented there. The difference between an original "Cayman" mudslide and many commercial mudslides nowadays is that you don't add ice cream or whipped cream to the drink. In it's purest form the mudslide should only consist of vodka, Kahlua, Bailey's Irish Cream, chocolate syrup and ice.
For this drink you will want equal parts vodka, Kahlua, Bailey's Irish Cream to your blender. I would suggest 1 oz of each liquor per glass/serving (more or less to your taste and tolerance). 
Then add about 2 cups of ice to the blender for each glass/serving needed as well. Blend until the mixture is smooth.
Find clear glasses and line each with your chocolate syrup. Pour your lovely mudslide into each glass.
For extra fun you can add a swirl of chocolate to the top of each of your drinks.
A Few Extra Tips
If you have kiddos or adults along that would rather not drink alcohol, you can make any of these drinks (aside from the Mudslide of course) non-alcoholic by simply leaving out the liquor. You can also adjust the amounts of the ingredients to suit your own taste, and throw in some new ingredients if you get spunky. It's fun to experiment.
At the end of the day, though, whether it be the real deal or a mocktail, we hope you have a cold drink in hand as you simply enjoy the beauty of Grand Cayman island from our beachfront.