An Underwater Adventure with Living the Dream Divers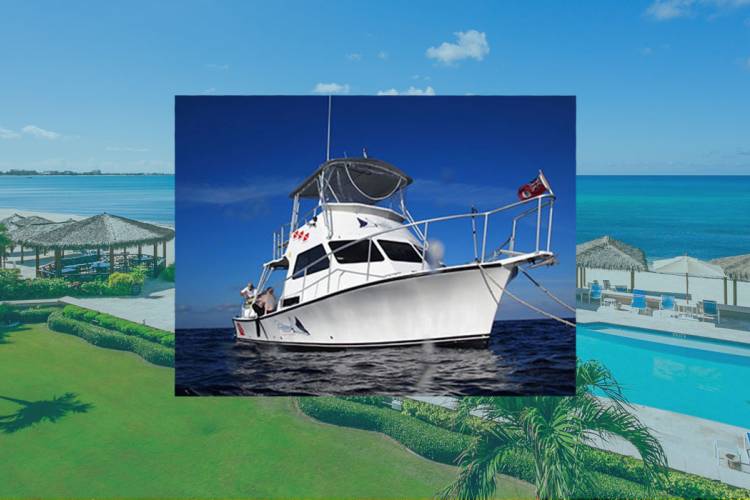 When planning my recent trip to Grand Cayman, other than remembering my passport and sunblock, the most important item on my check list was to schedule an unforgettable dive experience. Something extraordinary that would carry me through the long, cold winter that was waiting for me on my return home to the States. I knew that Grand Cayman was already recognized as being one of the absolute best diving destinations on the planet, so I certainly had that going for me. However the biggest question was which diving operation to hire. So, after Googling "best dive operations in Grand Cayman" (which left me no shortage of options) I started the interview process!
After a few nondescript calls, I struck gold with Living the Dream (LTD) Divers. Within the first few minutes of my conversation with Liz (one of the owners), I could clearly sense that there was something really unique and special about her operation. She seemed to be more excited than I was, and was going to do whatever she could to make it memorable. After sorting out the logistics, we decided on a two tank dive for the following day at noon. As advertised, Scotty showed up at Christopher Columbus Condos right on schedule in the brightly wrapped LTD van. Immediately he welcomed me in his thick British accent and within 5 minutes we were telling jokes and poking great fun at each other. He also shared intriguing stories of his diving adventures all over the world as a PADI Master Scuba Instructor. It became very apparent that Scotty loved his job, but more than that, he seemed to be genuinely happy doing it. I later learned that Scotty's nickname is "Happy", which was certainly appropriate.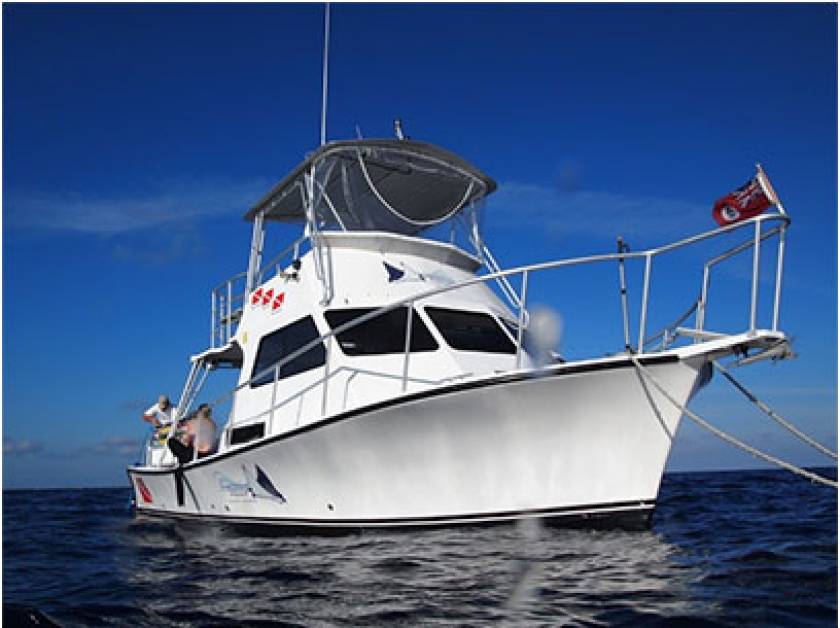 Within 10 minutes, we arrived at the dock where I was immediately greeted by "Captain" Carl. Like Scotty, Carl is super friendly and welcoming with his British wit and demeanor. And like Scotty, he is a 10 year PADI professional that has traveled all over the world. He started with a quick tour of our boat, which was clearly the nicest dive boat I had ever boarded. He pointed out that it was custom built for Living the Dream Divers down to the smallest detail. Before we launched to our first destination, Carl gave us a very thorough safety briefing and made it crystal clear that our safety was his top priority. Our first dive spot was along the North Sound wall of the Island which is called Eagle Ray Pass. It was a spectacular choice. Along the wall are a series of canyons that eventually feed to a sheer drop off point into the deep blue abyss. As I descended to a maximum depth of 102 feet, the area was teaming with marine life such as sea turtles, eels and lobsters. With Carl in the lead, he took the time to educate our group by pointing out creatures and plants that I would have certainly missed otherwise. It was a great education. After a brief rest and a snack, we were on to our second destination. We motored around to the northwest side of the island not too far from Seven Mile Beach and Christopher Columbus Condos. Our next dive spot was "Bonnie's Arch," named after a famous Cayman photographer Bonnie Charles.
Bonnie's Arch was a great choice for many reasons. Not only was it a more appropriate depth (50ft) for our second dive, but it was a really unique natural structure that was well decorated with magnificent sponge and coral. Teams of fish like parrotfish, squirrelfish, and snapper shared their home with us, as a hungry sea turtle grazed his way along reef. We spent the next 45 minutes or so just relaxing and trying to blend in among the magnificent world of blue and vibrant colors. After we surfaced and unloaded our gear on the boat, Carl was kind enough to put back on his professor hat. On the journey back, he was very eager to discuss and unpack all that we had just experienced. Once we returned to the dock, he more than thanked us for being part of his day and allowing him to "Live his dream" of diving in Grand Cayman.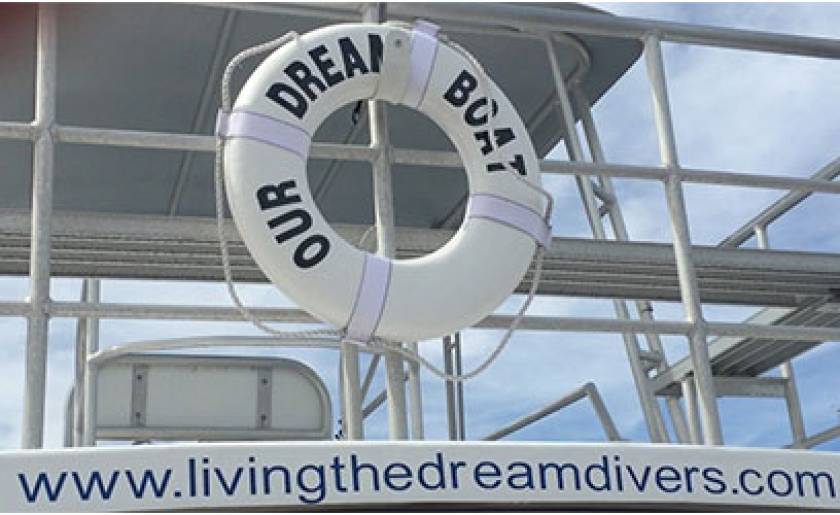 As a business owner myself, I am constantly in "evaluation mode" when it comes to studying organizations and their ability to deliver. LTD Divers have accomplished something that is rare in the business world. They have developed a clear vision for their entire team and a culture of ownership from top to bottom. Not only do they have fun with their vocation each and every day, but they are grateful for the opportunity to share it with others. I would highly recommend Living The Dream Divers to anyone looking for a first class diving experience in Grand Cayman, and look forward to seeing them again on my next trip to Christopher Columbus Condos!