Stingray City Superstar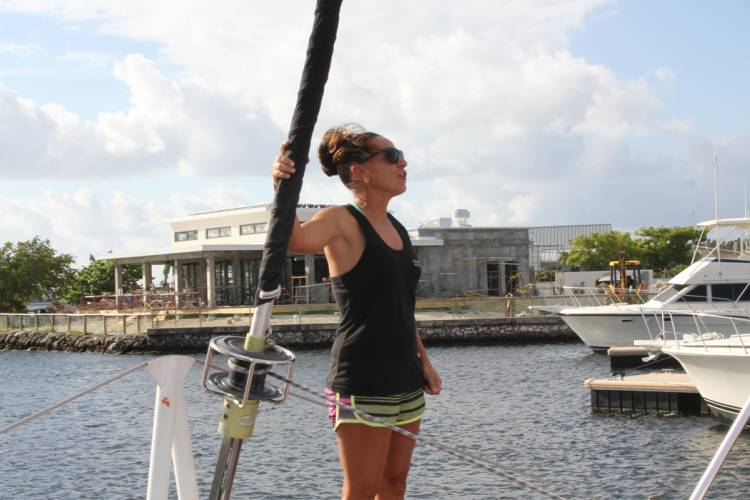 Have you ever been on a vacation or taken part in an activity where you can pinpoint a specific person who was vital in making the experience a memory you will cherish forever? For myself and many others visiting Stingray City for the first time, Luana Soro is that person.
I met up with Luana at the Cayman Island Yacht Club in West Bay where a big white catamaran named Allura was waiting for its first tour group of the day. This particular morning, the group included 33 cruise ship passengers making their stop in Grand Cayman.
Although her official job is a photographer for Happy Snaps photography, a company that she co-owns with a friend from high school and two other Caymanian partners, Luana started the trip off in the role of a tour guide.
As she welcomed everyone on the boat, she quickly revealed her personality, making the experience enjoyable before a single stingray was spotted ("Sir, I love your purse.").
Once everyone was settled in, Luana went over the basic ground rules of the boat and introduced us to the rest of the crew – Captain Glen and Captain Kirk (yes, really) – and informed everyone that she would give us further instructions once we got closer to the sandbar.
As we cruised to our destination, Luana shared that she used to be in dental work and began taking underwater pictures for fun while diving in Vancouver, where the water is equally clear but a lot colder than Cayman! After what she calls a "quarter life crisis," Luana moved to the Cayman Islands, switched career paths, and after a short 3 weeks on the island, she met her husband, "Australian Andrew!"
When our catamaran was almost to the sandbar, Luana began to explain to various small groups on board what to expect when we arrived at Stingray City and more importantly, what to expect from the stingrays themselves. Maybe somewhat surprisingly, this explanation was another example of how Luana made the experience exciting and memorable. As she was talking, you could tell how passionate she was about the animals we were about to see, affectionately referring to her stingray Dottie, who she has been holding for 9 years. You can tell the difference from one stingray to another by their markings. Dottie, as you probably already guessed, has dots on her back.
Finally, we arrived at Stingray City where a few other charter boats and their passengers were in the water. I sat back for a bit, observing Luana take pictures while Captain Glen prepped Dottie for the perfect photo opportunity. It was during this time that I noticed something I consider a testament to Luana. As passengers from other boats were screaming and squealing in fearful reaction to these unknown animals surrounding them, there was not one single person from my group that yelled or seemed scared. In fact, myself and the other 34 passengers were completely calm compared to the other groups.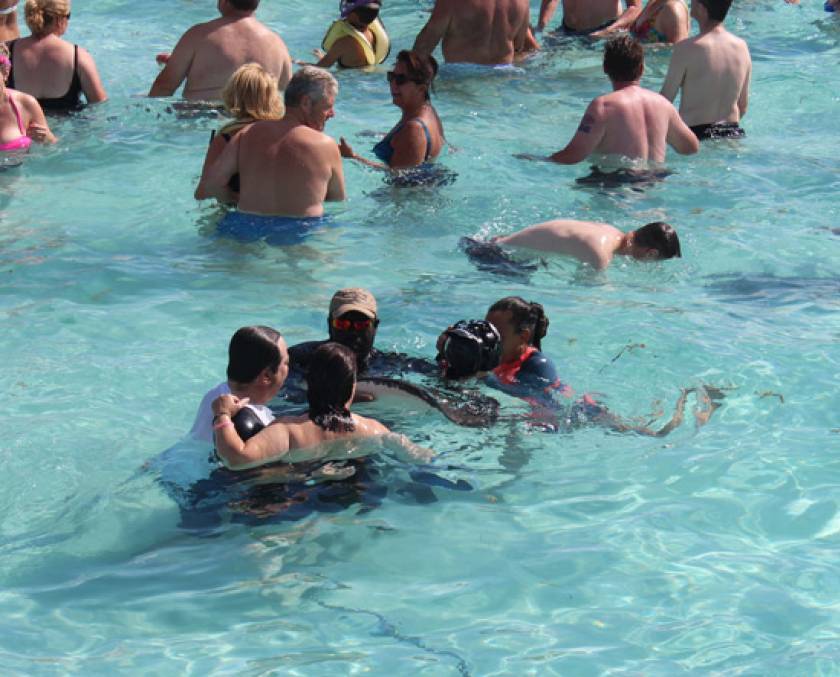 Why? Because during the 45 minute ride to Stingray City, Luana shared sentiments like this: "They decide to come here, they come to see us and then they go home. They choose to come back and choose to trust you." If they want to be there and like being around people, then that means these stingrays will be friendly towards humans!
After everyone had a turn, we loaded back up on the boat and Luana pulled up the pictures she took on her computer for people to look through and pick their favorites for purchase.
From her warm, welcoming personality to her love to be in the water and surrounded by the creatures that live there, Luana is truly Caymankind. 
Check out these amazing shots she captured of myself and a friend during our trip: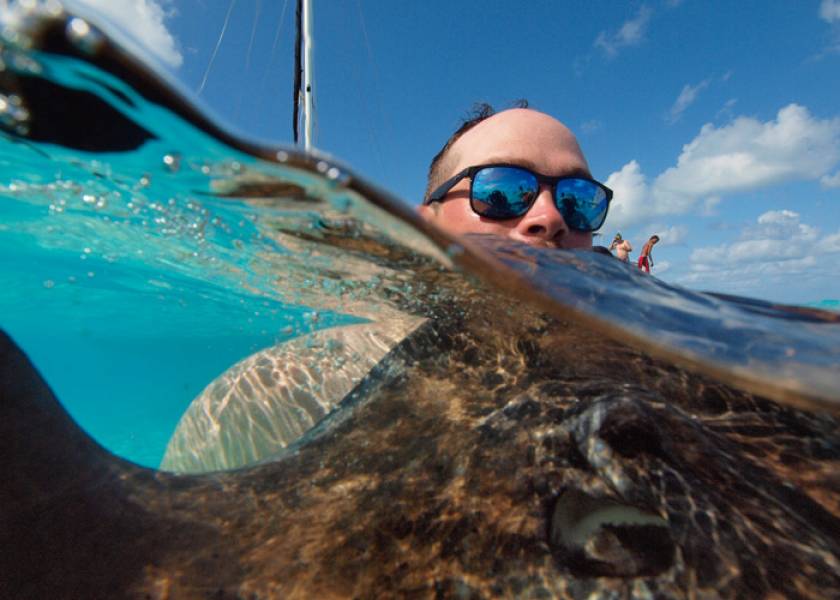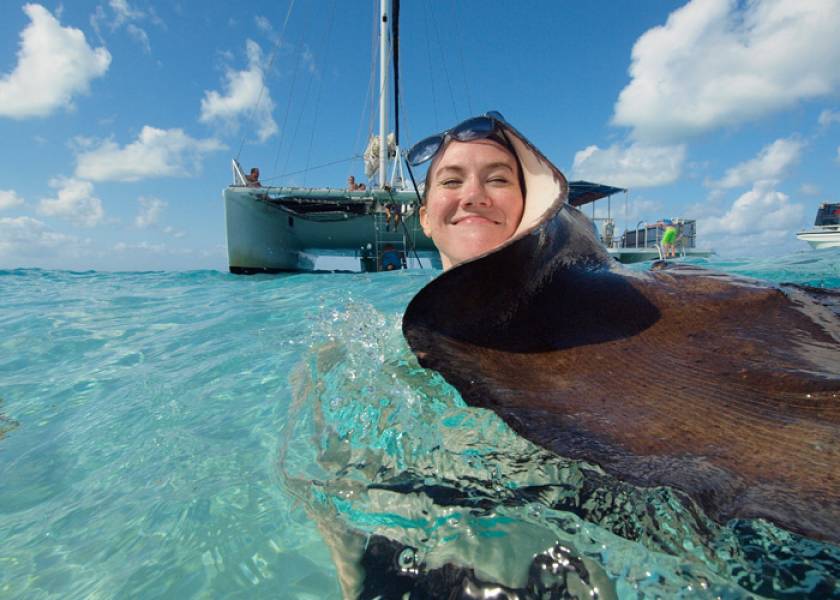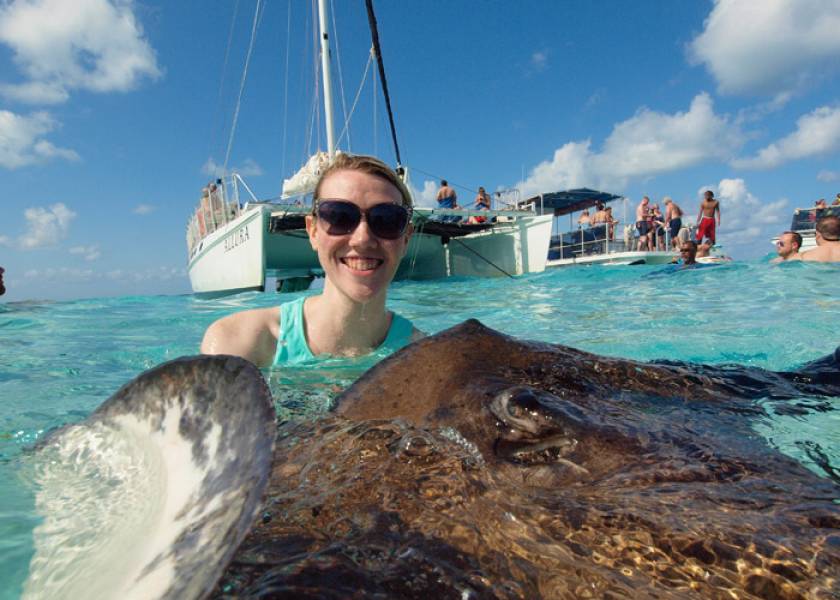 More fun facts about Luana:
She was born and raised in Sardinia, Italy and speaks Italian
She took pictures at Stingray City all the way up to the 8 1/2 month mark of her pregnancy!
One of her favorites memories is of a 82 and 91 year old couple celebrating their wedding anniversary on the island and having the time of their life at Stingray City with 3 generations of their family!