The Search for Sea Glass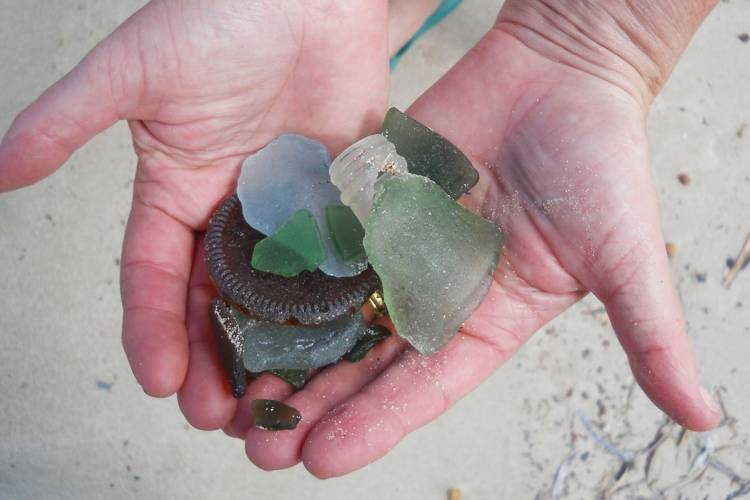 Are you looking for a unique souvenir to remember your trip to the Cayman Islands? What about a piece of a rum bottle, sipped on by a great sea captain as he looked out over the waves on a full-moon night?
Take some time to search for sea glass on your next trip to Cayman and you may find just that or at least a piece with equal character. ; )
What is sea glass?
As I was planning my first trip to Grand Cayman, the idea of searching for sea glass immediately caught my eye. Growing up in the land-locked Midwest, I'd never heard of it and was intrigued by its beauty, mystery, and enthusiastic hunter community.
Sea glass forms after pieces of discarded glass tumble, roll, and crash around for years in the waves of water. After anywhere from ten to one hundred years, the sharp edges are worn smooth and the once-shiny surface takes on a more frosted look. Round, rock-like pieces of sea glass make their way to the shoreline and await discovery by people like you and me.
Sea glass forms specifically from bodies of salt water, while similar "beach glass" comes from freshwater sources. A trained eye can spot the difference between sea and beach glass due to the piece's luster—salt produces a more opaque surface. This stuff is so popular that it's even produced commercially, but the commercial glass will have a much shinier, cleaner look to it which indicates it's an imitation.
Uses
The uses for sea glass are as myriad as the colors it comes in. Some like to use it in jewelry making, wall art, statement pieces in jars or bowls, votive candle holders, as worry rocks, and more. Use pieces as inspiration for stories about the glass's origin—is it the perfume bottle of a famous aristocrat from the 1920s, window glass lost during a storm, or a soda shared between a couple on their first date? Let your creativity run wild—the most important thing to keep in mind when searching for sea glass is to have fun.
Types of sea glass
Sea glass comes in a rainbow of colors from a variety of places, from old trash dumps to shipwrecks. Most common sources include beer, liquor, and soda bottles—a high percentage of white, brown, and white/clear sea glass can be sourced to these bottles. More rare colors include glass from medicine bottles, kitchenware, household decorations, and even auto/boat glass. Some rare colors you can keep an eye out for are cobalt blue, lavender, orange, lime green, cornflower blue, jade, and black.
With historical knowledge of commercial dying processes, some sea glass can even be dated to a particular era. For example, lavender glass can be traced to a change in the chemical processing of glass around WWI, and some sea-foam green can be traced to old Coca-Cola bottling practices. The sea glass enthusiast community has lots of great resources online to help you narrow down the origins of your finds.
So the next time you're on Seven Mile Beach at high or low tide, grab your sun hat, a couple of friends, your imagination, and see what treasures you can find. And don't forget to share photos of your sea glass finds with us using #loveCCC on Instagram.