Rubbing Shoulders with Cayman Legends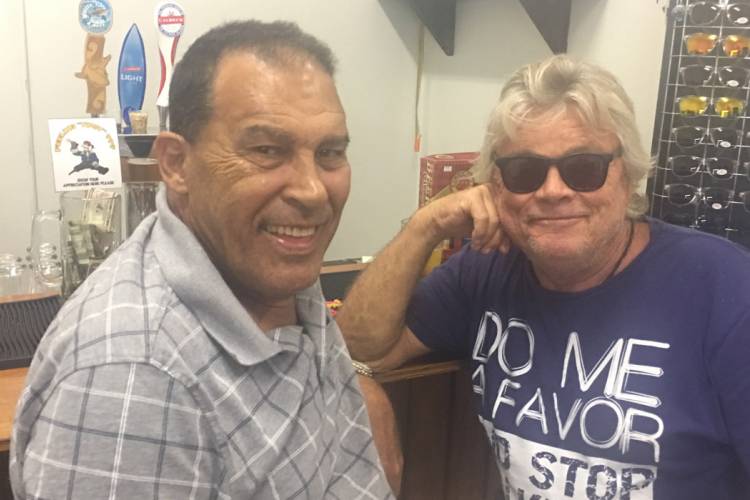 Cayman may be small, but it has its stars. While touring the island with Joe Tourist on a recent trip, I had the delightful surprise of rubbing shoulders with two Cayman legends: Barefoot Man & Cayman Cowboy. It doesn't get much better!
These two troubadours have been on the Cayman scene for decades now and know how to get the party started. Both men are applauded musicians with large followings, and neither are a stranger to dazzling a crowd.
Barefoot Man, aka "Barefoot," started playing gigs in Cayman in 1972 when, to his recollection, the island had, "three cab drivers, four police officers, four hotels, no radio, no TV, no cinema." He says the place was perfect for a "beachcomber." Barefoot was born in Germany, moved to the States as a wee one and ended up island hopping in the Caribbean as an adult before finding his destined home and stardom in the Cayman Islands.
In his bio written by Harvey Hagman of the Washington Times (Yes *the* Washington Times!—Wowza!), Barefoot describes his music like "an island drink concoction: a mixture of calypso with a bit of reggae and soca, garnished with a little country and plenty of humor…put it in a blender and you dance to the beat."
Barefoot (George Nowak) and Cayman Cowboy (Andy Martin) met in the early 70s. Barefoot recalls, "I heard him sing country one night. He was amazing." And from there he started writing songs for Andy.
Andy hails from Cayman Brac and has a country–island vibe about his music, hence "The Cayman Cowboy."
Perhaps the sweetest thing to discover was how long their friendship has spanned (and to have the serendipitous honor of being among friends of such longevity—it's rare you know!). The two recorded Barefoot & Andy on vinyl together in the late 70s.
Barefoot still jams weekly on the island. Catch his schedule here. Being in a Barefoot crowd is definitely an unforgettable and entertaining adventure.