Meet Sweet Shelly Glasgow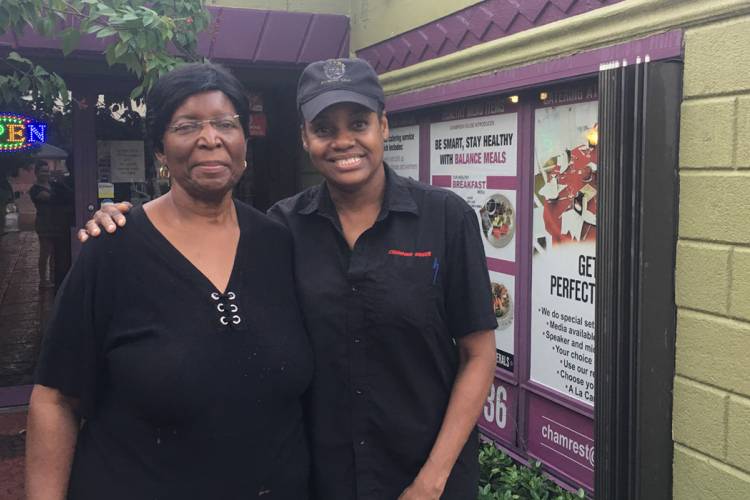 Shelly Glasgow grew up in the 60's and 70's in a Cayman that had many unpaved roads, a population that spanned about 7,000 – 12,000 residents over the two decades and only 403 tourists in the year 1970. A lot has changed in Cayman since her childhood, but three things still hold true: her big beautiful personality, her love for her family and her love for the island.
I met Shelly while trying some local fare at Champion House II. She was our waitress, and her warm and welcoming presence captured my attention immediately. When I discovered she grew up in Cayman, I asked gleefully if I could interview her for the blog. We sat down a couple days later at Champion House II before Shelly's shift to chat about what life was like growing up in Cayman. She opened up to me with such ease, wisdom and joy—making me feel as if I was sitting with an old friend. 
Shelly grew up in a small wattle and daub home in Georgetown with her parents and 7 siblings. She grins widely as she remembers their home, "I don't know how we lived there, but it seemed to be the biggest house in the world because there was so much love there."
Her love for her parents shines through brightly as she talks about their unbroken love and how they didn't have much growing up, but that they always provided for their needs. As children she and her siblings had no idea they weren't well off because her parents always kept their childhood happy and they never went without basic necessities.
Shelly's father, a Caymanian, worked "on the ship" as many men did then. There wasn't much industry available on island at the time, so men would go to sea to make money for their families while women stayed at home to raise the children. Shelly fished from rocky shores as a kid (caught a lot of snappers), and spent a lot of time with her neighbors. Parents would take turns watching after the kids in the neighborhood, so she bounced from house to house to play with neighbor kids. In those days "everybody know everybody." She laughs and then shares that people would often show up to each others houses uninvited. According to Shelly her mom made the best straw hats out of silver thatch (she longingly wishes for one now), and her dad trained her how to chop coconuts as a child—a skill she would later use as a waitress at Coconut Joe's. Shelly's childhood was that of a true island girl with strong community and a wholesome family life.
Shelly attended the only high school on the island at the time which was on Walker Road in South Sound. She recalls her father telling her, "I hope you find a job that matches your personality because I would hate to see you behind four walls with all this paperwork and all this personality going to waste." After high school she gave life as a flight attendant a try, but ultimately decided that the hospitality industry in Cayman was for her. Almost 40 years later Shelly is still in the hospitality industry, and she's exactly where she belongs. "I think I have the greatest job in the world," she exclaims. Shelly has been at Champion House II for two years and loves every minute of it. She's always approached her jobs as if the business she's working for is hers, with total commitment and love. She loves everyone, and says, "If you can't get along with me there's something wrong with you. You better check it out." I laugh, and she laughs her big welcoming laugh; and I believe her 100%.
As Shelly built a successful career in hospitality, she also raised three beautiful children as a single mom. She proudly tells me all about Selena, Serena and Brandon and how lovely a place Cayman is to raise kids. Brandon her oldest just graduated with his bachelor's and got engaged, so we excitedly look through some photos on her phone. She recommends Smith Cove for swimming outings with kids—she loved taking hers there when they were young.
I ask Shelly what she likes to do in her free time, and it's such a sweet answer. She likes going to her neighbors to sit and chat, grabbing an occasional drink at Wellie's Cool Spot (a local restaurant and bar she recommends), walking, going to the pool and playing dominoes, cards or checkers. She's got this island life figured out, and I am warmed by her spirit and love for the simple life. At one point she tells me, "Cayman life is one of the top lives," and I know it's true. At the end of the interview she invites me to come back tomorrow.
Feature photo: Shelly (right) pictured with Dorothy Scott (left), owner of Champion House II.