Meet Katrina McTaggart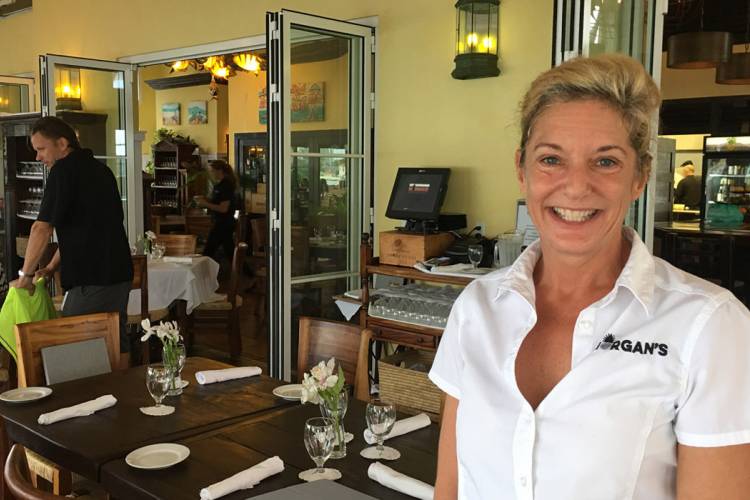 Katrina McTaggart, originally from Pittsburgh, PA, is a free spirit who cares deeply about people and the planet. She loves Grand Cayman and finds Smith's Cove to be a place for refuge, calling it a magical place. She views each one of her friends as a class; someone to study with curiosity and to learn life lessons with.
The first time Katrina and I crossed paths was happenstance. She was waitressing at Morgan's while my husband and I were enjoying brunch after a lively Sunday service at Christ the Redeemer Catholic Church in West Bay. Only Katrina wasn't actually our waitress.
In between serving her own tables, she came up to fill up our waters and struck up a conversation. (Later she told me that she came over to our table because she felt drawn to us.) She joked that she was the only American on staff, and that she came 18 years ago to the island on a work trip, kicked back in a hammock at Rum Point and nothing has ever been the same. She came to Cayman on a work trip with her then employer Abbott Labs out of Dallas, TX, where she was a medical technologist teaching people around the world how to operate their chemistry analysis. After her trip she decided that she was going to move to Cayman to make a different kind of life and to be a different kind of "chemist"—as a bartender at Kaibo.
We exchanged email addresses at Morgan's and decided to meet up later that week, so I could interview her. We've never featured an American that's moved to Cayman, so I was excited to hear her story. We met up at Cimboco for coffee and immediately the happenstance, or I would call it the divine connection, began again. It was a little after 10:00 a.m. and I explained to Katrina that I wasn't hungry myself because my husband and I had just had breakfast at Lauren's Cafe, telling her that I got one of their awesome crepes and that my husband ordered the Two, Two, Two special. Katrina suddenly became emotional, and explained that February 22 was her mother's birthday, and that her mom had just passed away a few months ago. Ever since her passing Katrina has seen or heard 222 in some variation almost everyday. She thanked me for bringing it into her life again that day.
During her 18 years on island, Katrina has had a ton of varied experiences. She went from living in a bungalow on the North End and bartending at Kaibo to moving in with 4 lively Brits across from Fidel Murphy's Pub, where she joked she put on her equivalent of "the freshmen 15" casually sipping on the tasty brews at the pub. She worked at Eats Cafe, which serendipitously led to a position with a local dentist through some cafe patrons. From that employer she moved into banking with Butterfield Bank and then started her very own renewable energy company, Endless Energy, with a partner. While operating Endless Energy, she wore a ton of hats and the business ended up installing over 150 solar systems for residential and commercial customers on island. The business only recently closed, and now Katrina is on another journey of self discovery.
Listening to her story, it was amazing to hear how either life situations changed her path or Katrina herself often chose to change directions. Either way, the mix of the two has led to fascinating diversity within her character and experiences. She's also refreshingly honest, and openly shared stories of hardship with me, too. Through the ups and downs of life, it was cool to see how her hope and love for life and others has shaped her and those around her. And she definitely LOVES the Cayman Islands. She's been toying with some ideas to promote the islands and who knows what will come next. She always seems to find a fun and meaningful dream to chase. Keep your eyes and ears peeled for more from Katrina McTaggart!