Kayaking through the Central Mangrove Wetlands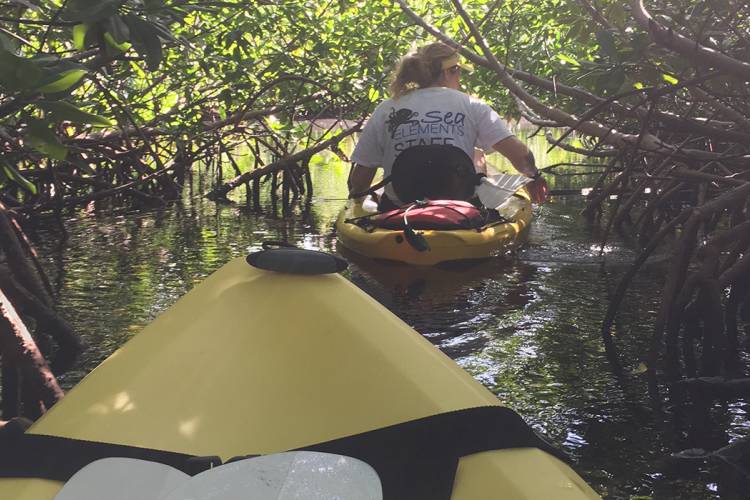 Deep in the mangrove forests you will find blissful shade, interesting wildlife and peace for days. My fiancé and I recently took a kayak tour with Sea Elements through the Central Mangrove Wetlands of Cayman, and it's an activity I would highly recommend. Our tour guide Mandy was so awesome and made the trip fascinating and fun.
We started the tour by boarding our kayaks from the Cayman Islands Yacht Club. Mandy gave us a 10 minute tutorial on how to maneuver around before we boarded our little vessels. I'd only kayaked once before and felt totally comfortable once on board. We left the bay, paddled past gorgeous waterfront homes and then crossed the open waters of the sound channel to the main mangrove area. As we passed by the mangroves, I saw iguanas poking their heads out of the trees and sunbathing on the limbs. They looked like kings up there.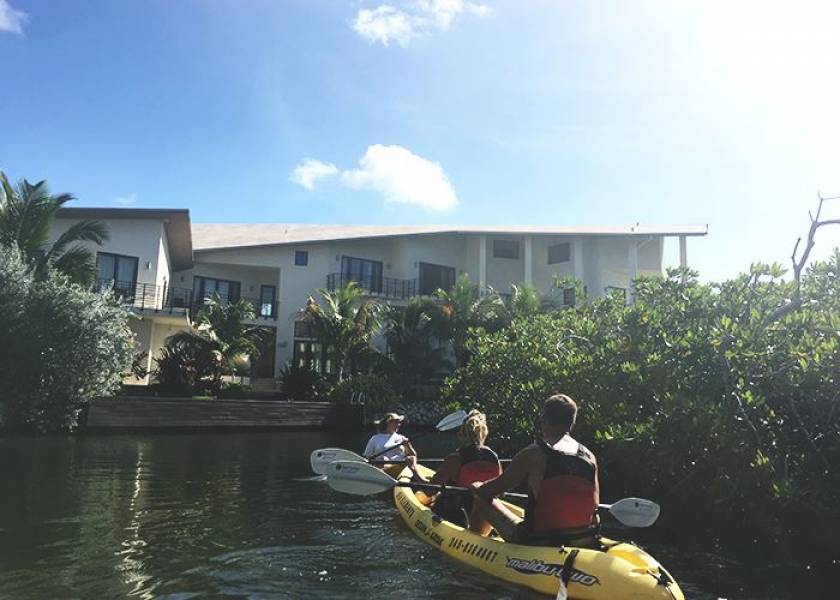 We learned that there are 3 types of mangrove trees in Cayman. The red, black and white mangroves make up one of the most important ecological elements of Grand Cayman providing an irreplaceable habitat for many species, protecting the mainland from storms, helping provide rainfall to the West End and—my favorite—filtering out the residue from murky waters resulting in the crystal clear waters for which Cayman is known. While on the tour, our guide Mandy, told us how to tell the 3 types of mangroves apart which included scratching the leaves and licking them too!
As we were navigating around the perimeter of the mangrove forest, Mandy found little spots at which we could stop and rest while she taught us fun facts. She plucked flora and fauna from the trees and the water for us to handle and see. The first was an upside down jellyfish also known as Cassiopeia. She told us to look for green bean looking things hanging from the red mangrove and explained that those are actually little mangrove plants that would eventually fall and take root. I was impressed to learn that they could live up to a year floating on water before planting their roots. We also handled a poisonous algae that makes up much of the sand on the beaches here. Luckily the algae isn't poisonous to humans! We laughed when Mandy told us the other "ingredient" that makes up the sand. You'll have to take the tour to find that one out.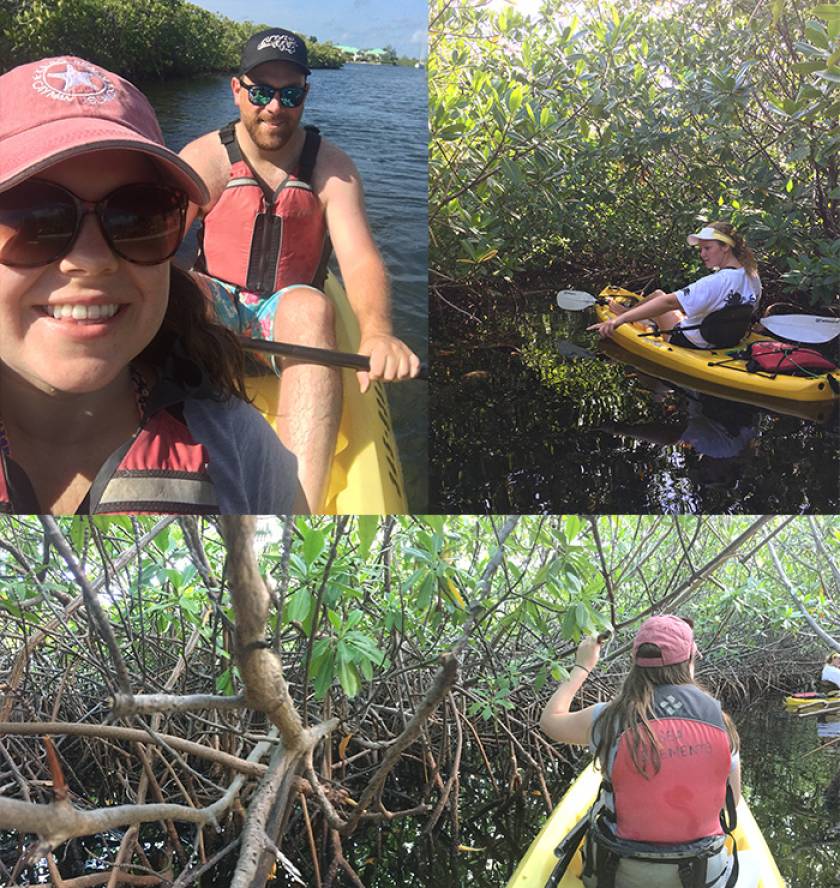 We wandered around the perimeter for awhile until heading into the mangroves through small creek like channels. We paddled those for some time and then took a turn into a very narrow pathway. With paddles now stowed in the kayak we used our hands to grab branches and pull our way through the coolest tree-webbed passageway. I had no idea we'd be going through them like this and was excited as we slowly made our way through. Everyone was quiet as we soaked in our surroundings deep in the mangroves.
Exiting the passageway we saw a blue heron take flight, and would later see two more. I'd never seen them so close! We pulled over again and Mandy showed us mermaid's cup, a little algae plant with a suction like cup that looks like a wine glass. She stuck it to her nose and then continued to share more.
During one of our "pull-overs" she picked up a squishy little sea creature that didn't look like much more than larvae. However, we learned that this little creature informally called a sea squirt is the only animal in the world that grows a bacteria that's used to treat soft cell cancers. With this, Mandy reminded us with sweet class how important it is to protect the small things!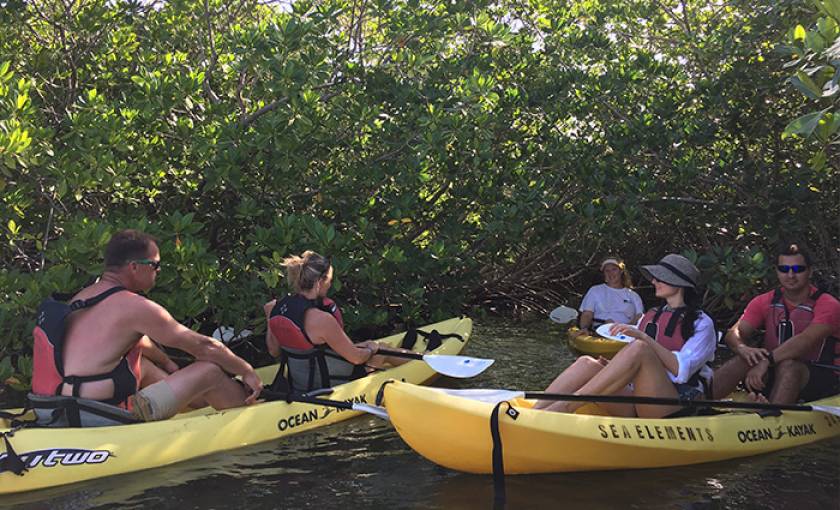 After about 2 hours we found our way back to the dock where we had started. I left with a new respect for the mangroves and my curious soul satisfied. Mandy was truly a pro and had an admirable passion for the the mangroves. Holding a degree in Marine Biology, she was full of knowledge but we especially loved how she communicated in layman's terms.
Next time you are in Cayman, definitely make time for a trip to the Central Mangrove Wetlands. I'd suggest bringing sunscreen, an appetite for learning and a sense of humor if you plan to kayak with a partner! You can learn more about the tour we took on Sea Elements website.