Get to Know the Christopher Columbus Staff—Willie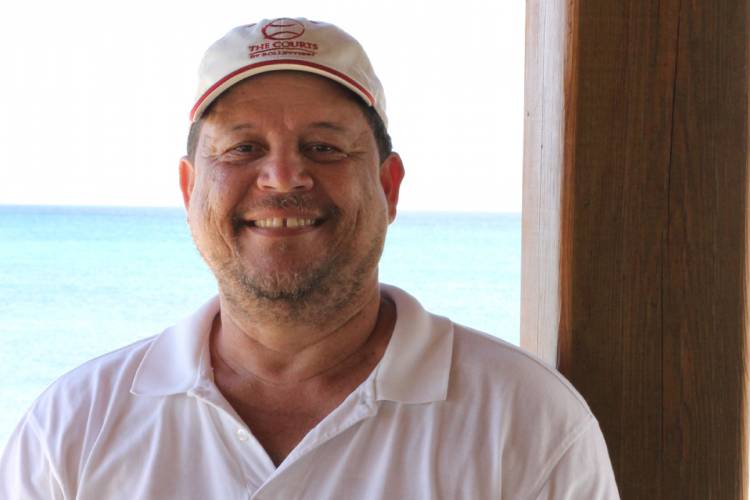 We first featured Willie, our Maintenance Man at CCC, in our newsletter a couple years ago, and wanted to share more with you about this kindhearted man who will be celebrating 31 years of service at Christopher Columbus Condos next month.
Almost everyone has met one of those people who quietly work in the background, with a servant's heart and no request for recognition, yet we know without them a business, organization or family would not be as successful. At Christopher Columbus Condos our behind-the scenes-guy is Joseph a.k.a "Willie."
Willie just so happens to call one of our housekeepers, Delma, his wife! When asked what it's like working with his wife, he said it's a blessing that "can't be put in just a few words." It's a joy every morning to get to ride to work with his wife by his side. Willie is a big family person. He has two girls and one boy, of whom he's very proud. His oldest daughter is a lawyer, the next daughter in line is a doctor and his son works in customs at the airport. Willie has 6 biological grandchildren and 5 grandchildren through an informally adopted son from Honduras. Willie himself is originally from Honduras.
On any given day at CCC you can see Willie fixing a hut, cleaning the grounds or hanging lights up for a party. He loves seeing tourists visit because it's good for the island and he recommends outdoor activities (Turtle Farm, Botanic Park, etc.). His favorite place to chill out, aside from being at home with his family, is Smith's Cove. He says he also enjoys eating out a couple times a year, but that he mostly enjoys cooking for his family, making things like turtle stew and rice, ribs on the grill, stew conch and green salads. "They say I'm a pretty good cook," he laughs.
After being at CCC for over 30 years, Willie has got to know owners and other staff members very well (some have come and gone). He has especially enjoyed the special bonds that are built. He said a previous owner even took part in a couple of baptisms that his church had in the CCC pool. You read that right! In the 90s (he guessed about 20 years ago) a couple of baptisms took place at CCC. I joked with him that I had no idea the waters were so holy. He attends church at the Church of God Gospel Hall and worships with a congregation called the Ambassadors of God that he helped found over 20 years ago with the pastor. They rent a place in Georgetown and are currently looking into building a church for permanent placement.
Talking with Willie is such a pleasure, one that I hope each of you will get to experience. He has the most warm personality, and has a way of reminding you what is most important in life. He says, at the end of the day, "I don't ask for too much other than seeing my family happy."