Fritz Sajovitz—CaymanKindness Over a Cup of Coffee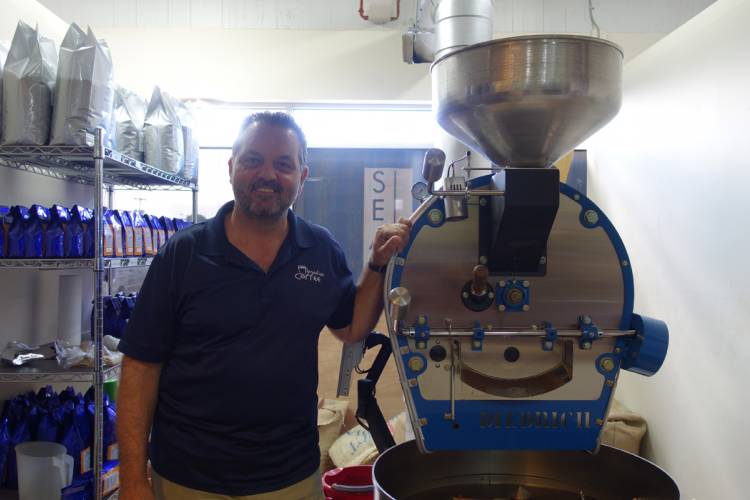 The shiny, blue and orange Paradise Coffee bags are a morning staple for many of us while staying at CCC. Each bag's label proudly says "Cayman Islands own boutique roaster." As a huge coffee lover, I was excited to learn more about Cayman's very own coffee roaster. Founder and owner, Fritz Sajovitz, kindly invited us to see where the coffee magic happens! We caught Fritz between batches of coffee, and he generously shared about himself and the coffee roasting process.
Born in Austria, Fritz worked in the restaurant business in Bermuda for 25 years, where he got a lot of industry-level experience with coffee. Once he got married, he began looking for a new line of work to avoid the hectic schedules of the restaurant world. Coffee seemed like the perfect fit, so Fritz and a partner started Coffee Works Bermuda and learned the ropes over the next few years.
In 2006, Fritz made the move to Cayman and founded Paradise Coffee. Originally, Paradise Coffee provided the island with single-serve coffee products (think Keurig) and coffee-based water filtration systems for both the home and office. In 2012, Fritz added the in-house roasted coffee we know and love today, while still offering a full selection of other coffees and coffee-preparation products. 
To learn how to roast coffee, Fritz attended a few technical trainings across the western hemisphere—one in Stanford, Idaho, and another in the beautiful Blue Mountains of Jamaica. With roasting foundations in place, he began the fun part—tinkering. "You've got your basic knowledge and then there's trial and error. You just keep on roasting and roasting and tasting and tasting. And you learn by making mistakes sometimes."
In order to help ensure your perfect cup, there's a lot to keep in mind. Fritz explained some of the ins and outs of roasting. "In the roasting process you make the coffee taste the way you want it to taste. It's not just light, medium, and dark roast. It depends on air flow, on the increase of temperature. If it goes faster than 20 degrees per minute, the coffee will taste different than if it goes 17 degrees per minute."
Quality and consistency are Fritz's top priorities. He mentioned that, unfortunately, many coffee drinkers are used to the stale taste that goes along with run-of-the-mill grocery store coffee. If you're in this camp, don't worry, Fritz can help. He sets a much shorter "best if enjoyed by" date on each bag of coffee so you can savor peak taste and freshness.
A Diedrich roaster powers Paradise Coffee, and it can hold 26 pounds of beans per roast. One roast takes around 17-18 minutes, but that can change depending on the flavor profile that's desired. All in all, this works out to around 3 roasts an hour, up to 500 pounds a day, and 18,000 to 20,000 pounds a year! After that much work, Fritz definitely deserves a cup himself, so I asked how he takes his coffee—with a little bit of milk and sugar in the morning and black in the afternoon.
Next time you're on island, pick up one of these blue bags of happiness at one of the local grocery stores or stop by Paradise Coffee's freestanding location off North Sound Road. Our personal favorite blend is Cayman Coconut, but other popular roasts include Cayman Gold, Seven Fathoms (rum-infused!), and Good Morning Cayman. If you stop in, say hi to Fritz, and be sure ask him about his classic Minolta camera—he's also a camera and photography buff!
If you want to hear more technical ins and outs of coffee roasts, check out this video excerpt of our interview.