An Expedition to Rum Point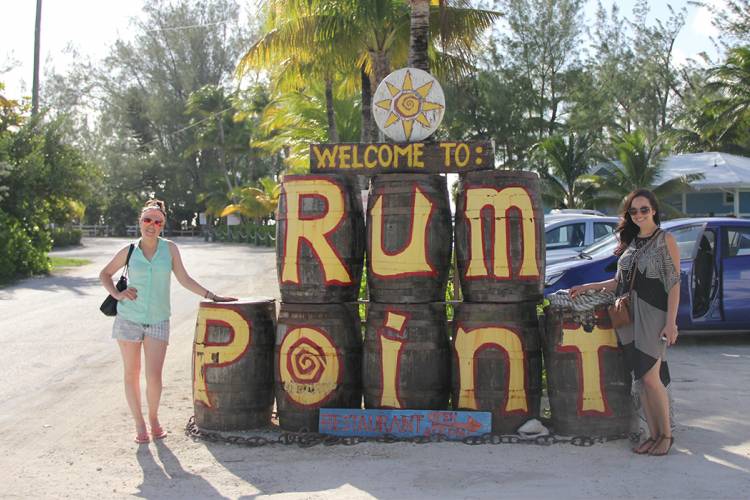 After a few days on Grand Cayman, my friend Aimee and I got up the courage to announce that we were going to drive around the island to Rum Point. It took courage for us because we weren't used to driving on the "other" side of the road and the 49 kilometer trek (about 30 miles) seemed like a challenge… but one we were willing to accept. Once it was official we got really excited thinking about the adventure ahead of us.
Tip: Before heading out take screenshots of directions from Google Maps to avoid using international data! (Both Aimee and I are American and using your phones here can be pricey. There are also some great maps in some tourist publications. Ask someone in the office to point one out.)
With directions in hand, we made our way through Savannah and were nearing Bodden Town. Since the roads weren't clearly labeled, we questioned if we were going the right way, but somehow we never got lost!
As we were approaching Bodden Town we passed a produce stand. I threw my hands up against the window and squealed "Courtney!!!" like a kid yelling "Candy" passing a candy store. Courtney is a produce salesmen I met on my first trip to the Cayman Islands last year. We found him on a remote stretch of road between Savannah and Bodden Town and there he was in the same remote spot so many months later! Aimee and I were on a Rum Point mission, so we didn't stop, but my heart lifted so high knowing Courtney was still in his usual spot. I would be back to visit him.
After Bodden Town we drove for a long stretch of secluded island land and saw several remote condos and resorts along the way. As we got closer, we began to see signs for Rum Point, heightening our excitement. We knew we had finally arrived when barrels labeled with individual letters spelling out Rum Point welcomed us at the front. A nice couple offered to take a photo of us together at the barrels so we hoisted ourselves up to the barrels and posed away. We were ready for Rum Point, but was it ready for us?
The entry to Rum Point set the island vibe with palm trees dotted along the planked pathways. There were cool colorful signs made with driftwood that told us to, "Relax, You are on Cayman Time." Aimee & I take orders very seriously, so we headed straight to the Wreck Bar and asked the bartender to make some recommendations.
Aimee got the Rum Point Sunset and I went with the Cayman Lemonade then we picked out a seat at one of many open colorful picnic tables. Lights were strung above the picnic tables and food/drink menus tied to coconuts were at each table for Wreck Bar. We scoped out the rest of our surroundings and took some time in lounge chairs while doing some people watching. There were a few people playing sand volleyball and some others in the ocean hanging out with drinks in hand.
After our first drink, I grabbed one more. (Aimee was driving.) I tried the mudslide as I had heard Rum Point was known as the birthplace of the mudslide. It was divine. We went out on the pier to enjoy the view of the massive waves that were further out. With them came massive wind and a great photo opp.
We finished off our time at Rum Point lounging in the hammocks and taking in yet another breathtaking Cayman sunset. As we left we saw a few cats hanging around and tried to coax them over to us, but were unsuccessful. We ran into a worker and asked about the restaurant and Dak Shack. He informed us they were closed for the low season. The low season had it's perks though because although there were enough people around for a small buzz there was still an extremely peaceful lull that hung in the atmosphere.
As we pulled away we both felt a huge sense of accomplishment and pride. We had done it! We made it to Rum Point, and we had enjoyed Rum Point. Now we just had to make it back 30 miles to Christopher Columbus Condos… in the dark!