Courtney's Island Produce Stand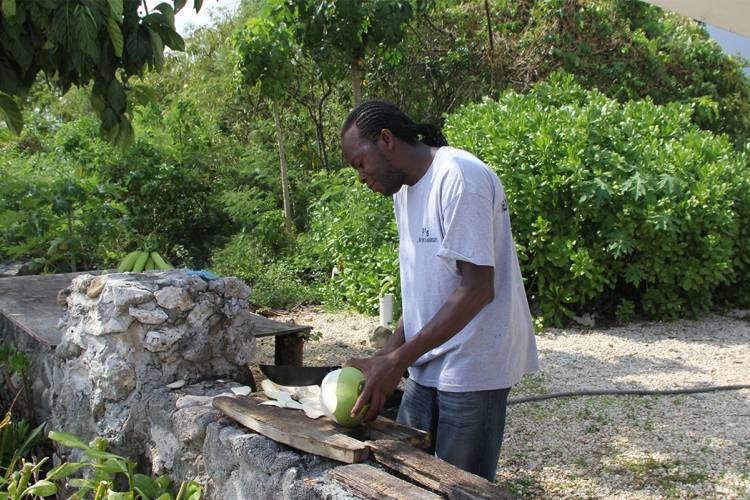 Today, we met a roadside produce salesman named Courtney. We were on our way back from the Queen Elizabeth II Botanic Park, and his stand was on a remote, rural stretch of road between Bodden Town and George Town. We came around a curve, and I spotted the stand yelling, "Devon that looks like a good one" as we passed by. Thinking it was a gem we turned around, parked on the side of the road and walked up to the stand. As we approached Devon heard Hunter Hayes on the radio, and we immediately had an icebreaker. We laughed about Hunter Hayes and told the stand owner that the music he was listening to, country music, came from our region of the states. We introduced ourselves, and the stand owner told us his name was Courtney with a broad, white smile.
Courtney was so kind. He explained all of the exotic fruits to us; how to slice them, when to eat them and what to eat them with. When he found out that I had never tried starfruit he picked one up and started cutting without any concern of being paid. He insisted that I try it. I was so impressed with this new fruit. It was, for lack of better words, the cutest fruit I've ever seen. Once sliced, each piece looks like a star. And it's so tasty… a mix of sweet and sour (comparable to a granny smith apple).
We bought starfruit, coconuts, papayas, sugar cane and the largest avocado I have ever seen. I'm convinced it's some mega breed of avocado. Courtney made sure we didn't purchase anything that wouldn't be ripe enough to eat before our departure in 3 days. He sliced and diced sugar cane for us as well as several coconuts. He also peeled one of the coconuts, put a hole in the top and gave us a straw to start drinking. The man was prepared! And such a great host… He didn't talk much about himself unless we asked. Of course, we had plenty of questions and he would smile as he answered. He had an indescribably endearing way of answering, and he chuckled at our excitement and interest in island life.
Come to find out Courtney was Jamaican, as I'm finding many island residents are, and he's been living in Grand Cayman for five years. We asked if he had traveled anywhere besides Jamaica and the Grand Cayman, and he confidently answered, "No, but I will." He had a great attitude and a sweet, soft spirit. I am so glad we stopped for produce, but even happier to have met Courtney!