Cayman Watercolors by Our Own Russell Bloodworth
Christopher Columbus Condos is lucky to have a close community of owners, staff and returning guests. So when one of our own has something he or she is willing to share, we love to share it with this community and newbies alike.
Russell (Rusty) Bloodworth, a longtime owner and friend of the CCC community, recently shared a few watercolors that he's painted throughout his years in Cayman. The talent, emotion and human spirit that is so eloquently displayed in each is touching.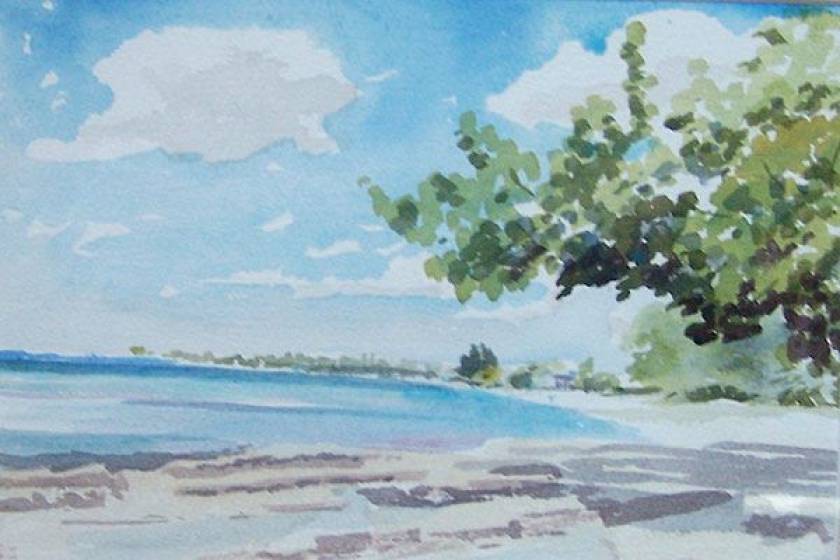 My favorite is the painting of the late Captain Marvin featured above. Captain Marvin Ebanks pretty much started the chartered boating business in Grand Cayman and went on to found Captain Marvin's Watersports, a very successful tour operation still doing business in Cayman today.
Rusty and his family went on their first excursion with Captain Marvin in 1981, and over the years they formed a very close relationship with the Captain. The Captain used to take them out to dive for conch, out to Stingray City (which wasn't even named that then), and then he would proceed to the North Sound reef to spear fish with his helper. Captain Marvin made an experience of it by shelling and marinating conch (pictured in the watercolor) and then he'd take his groups to Rum Point where he cooked the fish on an open fire at the beach for all to enjoy a terrific meal. He was a wonderful man and a Caymanian legend.
Rusty has been painting Cayman 'en plein air' for over 35 years and has painted a variety of people and places; his latest painting from November 2015 features the fish market in Georgetown. Painting en plein air requires a true commitment to the chosen subject as artists stand for hours to capture the people and places they want to emote on canvas. I think this commitment to place and the human story really shine through in Rusty's paintings. He let me in on a secret that he does have a tiny three-legged stool that helps him from getting too fatigued during his sessions. Nevertheless, as a writer, I can relate to the desire to tell stories, and I think that's done so beautifully in the paintings below. As time passes so do those special moments, and by painting them they get to live on forever really unlike any other form. Some of the houses that Rusty has painted over the years unfortunately no longer exist on the island, so I hope you enjoy these special glimpses of Cayman times over the past 35 years.