The Cayman Turtle Farm is Such a Joyful Attraction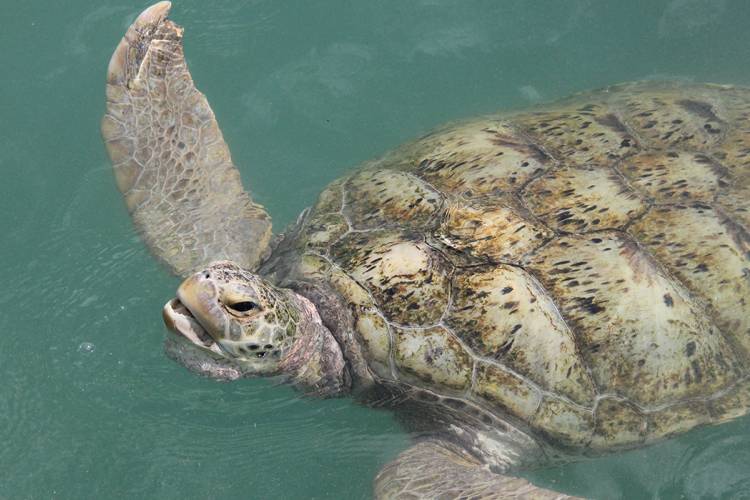 If you haven't experienced the Cayman Turtle Farm check it out next time you visit Grand Cayman! While it's an absolute must for kids, it's also a great time for adults.
The Best Part!
The most popular attraction? Holding baby turtles! Technically the turtles are yearlings (a turtle in its second year of life), but they seem like babies compared to their adult counterparts! The farm has small wading pools called Turtle Touch Tanks where yearling turtles swim around in circles. Kids are welcome to climb into the pools and play with the turtles, and all are welcome to hold the sweet turtles. Just make sure to use the hand washing station before handling the turtles, and if you need help handling a turtle one of the employees is always around and willing to scoop one up for you and give you tips. On my first trip, I can remember the employee telling me that the turtles liked to be rubbed right under the neck. This made me laugh, but it really seemed to relax the turtle he was holding.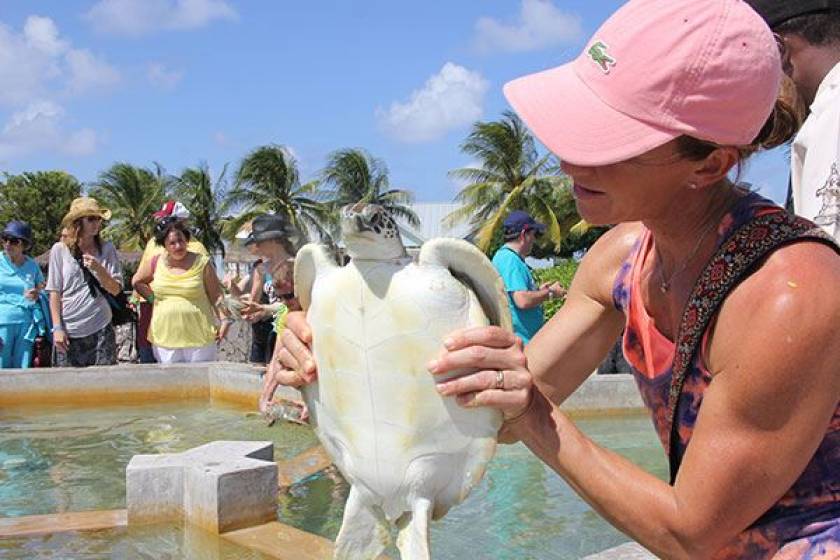 In addition to the Turtle Touch Tanks, visitors can also check out full-grown green sea turtles swimming around in The Green's Breeding Pond. They are huge and really fun to observe. You can also see a Loggerhead sea turtle in Loggerhead's Sea Loft. These are both for observation only, but there is another option to get up close and personal with turtles in the Turtle Lagoon. In the Turtle Lagoon, you can swim and snorkel with yearling green sea turtles and other sea life while exploring coral and small little islands that iguanas and even peacocks rest on! Many of these experiences are included with a basic admission ticket, but some do require an extended pass.
How the Turtle Farm Began
The turtle farm was founded in 1968 by a private group and was purchased in 1983 by the Cayman Islands Government. The goal of the farm is "to produce enough turtles to supply the needs of the local market and to continue releasing turtles" into the wild in an effort to conserve the population and ensure green sea turtles flourish around the islands for years to come.
The farm has lots of information about the sea turtles of Cayman and their efforts to build the population in The Education Center & Hatchery.
And there's more!
As if all of these turtle-y reasons aren't enough reason to visit, the farm also has a small water park (Breakers Lagoon), a gravel path with old traditional homes (Cayman Street), an area for birdlife (Caribbean Free Flight Aviary), a 9-foot saltwater crocodile named Smiley (Smiley's Saltwater Lagoon), several nurse sharks and more in a small aquarium (Predator Reef) and a cool nature trail (Blue Hole).
Parking Lot Photoshoot
And last but not least, the parking lot is reason enough to go. The views are outstanding and perfect for an impromptu photoshoot with family or friends.