Brian Watler Jr.—Designing the History of Cayman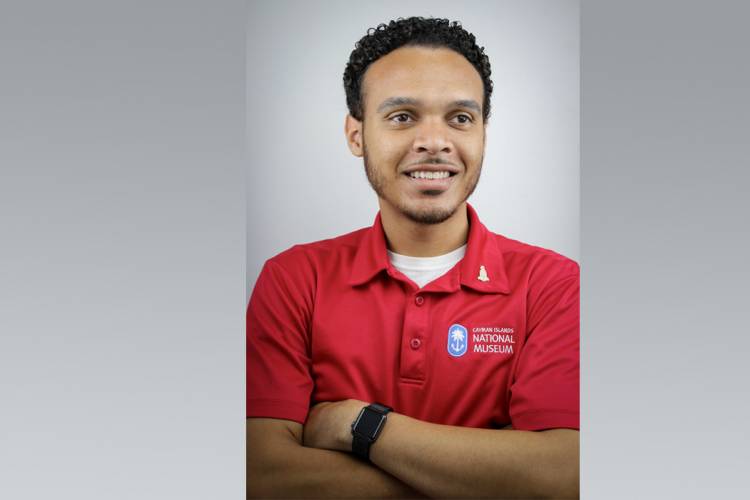 If you've ever been to the Cayman Islands National Museum, you have seen the incredible exhibits and experienced the history of Cayman. Meet Brian Watler Jr, the man who is responsible for designing these amazing exhibits.
Brian Watler Jr. was born and raised in Cayman. His family has been living in Cayman for many generations spanning back to his great-great grandparents and beyond. Brian says his favorite thing about the island is the culture. When describing the culture, Brian stated, "We have a way of doing and saying things that is so unique. Every single district has its own 'accent'; you can tell if someone grew up in North Side or George Town just by their accent. You can even tell if someone's from Cayman Brac or Grand Cayman by their accent. For such a small island, the culture is extremely unique." He has been able to turn his passion for the culture into a career working as a PR/Media and Design Specialist for the National Museum.
Brian describes the National Museum as the living connection to Cayman's past. His view is that the museum allows current and future generations to experience the island's unique cultural heritage. With a passion for both design and culture, Brian can think of no better fit for a career than the National Museum.
Brian's journey with the National Museum began in 2015 when he interned for the museum to design their 25th Anniversary logo. They were so pleased with the design that they brought him on board to design the 25th Anniversary exhibition and publication. Since then, Brian has taken on his current role where he works to create press releases, update the museum's social media and website, and other PR-related activities. However, his favorite part of the job is getting to use his design skills to create a cultural and historical experience for museum visitors. Brian says that while most people with a degree in graphic design get to design flyers and brochures, he gets to design exhibits!
Last year, the museum installed an exhibition titled, "Cayman Airways: Celebrating 50 Years of Our National Airline." Designing this exhibition was extremely enjoyable for Brian. As a child, he always had dreams of becoming a pilot, and he still owns a collection of airplane models, a few of which are Cayman Airway custom-made models. Most of all, Brian enjoys the interactive nature of this exhibit. "What I really enjoy most about the exhibition is the exterior airplane fuselage—it's as if you're boarding the aircraft—then you enter the gallery and see this fascinating display of airplane models 'flying' in the case." This exhibit gives an in-depth look into the history of Cayman aviation from its humble beginnings to now employing over 400 employees.
Not only does Brian design amazing exhibits for the museum, he also teaches Quadrille (Cayman's traditional dance) to students at Edna M. Moyle Primary School. This is his second group that he has worked with to teach Quadrille. His first group of students won a Gold award at the National Children's Festival of the Arts in 2012. In his free time, Brian is actively involved in helping out in his community and church. He loves to photograph the island and visit with the elders in his community to hear their stories. Brian's passion for Cayman culture and his community is obvious. He is even going back to get his Master's Degree in Marketing: Digital Marketing and Advertising since his work for the museum is so closely related to marketing.
With his passion and knowledge, we had to ask Brian what other activities were a must-do for Cayman visitors. He recommends Pedro St. James Castle, Queen Elizabeth II Botanic Park, Cayman Crystal Caves and Cayman Turtle Centre. He believes all of these institutions are vital to understanding Cayman culture.
The next time you are on island, make sure to stop by the National Museum and learn more about the culture of Cayman and see some of Brian's work!