Biking the West Bay Loop with Irishman Richard McKee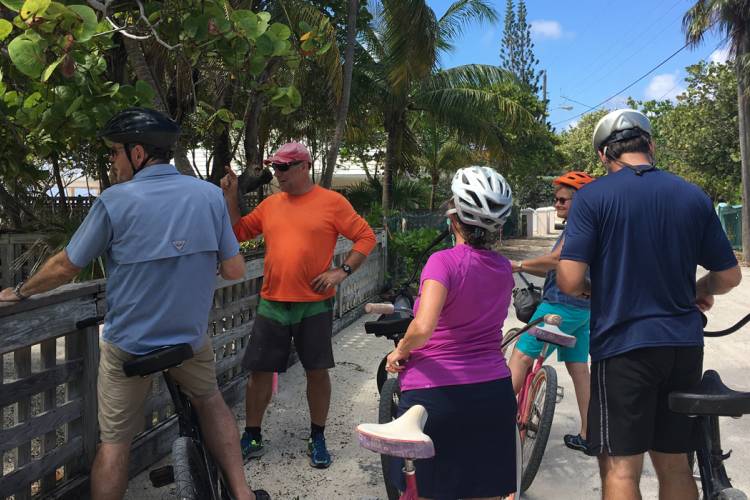 Author's note: West Bay Bike Loop Tours is officially closed. If you are interested in a unique biking experience on the island, we recommend Eco Rides on the East End. 
If you want to see the "real island" then biking the West Bay Loop is for you! Tour guide, Richard McKee, leads bike tours through West Bay and shares lots of history and saucy facts about Cayman along the way. Aside from being a great Caribbean historian, Richard is a hoot and will keep you entertained along the way.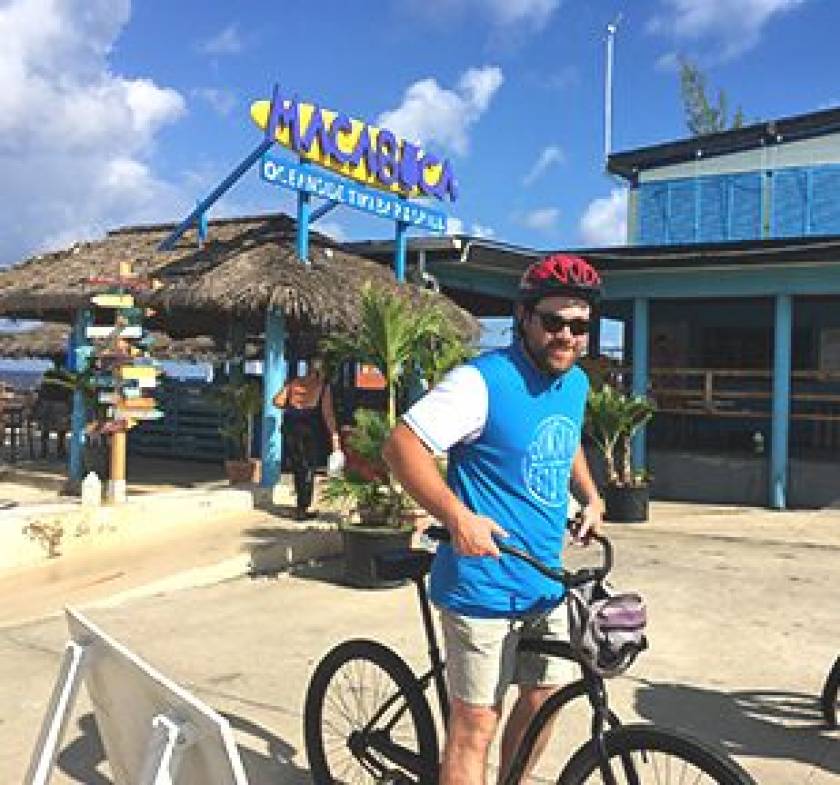 The tour meets and ends at the Cracked Conch/Macabuca. When my husband and I pulled up and approached the bike stand, Richard was there helping two other couples find the best bikes and helmets for their ride; and then did the same for us. I got the "Birthday bike" and was feeling pretty special as I made a few practice laps around the parking lot. (Someone had wrapped the handlebars with ribbon the day before for a Birthday girl.) Richard prepped us for the journey with some safety tips (like "Remember to stay to the left!!") and off we went.
We rode for a while and then stopped in at Boatswain Bay, a quiet little nook we never would have found on our own. Directly next to the bay is a cemetery, so Richard told us about burial customs new and old including shells used to mark graves (that are still there now). We took shelter from the sun under some shade trees nearby, and Richard started in with the history of the islands beginning with Christopher Columbus discovering the islands in 1503. He explained how the islands went from Spanish to British rule and how they went from the island that time forgot to one of the most successful islands in the Caribbean. He wrapped up our first stop by telling us he was going to tell us about the economic miracle of the Cayman Islands in little spurts along the way which left me excited for not only the biking ahead but our stops, too!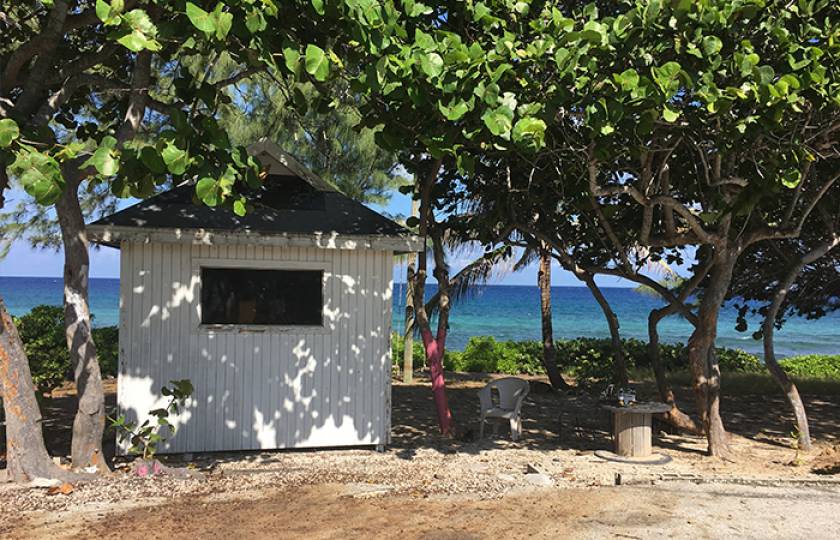 As we rode further through West Bay we got a good glimpse of the local life. We passed West Bayers who were walking, biking and relaxing on their porches. Everyone we passed was so friendly, wishing us a good morning and waving and smiling as we passed. We pulled up briefly next to an ackee tree along our way, and Richard told us all about the local love for the fruit and how Caymanians would often cook up a fresh batch of ackee and cod for dinner. We also made a quick stop at Hell, so Richard could explain how the attraction came to be and then carried on.
Our next big stop was at the library adjacent to the Sir. John A Cumber Primary School. School children were playing at recess when we stopped. Richard pointed out the British architecture of the library and then continued on telling us about the history and economic miracle of the Cayman Islands. As he gave us the coolest history lesson, a few of the school children had taken notice of our group and were waving and chuckling hellos at us in the background. Any time we'd actually look their way they'd immediately look away and act as if they hadn't been trying to get our attention. They were pretty cute, and it was fun to feel a part of everyday Cayman. We left the school grounds, and pedaled along further through West Bay. I was starting to feel proud of my morning workout!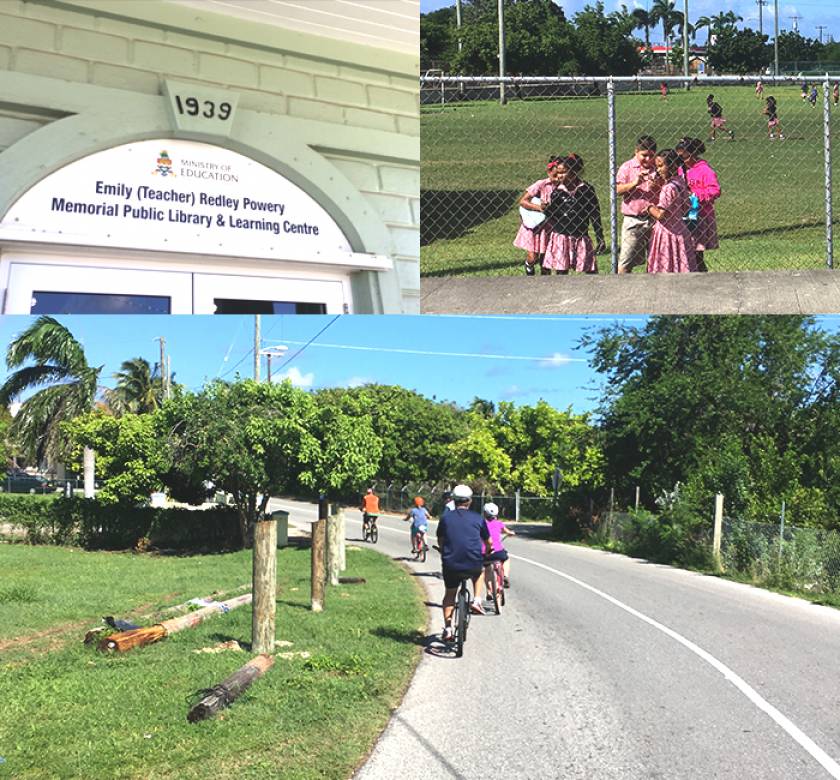 The next stop was a fun surprise – and I'm not sure if Richard always makes it a stop – but he took us by his house to show us what life was like for residents of West Bay. He pointed out beloved birds flying around in his back yard, told us about hurricane preparations and explained why Caymanians feel that 9 ft above sea level is high ground and a valuable asset. He shared a few more facts and stories, and then we headed off towards Barker's National Park.
On our way to Barker's we made a pit-stop to look at interesting architecture and learn more about how the island has evolved. Once we arrived at Barker's we took a little break to walk around and then Richard shared more history and current affairs with us. We picked up our bikes and hit the road again, this time pedaling through mostly residential roads, winding our way to the West Bay Four Ways stop and then crossing over to Boggy Sand Road. The houses that line this little coastal road are a mix of old charming island cottages and new luxurious homes; and I think Richard had a story for just about every one of them! Once we left what might possibly be my favorite road on the island we headed back for home base – Macabucca. The final stretch of the ride was especially beautiful with the sea peeking through the trees to our left. I felt so peaceful and enjoyed having a little time for personal reflection.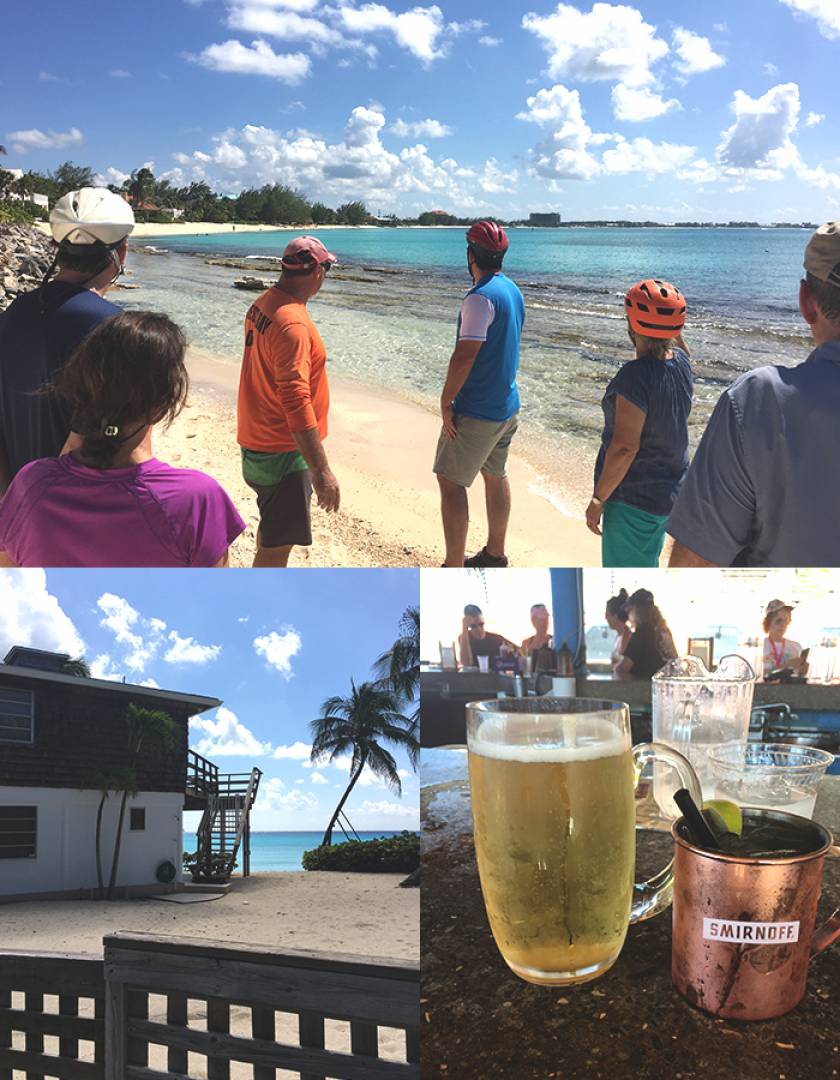 Once we returned, Richard told us we had biked 11 miles which surprised all of us. He gave us some advice for what to do with the rest of our time on island and then several of us decided it was time for some grub at Macabuca. We earned it!
If you'd like to bike the West Bay Loop (which I 5000% recommend), get in touch with Richard on his website here. I hadn't ridden a bike in a year or so, and would only call myself slightly in shape at best; so don't let the 11 miles scare you away.